It's not the best financial situation for many small companies, businesses and big corporations nowadays. But it does not give anyone the right to blatantly rip off customers. Even if you are an empire… Even if you are Rogers Communications…
Here is a complaint from one of the Rogers High-Speed Internet Customers who was charged by Rogers for over usage of internet download/upload limit because their own usage counters were broken.
Around January 11 I got a notification from Rogers that 75% internet usage limit was reached. Then I downloaded some necessary stuff and cut down my daily usage until the end of billing cycle which is January 20.
On January 20 I checked my usage and it was less than 59 GB (the limit for High-Speed Express Internet is 60 GB per month). It showed usage until Jan 19 inclusive, so only one day left. On January 20 I was not using Internet too much, because usually 1.3 GB is more than enough for one day of browsing pages, reading e-mails and even watching some videos.
To my big surprise when I checked usage on January 21 for previous day, it was somehow over 4 GB: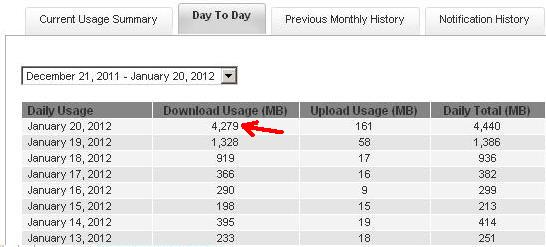 It was absolutely impossible knowing that I used Internet on that day less than ever. And it was supposed to be an additional charge of $6 for overage: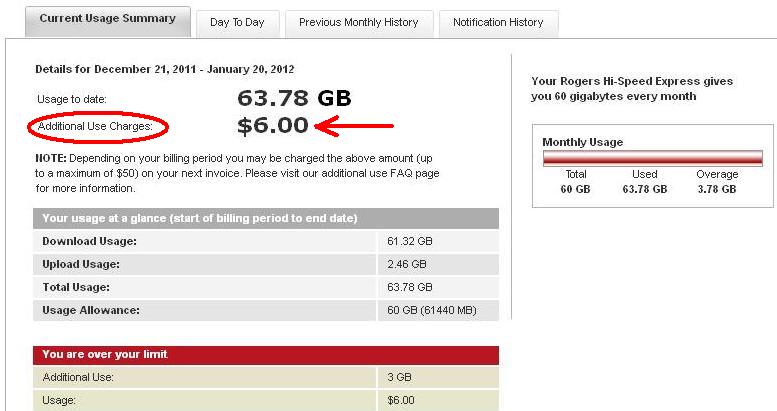 Moreover, if I indeed wanted to download something on January 20, I could buy additional 20 GB for $5 and avoid paying $2 per each GB…
During conversation with Rogers Online Live Chat help center they informed that the overage happened due to broken usage counters:
Rogers: We're having a problem with the usage counter which is affecting many customers, you will not be billed for any overusage charges during this period
Here is a screenshot of Rogers Live Chat window: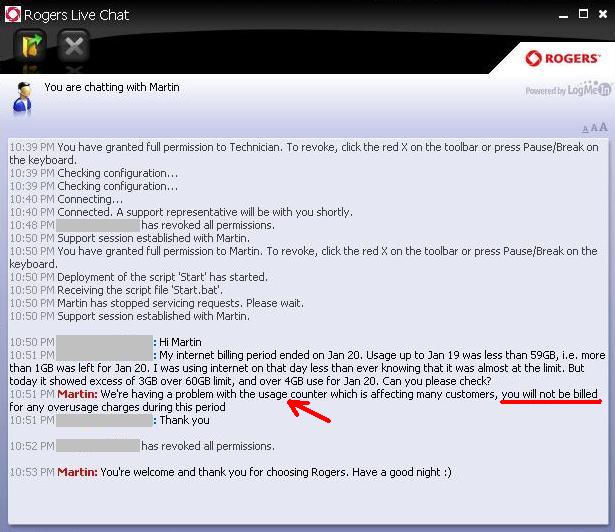 I relaxed, thinking it was a one-time outage of their counters. But on Jan 24 I got a Rogers Bill with $6 usage charge for overage!

It's outrageous…
Beware of this rip-off practice from Rogers with overage charges!
Check your Internet usage regularly and if you ever think that it does not seem right, contact Rogers to figure out what is going on with their usage counters!
Have you ever experienced similar thing when you got 75% usage warning unexpectedly and tried to cut down your usage? Or when you got additional usage charges on your bill?
Please share your experience! Possibly it's a common practice from Rogers… Let's figure out what is going on with their usage counters and why…