Harmonized Sales Tax (HST) has been introduced in Canada on July 1, 2010 – exactly the date when people across the country celebrate Canada day. The "celebration" started on June 30 evening commute with very long lines of cars at gas stations trying to save 8% off the gas price which run up by 8% up to $1.04/liter on July 1 due to tax reform in Canada. It was really a mess at gas stations on that day, adjacent roads and driveways were blocked by "lines" of vehicles…

HST is supposed to combine Goods and Services Tax (GST = 5%) and Provincial Sales Tax (PST = 8%) into one singe sales tax = 13%. But there is still list of exceptions from PST portion of HST. However this list is very small, customers should know about this and carefully check their receipts especially during the first weeks after transition.
On July 2 I was looking for infant car seat by browsing through online stores. When satisfied by quality, price, and delivery option on sears.ca website, I proceeded to checkout and was extremely surprised. The price of the car seat was taxable with 13% HST !!! Here is a screenshot: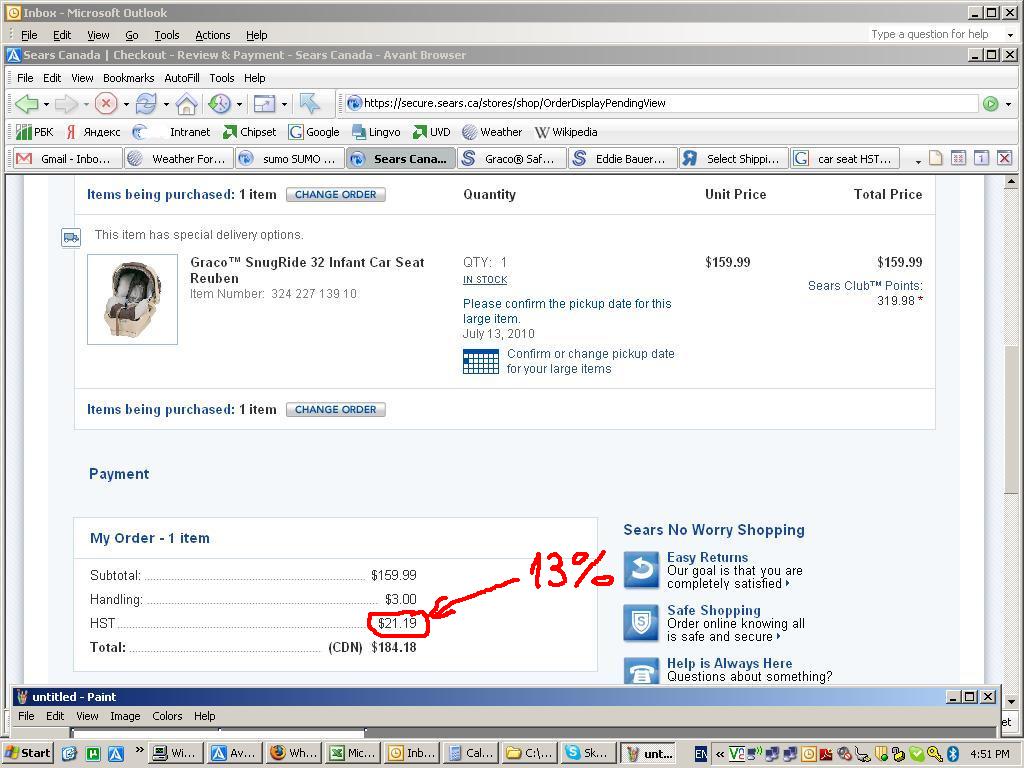 Car seats for children are always an exemption from PST, and used to be taxed only with GST=5%. After July 1 it is supposed to be an exemption from PST portion of HST as well, that is sales tax must be 5% as before on car seats, not 13% as sears.ca offers. It is ridiculous… Then I've checked another online sore – toysrus.ca. And what you think?? The same! Car seat is overcharged by 8% as well as on sears.ca website. Here is the screenshot (please click on the picture to enlarge):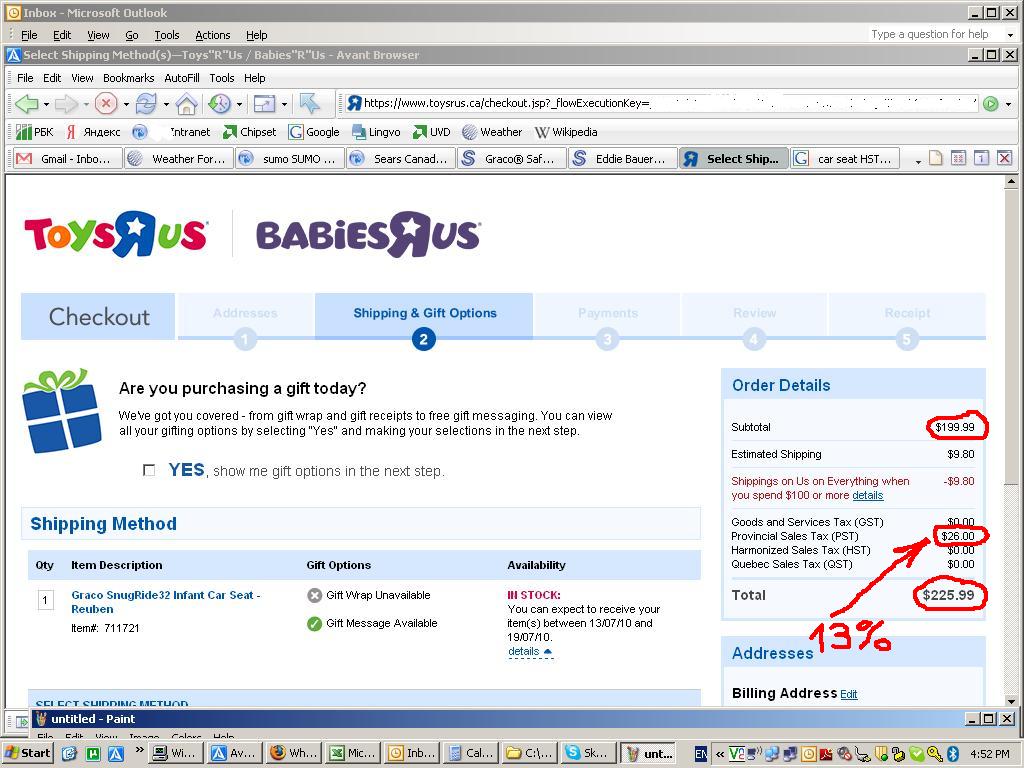 In order to confirm I went through official documents on Canada Revenue Agency website (www.rev.gov.on.ca). Here is an excerpt from the document:
Consumers will not be required to pay the Ontario component of the HST (8 per cent) on goods that qualify for the point-of-sale rebates. The qualifying goods are:

Children's car seats and car booster seats

that are restraint systems or booster cushions that conform with Transport Canada's safety requirements for Standards 213, 213.1, 213.2 and 213.5 as described under the Motor Vehicle Safety Act

excluding children's car seats and car booster seats that do not meet Transport Canada safety standards and travel systems that are a combination stroller carrier and car seat sold in a single package
It is hard to believe that so big companies as Sears and Toysrus specializing in retail for many years did not carefully prepare for tax transition, taking into account that all the documents have been provided by the government while in advance before July 1.
Given facts can mean only two things:
Sears and Toysrus offer car seats that do NOT meet Transport Canada safety standards (only in this case they can charge additional 8% PST portion). It sounds unbelievable, because both of retailers state that all car seats do meet safety standards
Sears and Toysrus online stores make use of customers trustfulness to the "respectful" retail stores with knows names, and overcharge 8% on some goods
This is very frustrating situation. Customers should rely on retailers who must obey all the applicable trading laws, and not spend valuable time to make sure that all the laws are obeyed during the final bill preparation.
Is this what we pay taxes for??!
Please spend some time on reviewing your bills and receipts during the first weeks/months after transition. Please go ahead with any questions, concerns or suggestions in comments or contact form regarding the new HST law. We will try our best to give relevant information.