Trueler has received complaint on World Wide Connect Calling Cards (http://www.world-wide-calling.com) purchased on one of the daily deal websites – DealTicker.com
Initial investigation showed that it is a fresh website created for featuring on daily deal websites, and itself is very suspicious. As a potential customer I would never buy any services from http://www.world-wide-calling.com and as a daily deal site (if I were one of them) I would definitely NOT advertise World Wide Connect Calling Cards.
Here is the complaint:
Subject: World Wide Connect Scam!!!!

Don't ever order phone cards from these people…you will NEVER get them !!!!

I ordered 10 cards Sept 9th,2011..today is October 22nd…still no cards…I called numerous times…different excuse everytime..suppose to be send with express post that will take 3 days…still no cards…apparently people in the UK got their cards..here I am an hour away from Toronto Canada…still no cards…on top of that..they promised and additional card for every one you bought for the inconvenience..that is 20 cards..i have not received the first 10..what the hell!!!!…this place is the worst ever…yet when you call them they will soin you every excuse in the book…also seems there is only one person working there…"Melony"..if you ask for human Resources…she answer…you ask for business applications…she answer…you can press any option on the phone..yet she answer..this is the worst customer service I have ever received…please do yourself a favour and do NOT order anything from World Wide Connect…big fraud!!!!…also I called them to ask for a tracking number so Canada Post can track my package..still waiting for "Melony" to call me back…!!!
From the experience above seems like the company is operated by one single person… Let's see.
Daily Deals and only Daily Deals!

World Wide Connect has been featured on many Daily Deal Websites: SwarmJam, PriceDodger, JabrDeals, LivingDeal, CakeDeals, iCouponOnline, YumDeal, DealTicker, StealTheDeal etc… with the following offer:
$15.00 for a 30-Day Unlimited International Calling Card from World Wide Connect ($30.00 Value)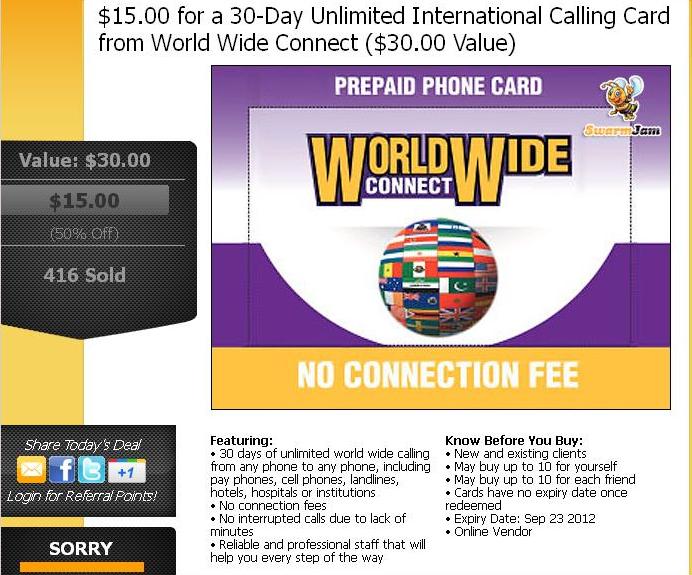 We could find information about this company in the Internet mostly on different daily deal websites and daily deal aggregators. Actually it also shows up in a ScamBook (scambook.com) and Better Business Bureau (bbb.org)… I think "the best" provider should be featured in some mass-media sources, or discussion forums with good reviews at least.
Fresh Website
Daily deals started in August – September, 2011. World Wide Connect Calling Cards website – http://www.world-wide-calling.com – had been created right before on Aug 3, 2011:

Obviously for running daily deals.
World Wide Connect Calling Cards – 30 years in business?!

Let's see what is on their 6 pages website – http://www.world-wide-calling.com:
"We're committed to helping you stay in touch with your loved ones for over 30 years"
It is supposed to be an IT company using VoIP technology, for example. And they created a website only now?! I really doubt that it is a true claim. Moreover there is no reviews on this company at all.
"Other companies may offer similar services, but our services are the best"
I could not find any reliable and official source confirming that World Wide Connect is the best in the industry. Actually I could not find anything about them… In some countries it is prohibited by law to claim that the company is "the best" without the fact that it is actually true, i.e. in some official contest they won the first place. Basically this claim is illegal and represents deceptive or false advertisement.
There pictures are taken from the Internet without even mentioning the source, i.e. just stolen. During "30 years of business" they could not make any picture of their happy customers?! And they decided to take some random photos from the Internet: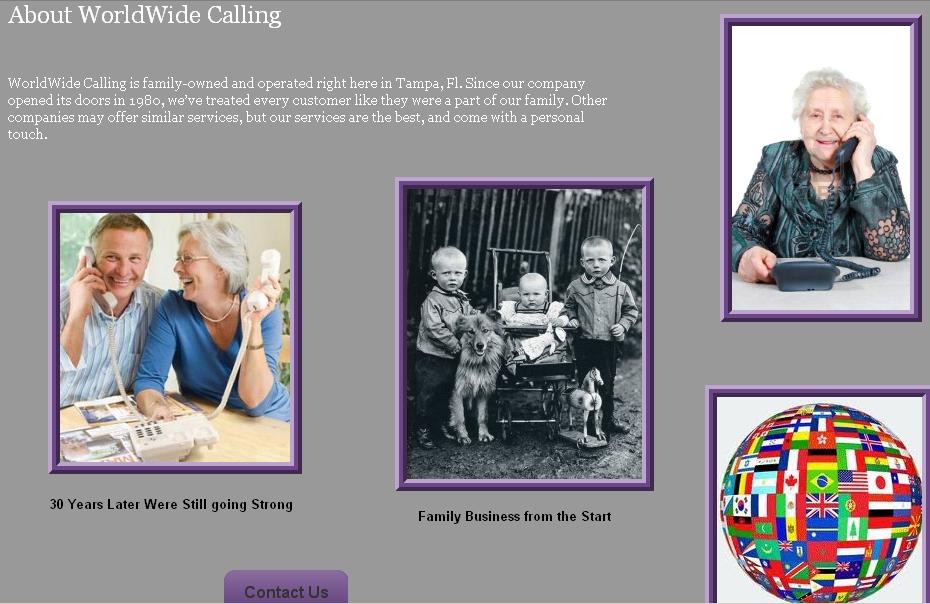 All of the above 4 pictures can be easily found in the Internet in multiple places…
What else? For me it is more than enough to avoid this business in the first place and not advertise it like many daily deal companies did.
Do these cards even exist?
Usually if some product really exist, it is quite easy to find it in some classifieds ads like Kijiji, Craiglist, or on eBay, or in convenience store with plenty of calling cards being sold. I could not find World Wide Connect calling cards anywhere… If someone receives it, please send a picture of it! I will post it here…
For now. Beware of this!