It is the time to top-up my balance in Rogers Pay-As-You-Go account (cell phone) before expiration date. I'm going to "My Rogers" web page and it is down again. Now it says the following:
Account Registration

There are no accounts registered with your online profile. Please add your Rogers account(s) to your online profile in order to perform this activity.

If you have already added your account to your online profile, and believe you have received this message in error, please e-mail us or contact our Online Customer Care Group at 1-877-343-5745.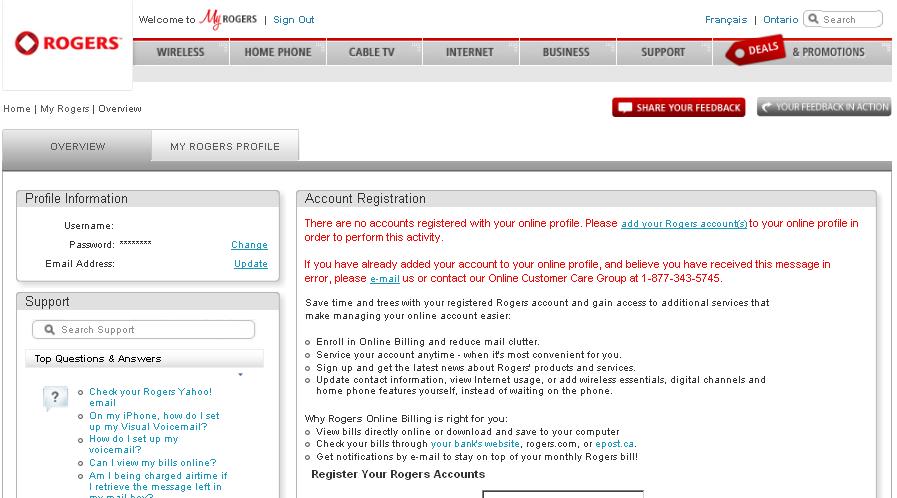 Yes, I have already added my accounts to my online profile. Where have they gone?!
I'm trying to add Pay-As-You-Go account again, but getting this message from "My Rogers":
We're sorry, Rogers.com is experiencing technical difficulties and is currently unavailable. During this time, you may be unable to purchase products or perform self-service transactions. Please try again later.

I'm trying for entire day. When later?! Balance will expire in several hours. Rogers customer service representative waiting time is too long now, I can not wait for an hour on the phone. They claim the following on "My Rogers" web page:
Service your account anytime – when it's most convenient for you.
But Rogers continuously fails to keep this promise, because the system is unavailable pretty often.
When I go to "Update Profile", Rogers says this:
We are currently experiencing problems accessing your account and therefore cannot complete your request at this time. We apologize for this inconvenience. Please try again later.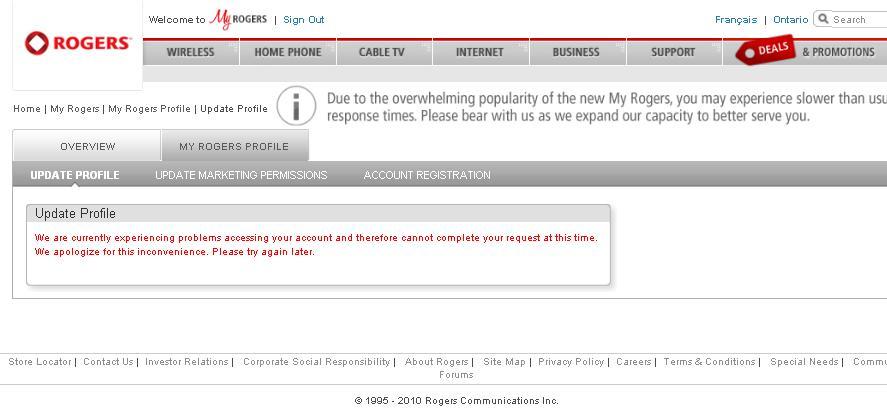 So, it looks like I won't be able to pay for my Pay-As-You-Go again, and I will have to call Rogers tomorrow and beg them to recover my expired balance. And they really force you to beg, because Rogers does not admit any problems with "My Rogers" online account management system. At the end of conversation on balance restoration they usually say "It was one-time exception! Pay your bills on time!". I want to, but Rogers does not allow me to do…
Is this really happening due to "Overwhelming popularity of the new My Rogers"?!