Here is a serious complaint on Best Russian TV services received by one of the customers. It includes false advertisement and promo actions, money grab, and terrible customer service. Nothing could be resolved with Best Russian TV Support Team.
I have ordered "Russian Package" on December 31, 2010 at BestRussianTV.com, in order to enjoy Russian television. But unfortunately there was not too much enjoyment. I can review what was not good in quality of provided TV services for potential customers:
The video stream was being interrupted from time to time by another squeezing picture
After you press the "pause" in order to do some stuff, and when resuming, the video is being reset almost all the times
Very slow loading when you start watching a different channel or program
Hanging picture in peak hours (almost all of the evenings). And you can do nothing about it
I had heard about these problems before, but thought it was just a bad luck, or it depends on location, or internet provider, or some other factors. So I decided to try it out in spite of any reviews, because in case of dissatisfaction during the first two days BestRussianTV promised to refund all the money back to the credit card.
Information about this promotion telling
"Free Russian TV Online – 2 days free. Sign up and get

2 trial days to evaluate quality of BestRussianTV"
was right on the main page of BestRussianTV.com at the time of registration (and still there) as you may see: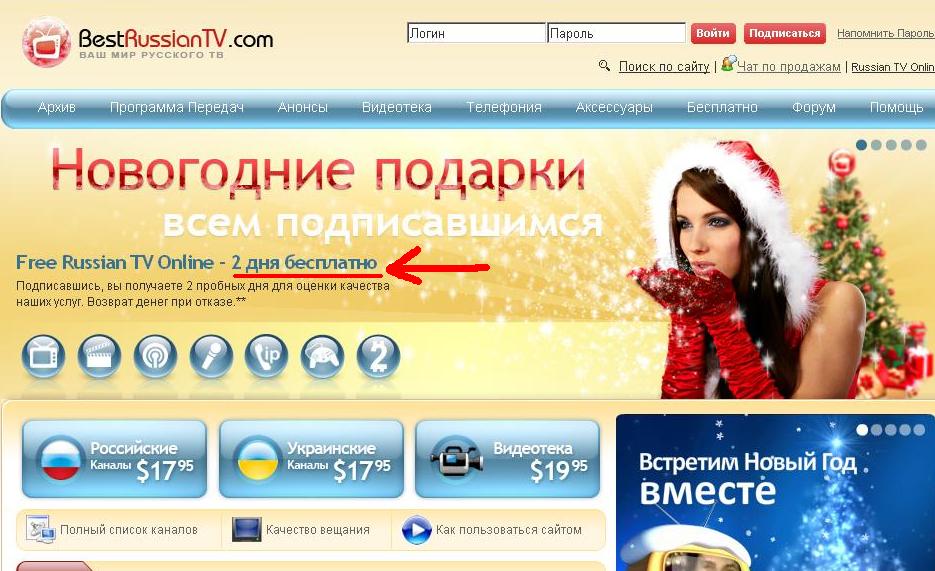 I had no doubts that no problems may arise during money back process in case if quality does not meet our needs.
On the next day after subscription – January 1, 2011 – I've sent a request from their website to unsubscribe us from Russian TV. This is how it should work according to their FAQ (click on image to enlarge):

According to this information they had to unsubscribe me in one hour after request and issue a full refund – exactly what I paid with the credit card.
I've got an automatic response that they received my request. But it was done incorrectly. They have put service deactivation request in the system starting only from February 1, 2011 – that is only in one month:

I assumed it was just a simple mistake, so I send them an e-mail asking to sort things out.
They answered that "2 days promo" discontinued as of early December.
Everyone can see that this promo is still on the main page of BestRussianTV.com (screenshot above) and in the FAQ section. This is what I replied to the Support Team. And then they asked me to send them a screenshot where I had seen it!
It is indeed outrageous! Don't they know what is on their website?!
Ok. I've just sent them a screenshot assuming they have some new hire in support team. Still no reply as of January 4, deactivation is scheduled on February 1, 2011. They promise to reply in less than one hour because it is kind of real time service, so I concluded that Best Russian TV just ignores my request.
In fact it is a $17.95 USD rip-off for "free" services – typical scam.
BestRussianTV is not going to give any money back in spite of all the promises about 2 free evaluation days.
There is NO any evaluation period. You can buy their services only as is, so pay attention to the quality complaints in the beginning of this review before making a decision.
BestRussianTV Support Team stated that "2 days free" promo was not valid starting from the begining of December. But what was happening before? Even if this promo was working you still have to pay for these two "free" days!
Yes and the price is relatively high for this two days – it is equivalent of prorated cost for approximately three and a half days of watching Russian TV.
There is a tiny footnote at the very bottom of the page:

Do you see it? It tells "$2 administration non-refundable fee is applied during registration". It is ~11% from the monthly price or 3.35 days for two "free" days. Is it free?
Do not believe to any of Best Russian TV promises! Beware! It is a rip-off!