Today there is a real threat of phishing and scam attacks using popular legit deal-of-the-day websites like Groupon, DealFind, WagJag, DealTicker, TeamBuy, LivingSocial, SharingForce, KijijiDeals, StealTheDeal, etc…
Internet users from Russia have already reported that some new daily deals websites (or forgeries of well known projects) are trying to swindle people and obtain valuable personal information like e-mails, passwords, credit card numbers, residential addresses, etc…
Usually any phishing or scam scheme becomes known to the public only when it is too late and millions of people already suffered.
Today Trueler warns everyone in advance of a new scam which can be based on any reputable and trusted deal-of-the-day website.
Please share this information with people you know are using deal-of-the-day websites.
Any related phishing or scam scheme can be implemented by criminals tomorrow if not today. You can help to minimize negative effect.
Possible damages:
Sharing credit card information with criminals
Sharing personal information like date of birth, residential address, phone number, etc.
Partial or total identity loss
Catching viruses and malicious software on your PC
How you can be caught:
Very attractive daily deal in your e-mail inbox which will lead you to the forgery website. It may go "from" the service you already registered with, or it may be some new deals site
Link in a forum or comments to the fake deal-of-the-day website
You can even find results with the help of a search engine which are not legitimate, but are just scam deals sites
Request in an e-mail to update your personal information or re-register in order to keep your account active or receive some bonus
How to protect yourself:
Make sure you received the message from real existed deal-of-the-day website which is not scam
Keep an eye on the address bar when you are making your purchase, or typing in password. Make sure the domain name is legitimate and is not a forgery
Most likely fake websites will have poor graphics and lack of branding, but your final conclusion should not be based purely on the website's look. However it may help in revealing scam. Professional scammers can easily reproduce exact copy of Groupon or other site. Beware!
Here is a diagram which may help to conclude if you received real deal in your e-mail or it was a scam: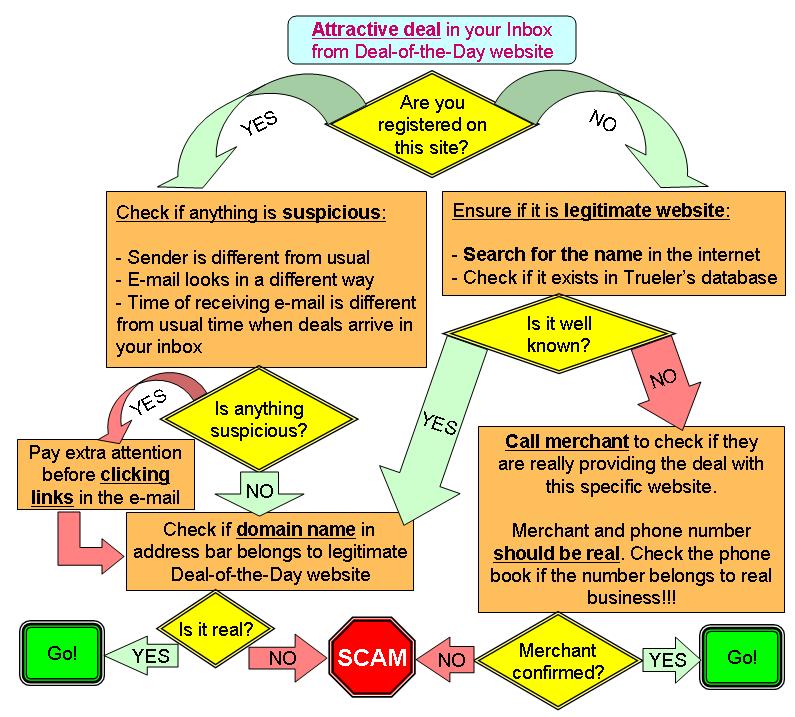 If you have already experienced any deal-of-the-day phishing scheme or scam, please share it with us and warn all other people!
Thanks for you cooperation!
The most complete list of the Deal-of-the-Day websites in Canada which can be used by hackers and scammers is:
Groupon, GrouponCanada, DealFind, WagJag, DealTicker, TeamBuy, LivingSocial, SharingForce, LivingDeal, DealOfTheDay by RedFlagDeals, KijijiDeals, Grooster, FabFind, Dealathons, EverybodyBuys, PriceDodger, DealsGoneSocial, DealGetters, BuyTopia, StealTheDeal, DealDipp, PeachyBuy, DealSharing, SwarmJam, WebPiggy, TeamSave, PathDeals, Snaggies, HotDealsLive, GoodNews, SocialShopper, Surrey, Tuango, WikiMotion, ILoveMontreal, Kahoot, DealZies, Chicoup, TownHog, BCDailyDeals, ethicalDeal, IndulgeLiving, GreenDeals, TakeitandGo.
Be careful!