Is it Groundhog day today? No, one more day left…
Groupon featured the company which overcharges taxes again. They have already been informed that such cases already took place, but no effect.
There are several reviews and complaints on companies cheating with taxes on Trueler already. Here is one more.
There is a deal on Groupon Ottawa website appeared on February 1, 2011 offering the following coupon:
"$10 for $25 Worth of Eco-Friendly Baby Gifts and More at My Lil Package Baby Boutique"
My Lil Package Baby Boutique specializes on baby products, and they must know all the applicable laws and documents regarding taxation of baby products. But they violate it by overcharging Ontario residents by more than 8% for many products. Moreover, they overcharge 0.22 – 1.01% for everything else. Is this a service fee?!
Let me remind. On July 1, 2010 HST transition happened in Ontario and British Columbia. Almost everything started to be taxed with HST which is combination of GST and PST. For Ontario it is 13%, for British Columbia it is 12%. However, there is an exemption list of products which must be taxed only with GST portion of HST, that is 5%. The list includes mostly baby products like all the children clothes, children footwear, diapers, car seats, baby bibs, bunting and receiving blankets, books, etc.
Please refer to the following information about point-of-sale rebate for more details:
HST (PST component) Exemptions – Ontario
HST (PST) Exemptions or Point-of-Sale Rebates for British Columbia (BC)
My Lil Package Baby Boutique overcharges more than 8% for deliveries and pick-ups in Ontario for all the excemption items! Some items which should be excluded from PST portion of HST but are charged with the full 13% HST (even more) at My Lil Package Baby Boutique:
Organic Knee Patch Pants
Ultra Washable Diapers
Long Sleeve Bodysuit
Sandal Shoe
Toddler Bib
and much more!
Here is a screenshot of one order from their website mylilpackage.com
(click on image to enlarge)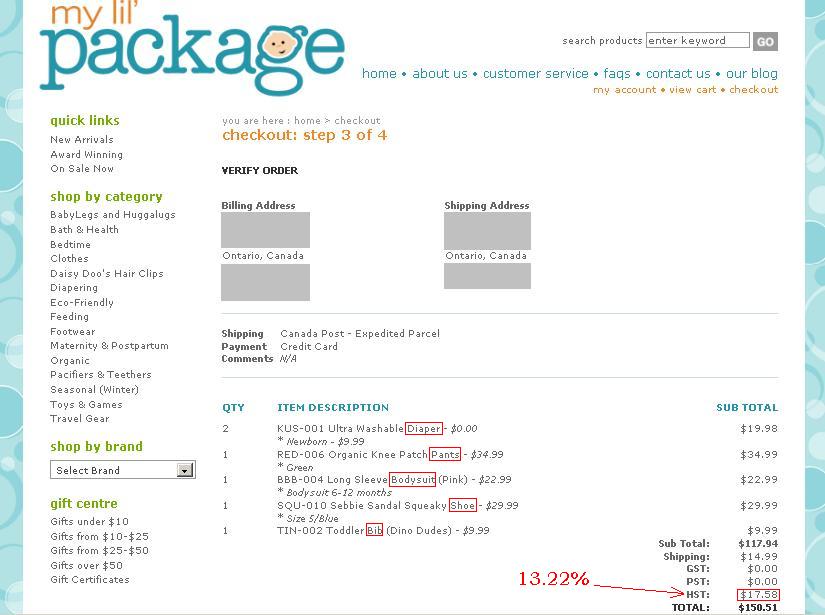 All the excemption products are overcharged! They are even taxed at unknown rate! What is additional 0.22% to the well known 13% HST??? Looks like rip-off…
Let's take a look at another product – books. They are subject to 5% HST (only GST portion) in Ontario and British Columbia according to the point-of-sale-rebate.
My Lil Package Baby Boutique charges more than 14% tax on books instead of 5%!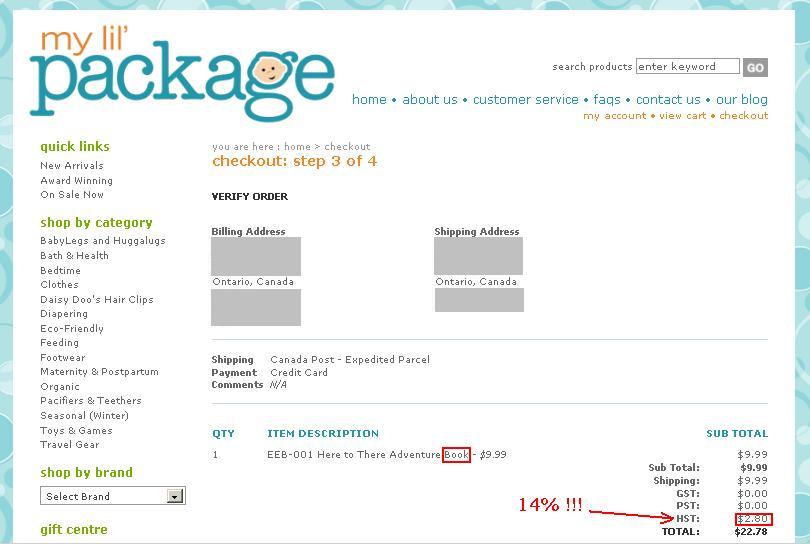 There is no even such tax rate in Ontario. It is either 13% for most of the products, or 5% for some exclusions. What is additional 1.01% to already overcharged 8%? Service fee? Why does this store hide their own fee under government fee?
Beware of this store! Carefully check your receipts and demand an immediate adjustments of taxes to 5% for most of the baby products and to 13% (or 12% in BC) for all other products!
Taking into account this outrageous behavior with taxes, I definitely question quality of their products, fairness of prices, and customer service.
Beware!