Groupon featured FTD Flowers nationwide in the US and across Canada on February 9, 2011 aiming at huge sales prior to coming Valentine's Day – Feb 14. This daily deal "$20 for $40 Worth of Flowers, Gifts, and More from FTD" was supposed to be running for three days.
In Canada FTD and Groupon sold about 8000 coupons at the end of the first day of the deal. Most coupons have been sold in Toronto – 2000. Vancouver Groupon sold approximately 1150 coupons, Calgary – 1000.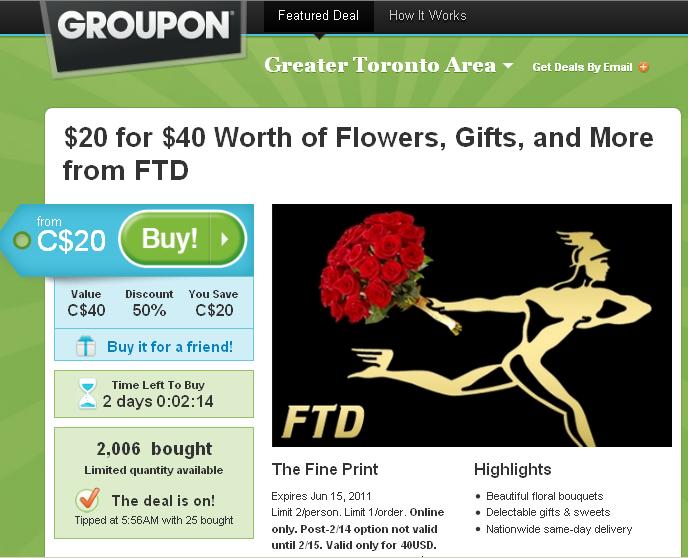 In US Groupon sold about 100,000 FTD.com coupons during the first day. Major cities sold about 2500 Groupons each.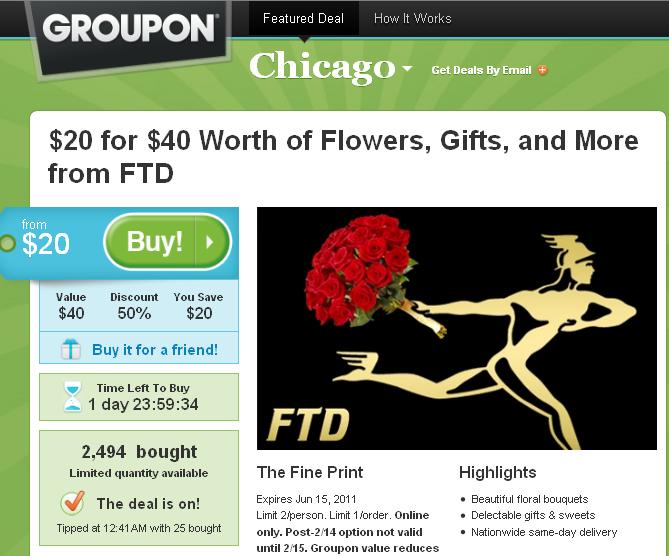 This deal happened to be very unfair! Groupon admitted FTD to be featured across entire United Stated and Canada knowing that it will be a rip-off!
FTD Flowers Deal on Groupon is a scam
because:
Prices for Groupon users are $10 – $20 higher than regular prices. People who would like to use a groupon must use designated website: www.ftd.com/groupon instead of ftd.com
FTD has fixed it at the end of the day by removing all the discounts on the main FTD.com website, so prices match Groupon prices, but we have noticed that FTD has recently increased prices by $10 – $20! It happened prior to releasing deal on Groupon. This is a screenshot of Google Cache which did not have a chance to be updated yet because of a recent change: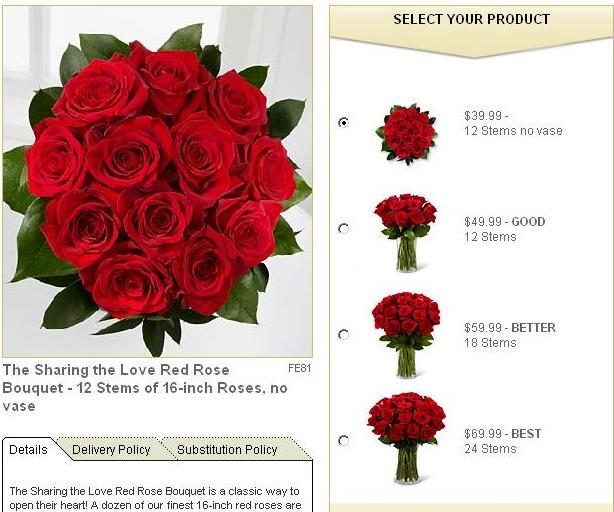 These are prices for Groupon users now: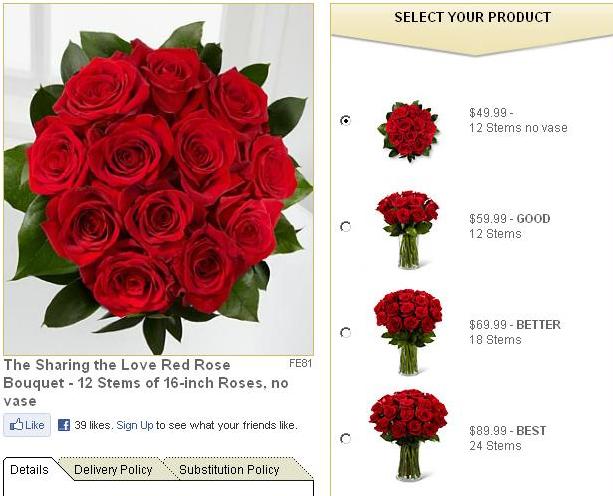 The difference in prices is exactly $10-$20.
The fact that prices for Groupon users were $10-$20 higher than regular prices has been noticed by many users who warned other customers that there is no savings at all, only rip-off!
From Chicago Groupon discussion board:

From New York discussion board:

These are service fees for NY State. Deliveries on Saturdays cost $30, on Valentine's Day – $19: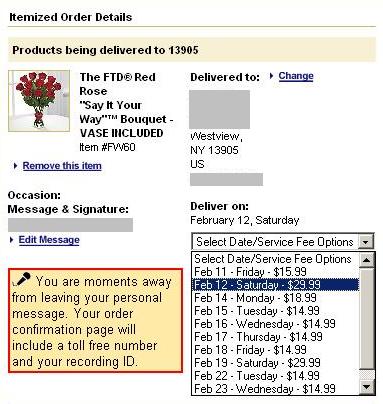 For some major locations only very small portion of all the assortment is available. For example for the Greater Toronto Area only several bouquets of flowers are available. Customers may know it only when placing an order that the current item is not available
Even this bouquet is not available in Toronto Downtown!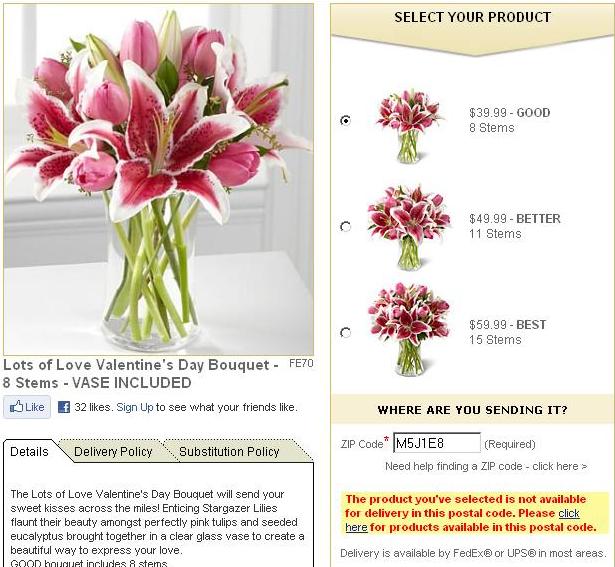 It tells "The product you've selected is not available for delivery in this postal code. Please click here for products available in this postal code". Most of other products are not available in Toronto and probably in other cities also.
Groupon did not bother to address any customers concerns because FTD and Groupon will only loose money if answering all the questions
FTD.com has exceptionally bad reviews on the Internet by many customers. There are thousands of complaints and bad reviews related to their customer service, delivery, quality. FTD has 1-2 stars rating out of 5-10 stars almost everywhere. And Groupon knew about this!! And allowed this outrageous deal to happen! Groupon just scammed all its customers!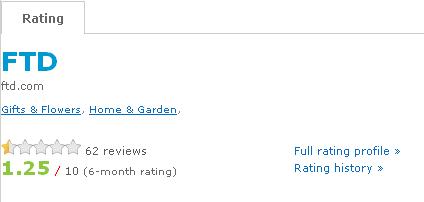 and one more:

Groupon, FTD, and Groupon/FTD tellers lied that coupon can be used towards everything, not only for flowers. For example, in Toronto only several bouquets and couple of plants are available. No chocolate, no bears, no jewelry, no anything else
Dipped strawberries are not available: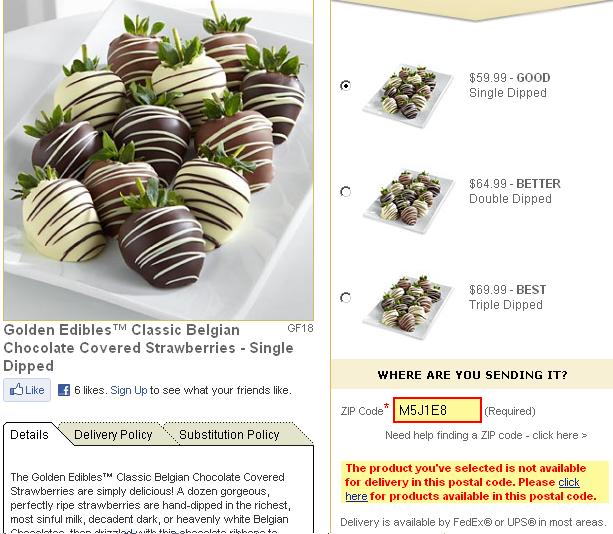 Toys are not available: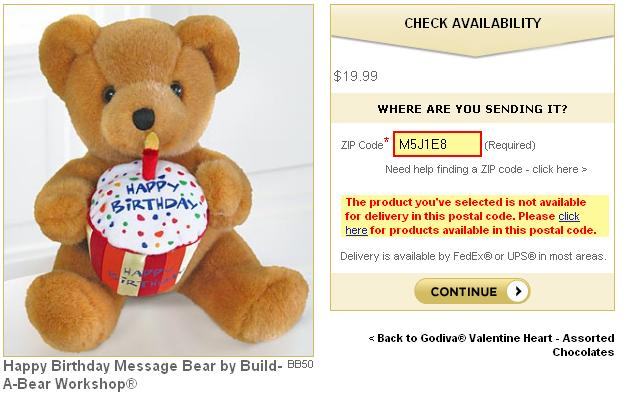 Chocolate in the Heart box is not available: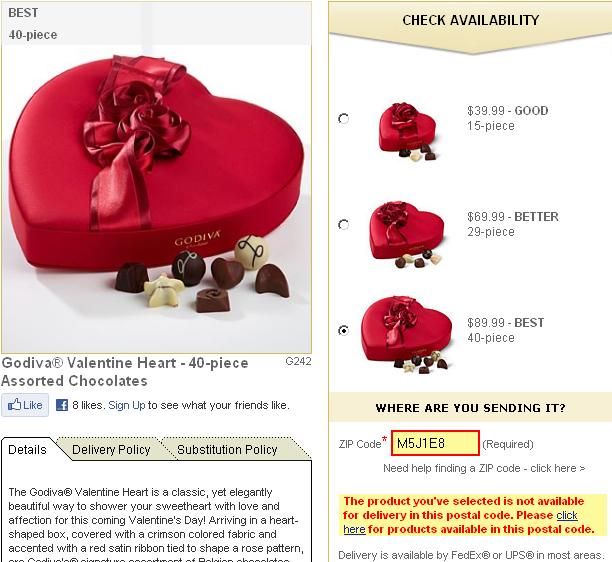 Unfair e-mail marketing. E-mail received in the morning states "Half Off Flowers from FTD"

However if we order something which costs $30 (the less expensive stuff on ftd.com) the total orders comes up to $51.42 including $18.99 service fee and taxes. This means "savings" only of up to 38%. If the total price is over $100, so we have less than 20% in savings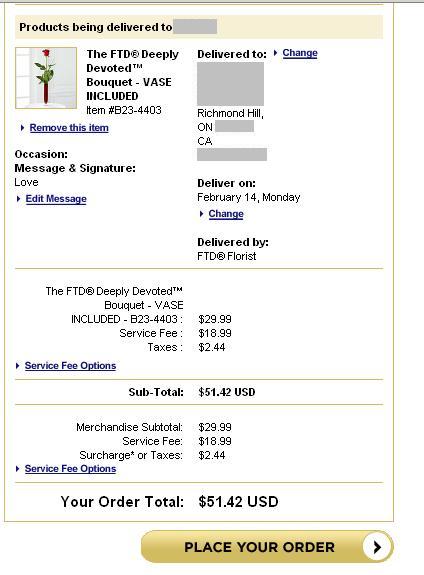 Due to extremely large volume of the orders, FTD.com won't be able to handle all of them prior to Valentine's Day for sure. They usually have problems during Valentine's Day, but over 100,000 orders can just kill the system. Someone may think that most of the people bought coupons for after Valentine's Day, but that is not true. Approximately 76% of people who bought FTD Groupon are going to use it before or on Valentine's Day: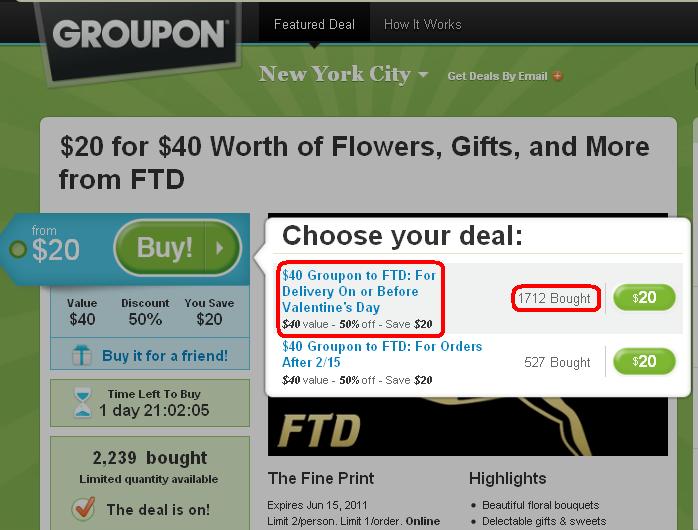 FTD! Are you ready to serve at least 100,000 more people than usual across North America in one day?
Everyone could use other coupons which could save even more taking into account higher prices for Groupon users: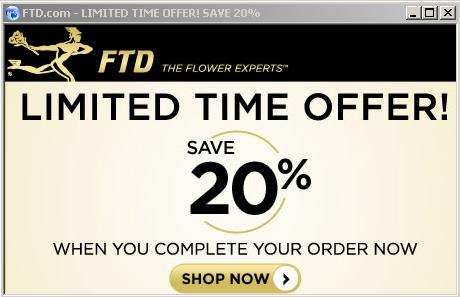 and this one: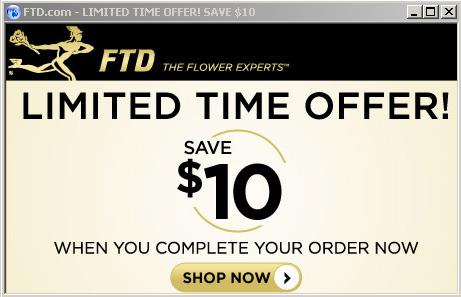 Customers! Beware of this deal! Just return your Groupon coupons to avoid any kind of frustration due to undelivered flowers and gifts on the Valentine's Day and later on.
Beware of Groupon as well! They are featuring unfair businesses more often. Sometimes they feature companies who even cheat on customers!
Update as of Feb 11, 2011
(supposed third day of FTD deal on Groupon)
Finally Groupon marked this deal as closed! But it happened only after TWO days of continuing complaints of thousand customers!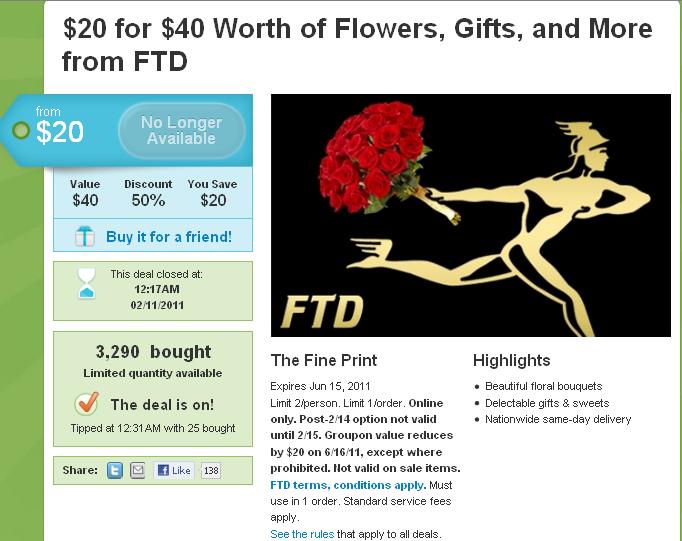 So FTD "bait and switch" deal on Groupon was live for two days instead of planned three days.
A lot of consumers decided to refund this coupon, but some of them met issues and had to call to Groupon customer service in order to cancel purchased coupons, i.e. spend more time again: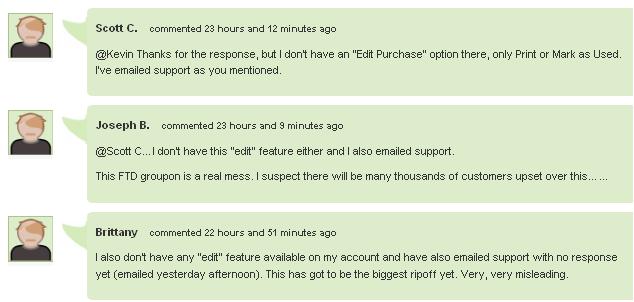 Kevin from Groupon advised users to use "Edit" in order to cancel order, but it did not work.
People who tried to use Groupon vouchers met multiple issues with coupons not being recognized by FTD.com:



Above comments are from FTD Groupon Toronto discussion board.
This horrible deal was indeed nothing but waste of time and money!

Beware!
Important update as of Feb 12, 2011
Heads up for those customers who already placed an order on FTD website:
Expect an automatic refund from FTD of at least 20% of your pre-discounted purchase in the next 5-7 business days on your credit card. It should be at least 20% of the value of flowers and gifts you've ordered at FTD (don't count service fee).
This is why:
Groupon sent out an e-mail to the customers who purchased FTD deal during two days:
Thanks for your interest in the FTD Groupon.

We try to offer the best deals possible, while also making sure all of the details are up front and easy to understand. The deal's original terms were that the Groupon could not be combined with other offers and discounts. For sale items on FTD.com, this meant that you were not able to realize both discounts. We understand that is confusing and upsetting to a number of people—especially since you expect a great deal from us every time.

To make this right, we've worked together with FTD to make sure that discounts available on FTD.com will now also be available to use with your Groupon. For those of you who already purchased items that were on sale on FTD.com, FTD will automatically issue you a refund on the credit card you used with the difference as additional savings. Please allow 5-7 business days for this to show on your statement.

We're really sorry for any confusion this deal has caused. This resolution should now ensure that you get the maximum value for your FTD Groupon, even if you've already redeemed. We hope this resolution is to your satisfaction.
Those customers who have FTD Groupon, but have not used it yet – cancel it with Groupon! In case you want some value from your coupon and not waste your money and even more time.
The reason is that "Groupon work together with FTD" was not enough. We don't know what happened between them: misunderstanding, lie, or whatever…
But the fact is the fact:
There are a lot of discounted prices on the main FTD.com website which suddenly become 20% higher on designated website for Groupon consumers.
Here are several examples.
This is a "Diamond Contemporary Heart Sterling Silver Pendant" from the main FTD.com website. Price is $160.00 – discounted from $199.99 by $39.99
This is a "Diamond Contemporary Heart Sterling Silver Pendant" from Groupon specific website – ftd.com/groupon. Price is $199.99 – it is $39.99 higher than on the main website! So, taking into account $20 Groupon deal discount, we loose $19.99 with coupon!!!
Another example of "Golden Edibles 23k Gold Belgian Dark Chocolate Covered Strawberries".
On the main website: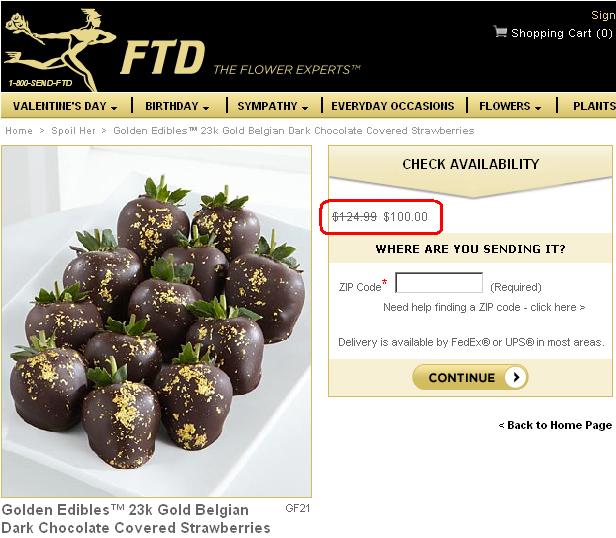 On the Groupon specific website: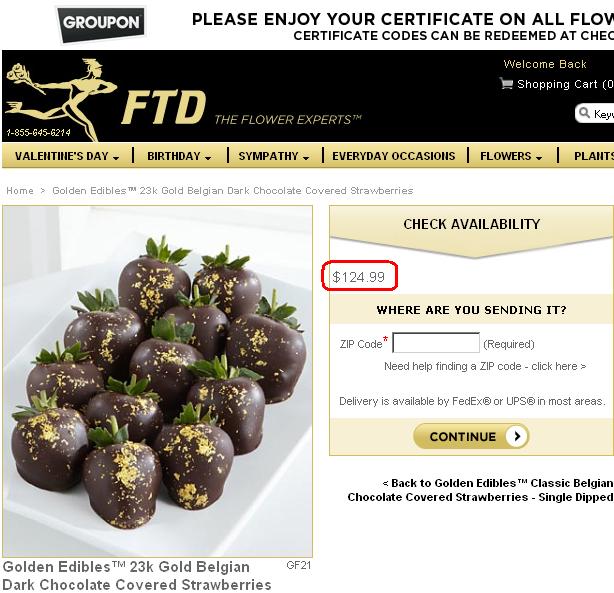 That is $25 higher price for coupon owners! Is this a deal at all?! We purely loose $5 here.
Actually, there is a need to do something in order to get these discounts on FTD.com website. Just close the browser window and you will get the following pop-up message: "FTD Limited Time Offer! – Save 20% when you complete your order now"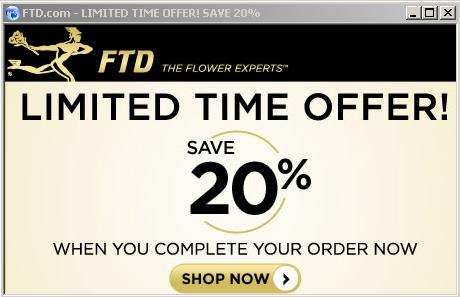 Click on "SHOP NOW" and you will get 20% off on entire website. You will see the following header:

And 20% discounted prices on everything: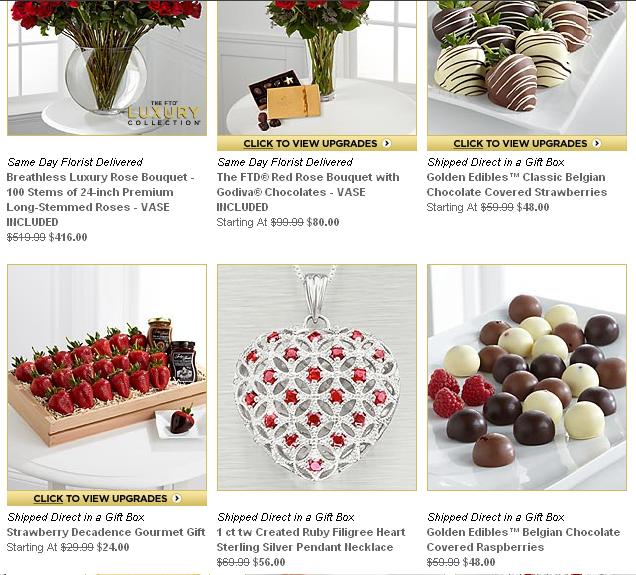 On ftd.com/groupon there are no such discounts. Only a very small fraction appeared after "work of FTD and Groupon together".
Some tips to get 20% off:
If you previously typed in your browser "ftd.com/groupon" you won't see the pop up when closing the page. Try to clear you browser's cache or try another browser until "GROUPON – Please enjoy your certificates on all flowers and gifts" header disappears from the top of the page
Use the browser which does not block pop-ups
Now we have 20% discount on the main FTD.com website comparing to Groupon version.
Groupon said in the email: "… discounts available on FTD.com will now also be available to use with your Groupon …"
and "… FTD will automatically issue you a refund on the credit card …"
So, FTD will have to refund at least 20% of the items value. "At least" because there were even bigger than 20% discounts for some products: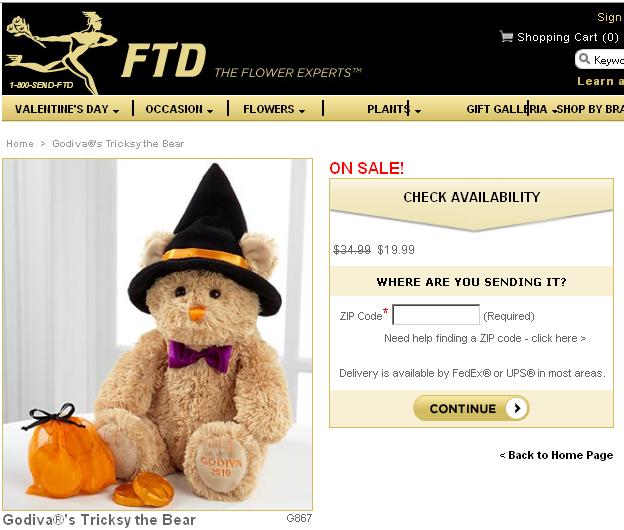 This is 43% discount on "Godiva's Tricksy the Bear" or $15 off $34.55
For Groupon users there is no such discount: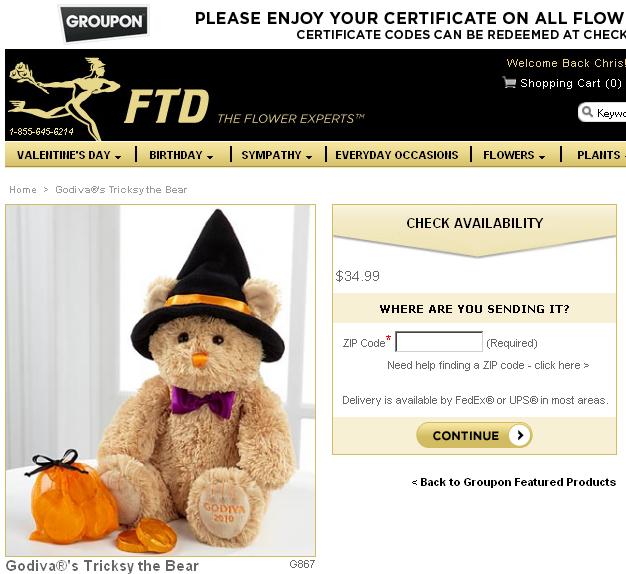 In this case you should expect $15 refund from FTD on your credit card.
Only in the case you have found and ordered discounted items on ftd.com/groupon website your refund may be less than 20% of the value of the goods you have ordered. But it is indeed only a small portion of entire assortment…
Please let us know if you experience any difficulties with refunds from FTD or with canceling your coupon with Groupon.
Please also send us a note about the service you received from this online floral store.
Thanks!