Trueler does not accuse deal55.com in scam, fraud, phishing or any other illegal actions yet. But there is a big concern that this "daily deals" website featuring brand name gift cards is not legitimate and just collecting e-mail addresses, credit card numbers, and other personal information. Customers, beware! Use it at your own risk! It may even charge your credit cards and disappear after with no gift cards provided. There is no information about this business at all.
(Summary of important updates after in-depth investigation is provided here in red. Details are given below in the article)
Please read an important update at the bottom of this post which proves that Deal55.com is a 100% scam.
Another update: Deal55 could also be implemented as a simplified financial pyramid robbing people! Please read through important update "Financial Pyramid" at the bottom of the article to see how this rip-off scheme works.
Deal55 has many things in common with Ontario Choice Window and Door, StubPond Inc., and UrbanDeal.ca (another daily deals website) – proofs are provided below as well.
There is also a privacy violation on deal55.com disclosing personal information of users to everyone.
Deal55 commits fraud – evidence provided.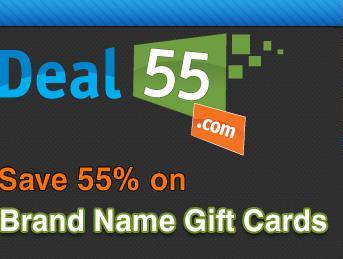 Deal55 offers $100 value gift cards at the cost of $45 that is 55% in savings for major stores like Best Buy, Winner's HomeSense, Victoria Secret, La Senza, BCBG Max Azria, Williams Sonoma, Shopper's Drug Mart, Lululemon Athletica, Guess by Marciano. It is featured across Canada in Toronto, Montreal, Vancouver, Calgary, London, Edmonton, Halifax, Ottawa, Winnipeg, Quebec City, Kitchener, St. Catharines
The reasons to suspect that deal55.com is featuring not legit daily deals are:
Winners HomeSense is not aware of this running deal:
No customer service. Deal55 does not answer serious questions in comment for a long time: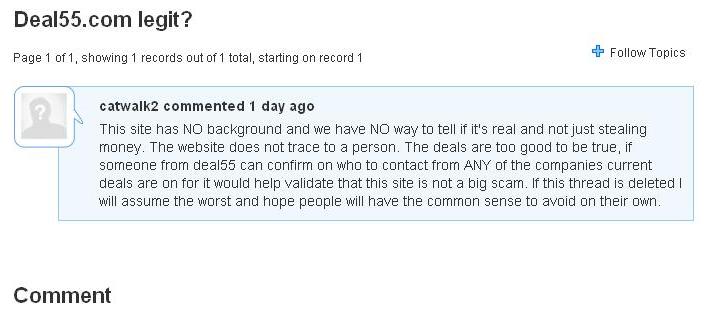 Too good to be true. Daily Deals on deal55.com offer real gift cards which can be used towards anything in the store or online, even towards taxes and sale items. It has no expiration date. It is very different from what we used to see from other popular and legitimate group buying websites.
The daily deals featured on deal55.com become valid only when 10,000 are sold! And the limit is 10,000. This can easily mean that 10,000 will never be "sold" and deal55 will be just stealing e-mails, names, phone numbers, credit card numbers and other personal information of people across Canada.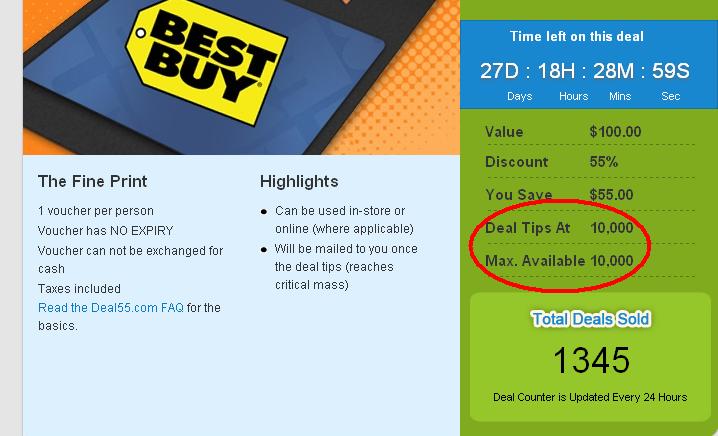 Some customers already complained that it is impossible to make a purchase with any credit card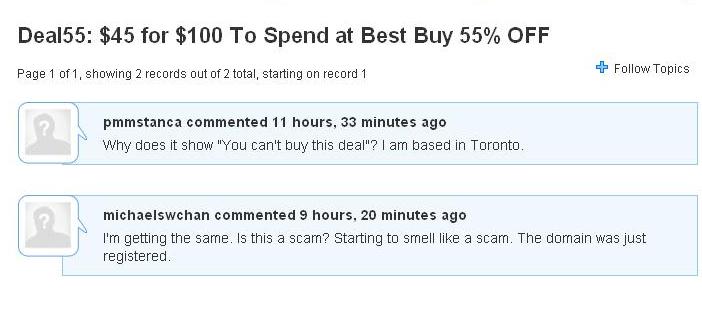 Website is very fresh. Domain name has been registered about two weeks ago. There is absolutely no information in the Internet about this "Daily Deals" website. It has extremely poor rating comparing to other similar websites.
When "daily deals" website starts, it operates only in one or a few cities. But deal55 started to operate in most major cities in Canada instantly! Usually it takes time to negotiate details with businesses in different provinces, because different laws may apply in Quebec and Ontario, for example.

Beware of deal55.com! Most likely it is a scam!
Update as of March 11, 2011
Almost entire day (March 10, 2010) deal55.com was down for maintenance telling the following:
Temporarily Down for Maintenance

Thank you for your support.Due to the overwhelming requests from all of you, our servers have received too many hits.Additionally, monkeys have ransacked our server closet and have swiped our extra RAM modules. Please be patient as we resolve this matter shortly. Check back in a few hours.
Why are they telling about monkeys?! They think it is humorous. It is, but not in the case when you are dealing with real money and sensitive personal information of thousands of customers. Will they write in a couple of days something like
"monkeys also grabbed all our hard drives with your credit card numbers and run away"?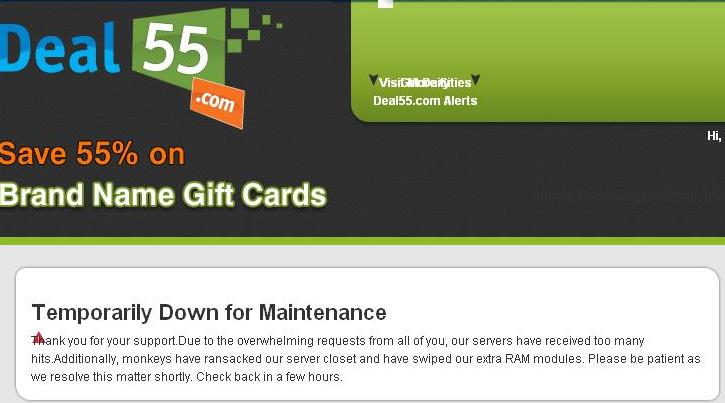 As of morning March 11 deal55.com is online again…
Lululemon Athletica confirmed through Twitter (http://twitter.com/lululemon) that they have no relationship with deal55: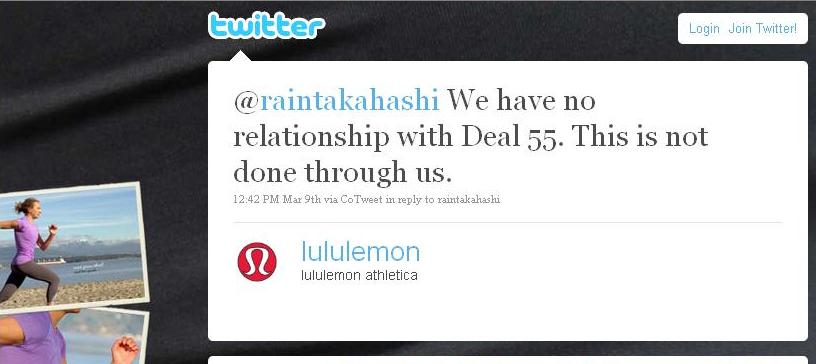 One of Twitter users (http://twitter.com/raintakahashi/) called HQ of Winners and La Senza and they could not confirm that their deals were legitimate:

Trueler has received two suspicious comments on March 10 from "Sarah" and "Pat". After tracing the origin of those comments and additional investigation, they appear to be fake and came from deal55 "co-founders" promoting this scam.
Another two suspicious comments have been posted by "CathyB" and "flo97" on SmartCanucks discussion forum (http://forum.smartcanucks.ca) in "Save 55% on Brand Name Gift Cards Deal55.com" thread: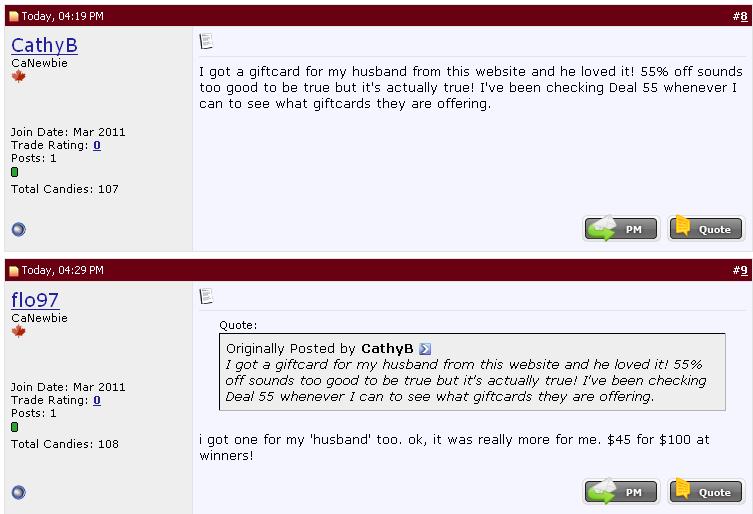 Both users registered only for the purpose of posting those comments within 10 minutes time range. I personally do not believe in such a coincidence. It is also interesting that all the commentators (on Trueler and SmartCanucks) claim that they already used gift cards for major stores provided by deal55. However, deal55 just started this scam several days ago, and "critical mass" to activate the "deal" has not been reached yet (and most likely won't be reached).
Beware! Deal55 is a 100% scam!
Just because of two simple things:
Deal55.com claims that it has partnership with featured retailers – that's why they can offer such a big discount
None of the featured retailers could confirm that they have any relationship with deal55 and none of them could confirm that deal55's offers are legitimate
Proofs for the second statement have already been provided. Here is one more from deal55's page on Facebook. They even did not bother to answer the question! It is one more evidence that it is a scam:
Proofs for the first statement are located right on the deal55.com website in Buyer's Guide section.
This one confirms claimed partnership between deal55 and all the featured on deal55.com retailers (click on image to enlarge):

This one confirms claimed partnership with BestBuy (click on image to enlarge):

This one confirms claimed partnership with Victoria Secret (click on image to enlarge):

Fake address of deal55 head office
The following address specified on deal55.com website as their head office:
Deal55.com's head office is located at 400 Apple Blossom Drive, Toronto, Ontario, Canada, M6A 3B4

There is no such address in Toronto. If we try to see what is located at this place – M6A3B4 – we will see Lawrence Square Shopping Centre. There is no Apple Blossom Drive nearby, and even in Toronto.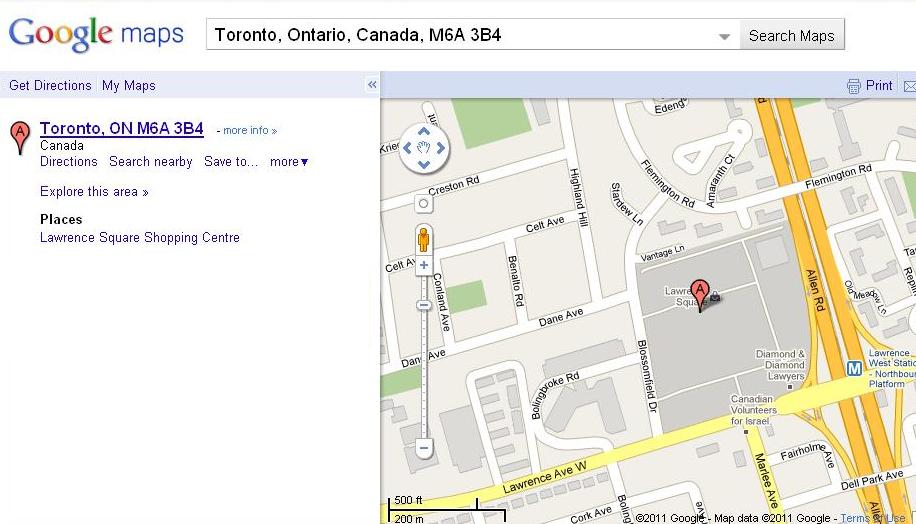 Lawrence Farbman – founder of Deal55?
There were several posts at different discussion forums coming from deal55 founder or admin describing how this scheme works. However, given description just made people believe that it is indeed scam.
For example, post at RFD (forums.redflagdeals.com) from "Deal55com" looks like this:
Hello everyone, my name is Lawrence J. Farbman and …

…

Lawrence J. Farbman

1-877-912-7882

Fax: (416) 849-0581
In fact, anyone could sign a message as Lawrence Farbman, but who needs it? If you are Lawrence Farbman and have no relation with deal55.com, please let us know. May be someone is possibly pulling a scam on behalf of you.
Ontario Choice Window and Door / StubPond Inc. / UrbanDeal / Deal55
All these companies have the same origins and the same owner – Lawrence Farbman.
On the deal55.com website in Terms and Conditions in "Deal55.com's Copyright Policy" section there is an address given to reach Deal55:
4101 Steeles Avenue West, Suite 200

Toronto, Ontario, M3N1V7
Here is a screenshot from Deal55.com:

Absolutely the same address is given in the Ontario Choice Window and Door job advertisement:
This is a Toronto based company with pretty bad reputation operated by Lawrence Farbman. Their website is down at the moment (March 2011). Even Better Business Bureau (BBB.org) canceled accreditation of Ontario Choice Window and Door recently: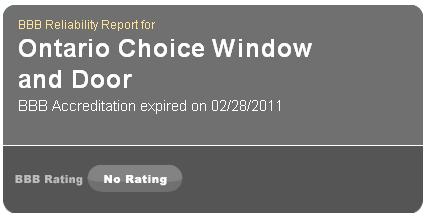 They also advise consumers who had a business with the company with some unresolved disputes to look for legal advise because BBB were not able to contact the company at all: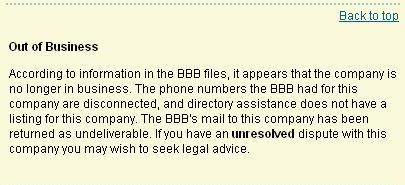 The same address is given in a StubPond (which is just a registering name for one of the daily deals websites – UrbanDeal.ca) job advertisement: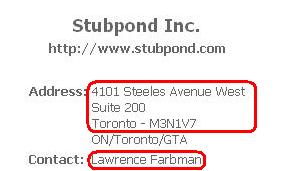 All these companies and brands are operated by Lawrence Farbman.
Extra expenditures of Deal55.com
Cost of the gift card is $100. Deal55 offers them for $45. There is no extra delivery expenses for Deal55, because $5 delivery cost is being added to you bill during purchase. However they promise $5 referral fee, so it is one of the additional expenses for Deal55. Therefor they have to "invest" even more than $55 per each gift card they deliver.
But there is one more, pretty expensive cost – Google AdWords! Yes, Deal55 advertises it. And it could be very expensive. Keywords which show deal55 ads on Google are very popular, like "BrandName Gift Card". Here are some of the examples:
"Lululemon Gift Card" will bring you to this ad:

"Best Buy Gift Card":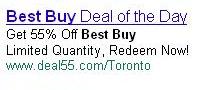 "Winners Gift Card":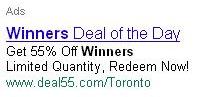 "Victoria Secret Gift Card":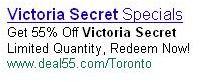 etc…
How much does it cost to Deal55? How it can be covered? Do brand name businesses pay for it? Or do customers pay for it?
Financial Pyramid
It is one of the possible scenarios how Deal55 can be set up. And it explains everything!
As far as I understand, this scheme might work in this way:
Consumers purchase a number of deals
Deal55 has complete control over counters of sold deals posted on deal55.com website, and can set any numbers they want for different cities and stores at deal55's own discretion
When deal55 has enough money to tip a deal for one of the cities/stores, they just declare it "tipped" by putting 10,000 on the counter and mark deal as "sold out". Actually it can be 5000, 300, or even 15 people who actually purchased a deal for the particular city/store
Deal55 sends out gift cards purchased from retailers as a regular buyer (as they state now, BTW) to all customers in the tipped city/store. They have enough money because other consumers had already purchased other deals, but their cities/stores have not tipped yet
Deal55 has no money to purchase and send gift cards to those who paid but their cities/stores are not tipped yet. They can only issue imaginary credits into your imaginary "wallet" for future use. So these people have only a chance to get promised gift cards if deal55 will want to mark their cities/stores as tipped. It can be only in case if many more other customers will continue to purchase new deals
There is absolutely no guarantee that deal55 will continue to keep this scheme alive forever when new customers pay for old customers. At any convenient time Deal55 can take all the money and disappear… when they think it is enough…
This is a screenshot from Deal55.com confirming that credit cards are charged immediately to purchase credits into your account wallet. It does not matter if the deal will tip or not. You will NOT get any refund in any case! This is how this scam is setup. Click on image to enlarge:

Deal55 will send out by mail many gift cards to the customers very soon, who will be very happy (unconditional 50% off for brand name stores is really unbelievable offer). And these happy customers may flood the Internet (Facebook, Twitter, other discussion forums) with happy comments and encourage other potential customers to buy new deals assuring that deal55 is safe and absolutely legit.
This is exactly what Deal55 wants – they have already asked to write comments everywhere:

But Deal55 can deliver only maximum of 40% of the gift cards purchased by customers.
They simply have no money for others! Or have they already invested over $40 million dollars in this project?
Guys, if you see a lot of positive comments from people who received their gift cards from deal55, don't rush into purchasing more deals, or encourage other people! Next time you or others can be easily robbed.
Deal55 charges your card immediately after purchase of the current deal and just adds virtual credits to your wallet.

There is no any chance to get money back in case if the deal won't tip!

There is only a chance to spend it on future deals, but will you like future deals?

Didn't you spend your money to buy $100 gift card for $45??

Will future deals ever tip???

Will Deal55 grab enough money and disappear?????

Think about it!

Don't even let people spread a word about this scam!
Beware! It's just a long term rip-off!
So, the conclusion is the following:
If deal55 will send gift cards to the customers in the tipped cities/stores soon, therefore it is a pyramid ripping-off people.
If deal55 will NOT send gift cards, therefore it is just a simple phishing.
Update as of March 30, 2011
STUBPOND INC. 8779127882 ON
If you see this charge on your credit card statement or in online report, it comes from Deal55 (or other services provided by Stubpond Inc. if you used any). Numbers are just their registered phone number. If you don't see this charge, but purchased something on the website, the charge could be scheduled on some future date. Don't relax!
Privacy Violation
Further investigation of Deal55 revealed that they do not make any effort to protect users' privacy. Personal information provided by users such as first and last name, address, etc. can be easily viewed by anyone on deal55.com website. However they are telling in the deal55 privacy policy and everywhere else that personal information is protected very well. Here are several screenshots from deal55.com website showing personal information of users. I have masked part so it does not really show full names and addresses. Click on images to enlarge: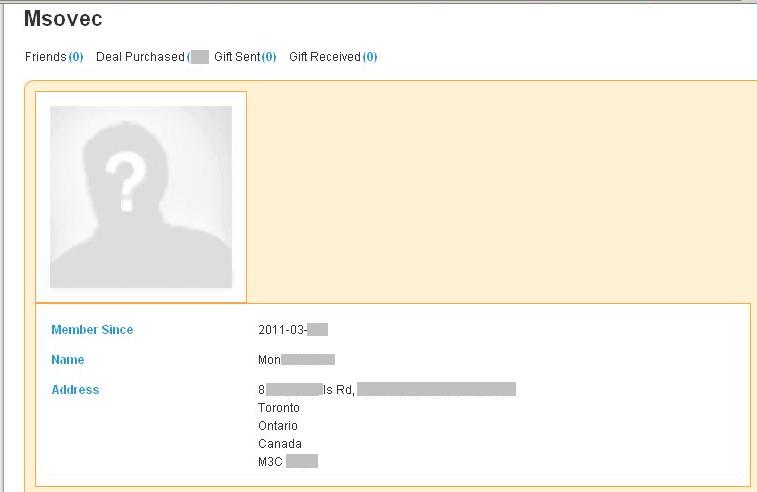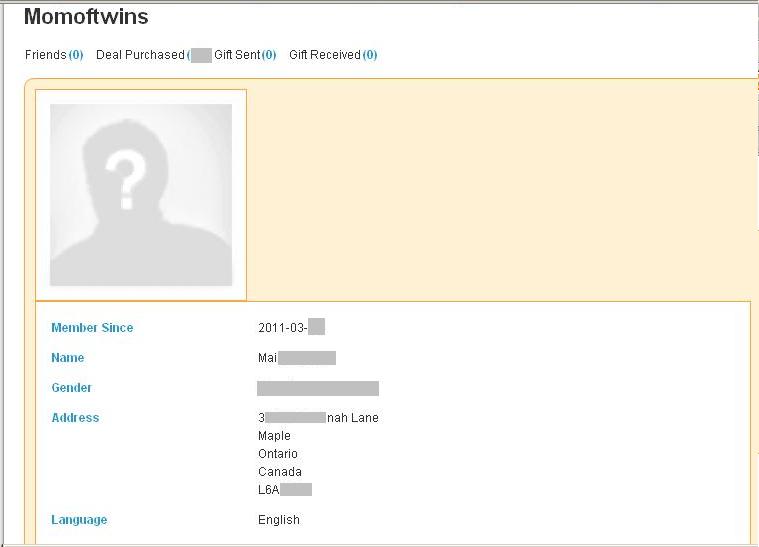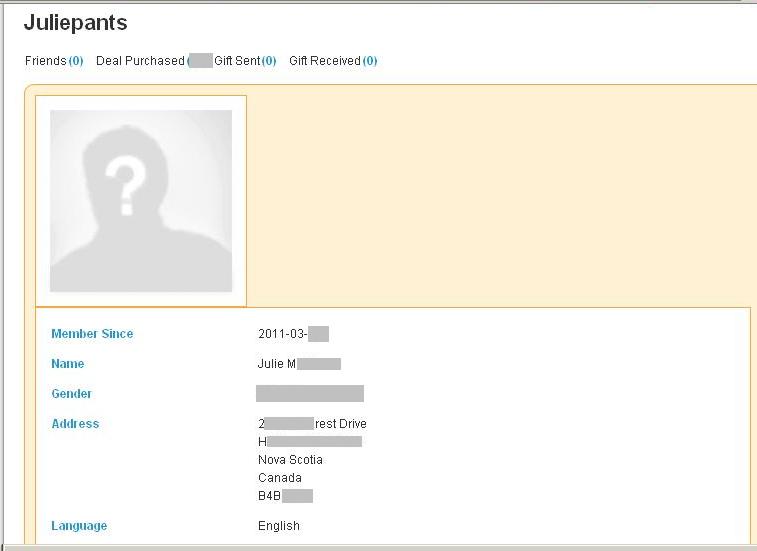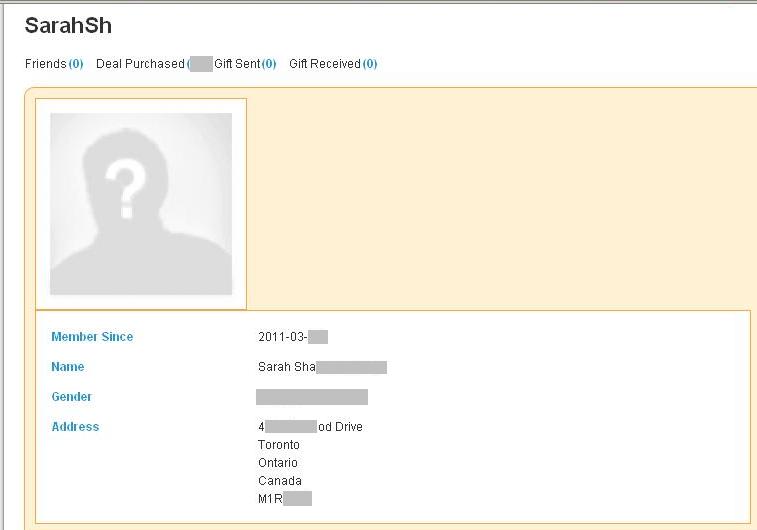 Providing your personal information to Deal55 also note that according to their Privacy Policy, they can (and probably will) share the information with merchants and third party service providers! As far as I understand, with anyone… Any spamming telemarketing company can be deal55's third party service provider.
So, this case just proved that Deal55 does not respect personal information and is ready to sell it to anyone calling "merchant" or "third party service provider".
What if the next time Deal55 will have as a "merchant" some criminals intentionally gathering such information to commit fraud?!
Updates as of April 2, 2011
Deal55 claims that about 20 deals have been tipped with 10,000 gift cards sold for each deal in different cities in Canada. That's about 200,000 gift card purchases or $20 million dollars worth. Everyone can speculate around these numbers and conclude that it is not possible at all.
Let's take a look at the actual numbers. It may be very surprising for most of us…
Number of Visitors to Deal55.com
Trueler has figured out the number of Internet users who visited deal55.com website. During the month before they claimed that many deals tipped, only 25000 global internet users visited the website. Approximately half of them from Canada. Probably after that traffic has been increased. But are 12,500 visitors able to purchase 200,000 gift cards? Average conversion rate (number of sales divided by number of visitors) in the Internet is about 3-4%. For daily deals websites it is usually higher. For deal55's unbelievable gift card offers from brand name stores it could be much higher. Let's say even 20%. It is still only about 2500 gift card purchases! These numbers are approximate. It can be 1000, 3000, 5000 in fact. But it can't be 200,000 or even 20,000.
Actual numbers of sold gift cards
Deal55 claimed that 10,000 gift cards have been sold in every tipped city/store and marked them as "Sold Out". But the actual numbers are far away from there. Below information has been taken from deal55.com website. Let's take a look city by city. I think people may be interested to see how deal55 works. Click on images to enlarge if you need:
Ottawa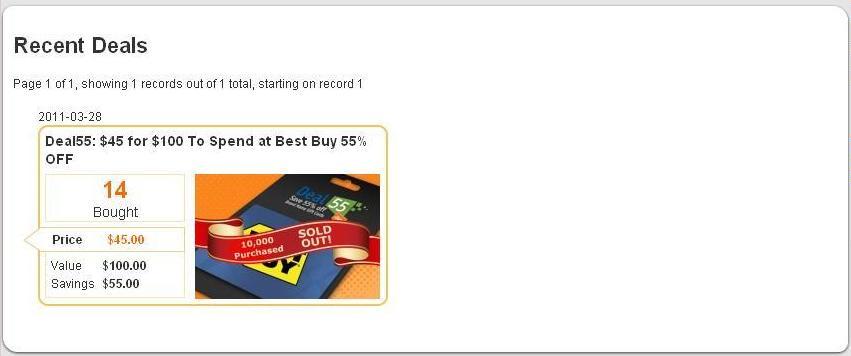 Vancouver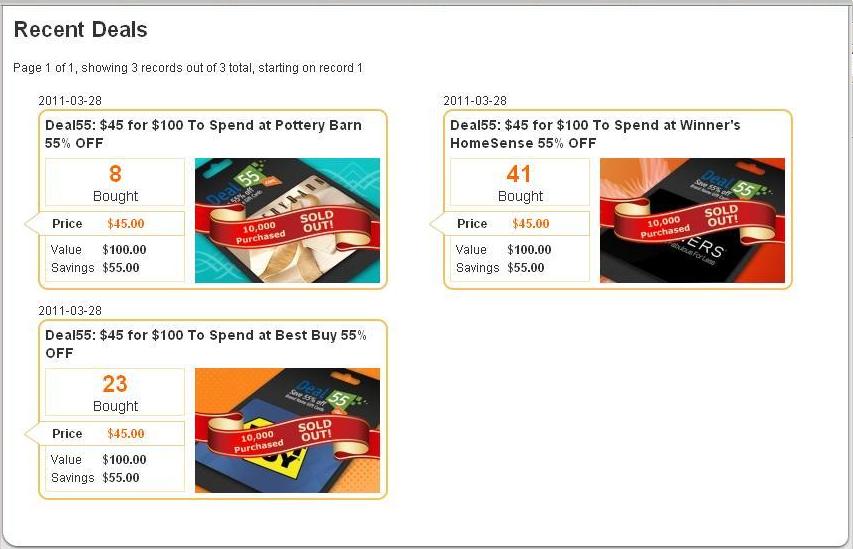 Toronto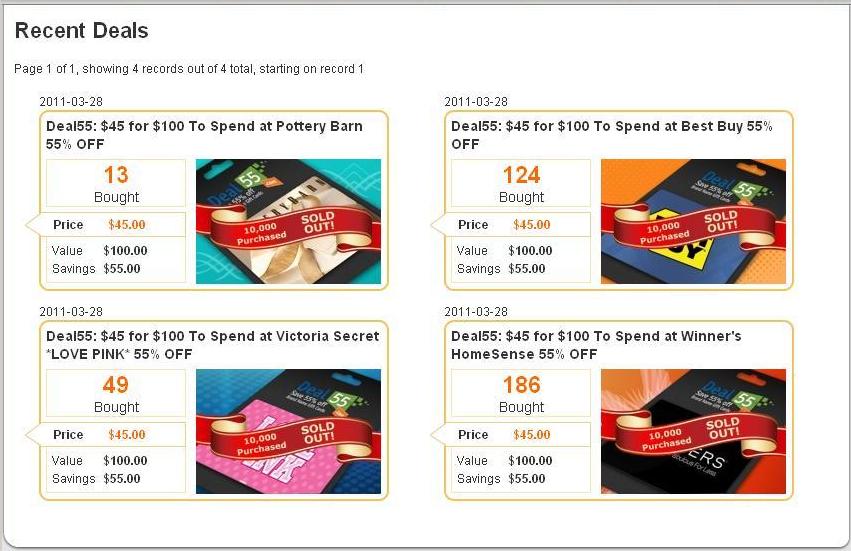 Edmonton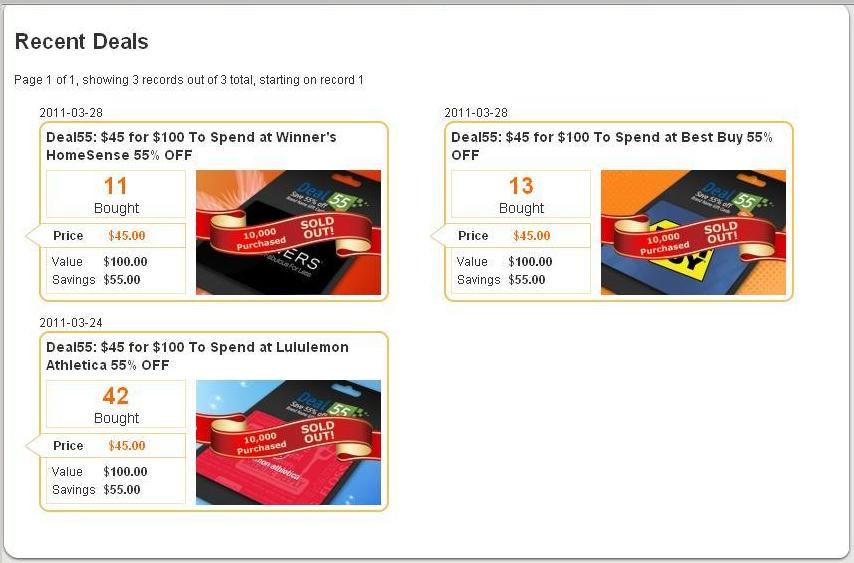 Winnipeg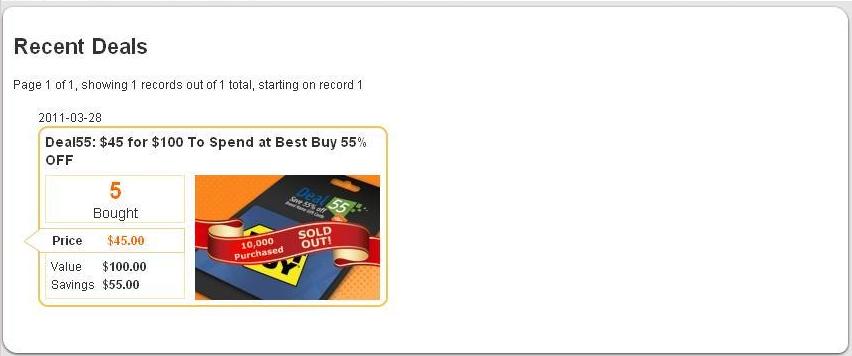 Montreal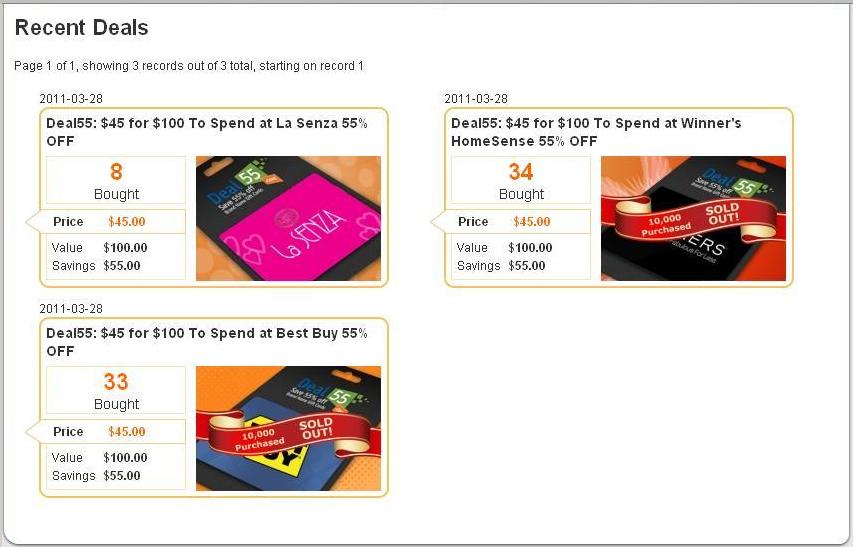 London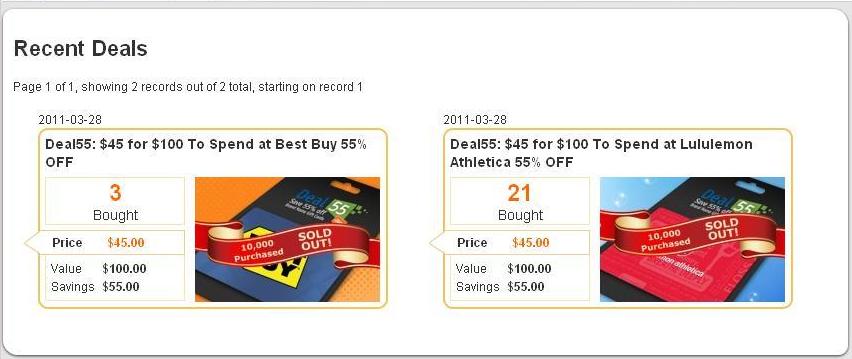 Hamilton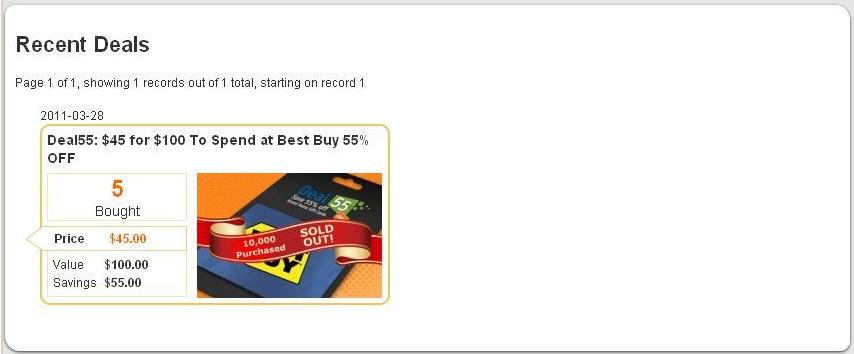 Halifax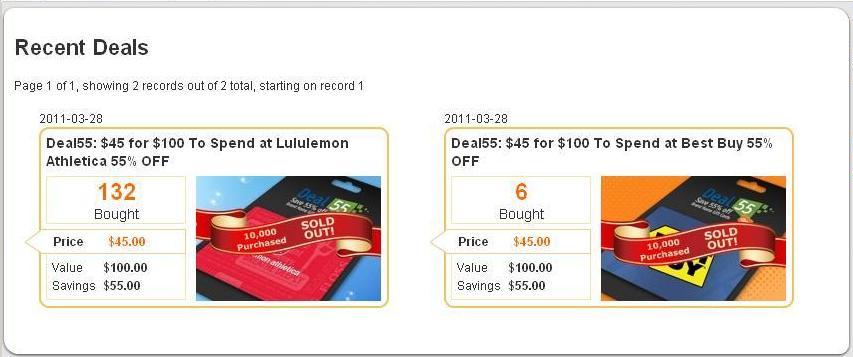 Calgary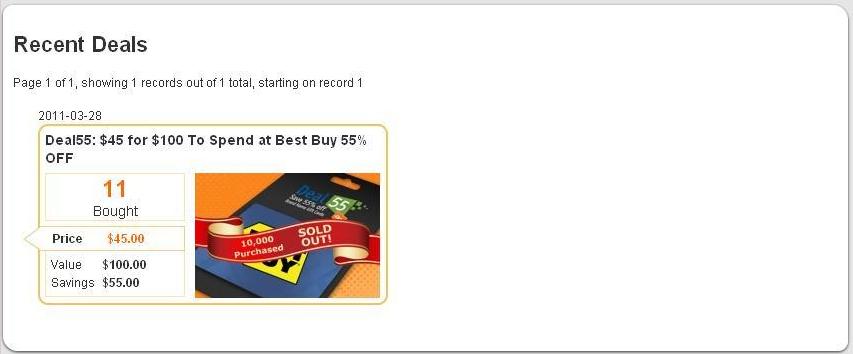 Quebec City, St. Catharines, Kitchener
No deals have been tipped…
Totally 782 gift cards have been declared by Deal55 as tipped (if I did not miss anything).
This number of gift cards deal55 can definitely purchase as a standard buyer. But what's next?
Deal55 commits fraud!
In the end of March deal55 decided to declare some deals as tipped at his own discretion in spite of real numbers of purchased deals by customers. Deal 55 informed all the people in the tipped cities/stores that gift cards will be mailed soon.
The reason for this was marketing trick.
People really started to believe Deal55 and some of the customers rushed into purchasing additional deals which were not tipped. Users started to promote this website again. Number of "likes" on Deal55 Facebook page flew up from about 300 up to 6000 in several days like never before for this page.
It is easy to conclude that now the numbers of purchased deals in "not tipped" cities/stores are bigger (probably much bigger) than those in tipped ones after excellent Deal55 promotion with 200,000 gift cards sold and mailed to happy customers.
Currently running deals are not going to be tipped because Deal55 has already spent money taken from customers who purchased these deals on 782 gift cards which they mailed (or going to) for promotional purposes.
Isn't it a fraud already? It is!
Deals with fewer number of purchases have been tipped on purpose.
Claiming that 10,000 customers bought each deal when there were actually only several dozens (in some cases even 3-5 customers) is called false or deceptive advertisement.
Most of the customers will NOT receive either gift cards or refund, because Deal55 simply has no money to do this.
782 customers are awaiting for their gift cards now. Just imagine how happy they will be seeing gift cards from Best Buy, Winners, Lululemon, Pottery Barn, Victoria Secret in their postal boxes. Most of people will leave positive happy comments on Facebook, Twitter, etc… It would be another excellent promotion from Deal55 after which people will rush into purchasing more and more gift cards…
Stop the scam!
Deal55 Petro Canada Gift Card Contest Winners
There was a deal on Deal55:
Deal 55 Gift Card Contest – 100 Winners Only: $1 for $50 at Petro Canada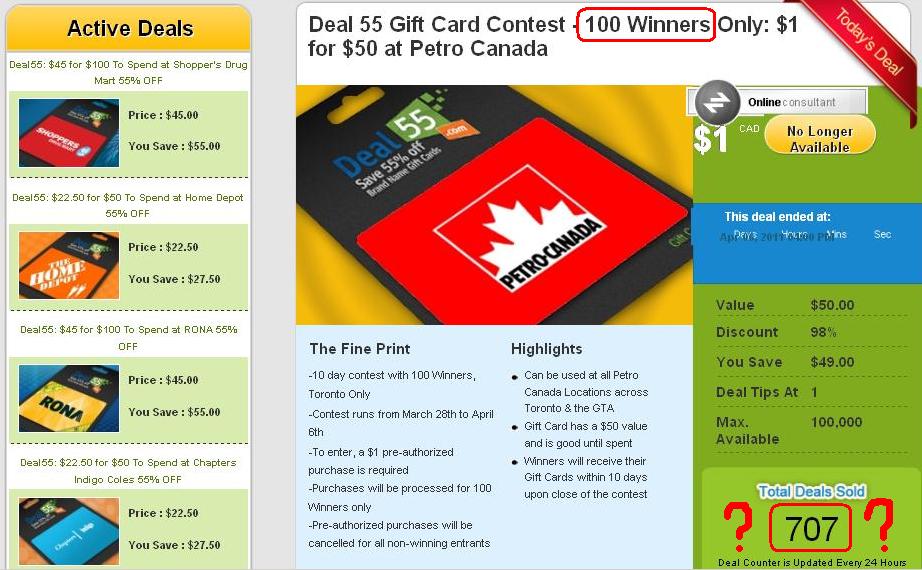 They claimed that 707 purchases happened. That is one from each 7 people should receive the gift card. No… Actually there were only 110 purchases of this "deal". Here is a proof from deal55.com website: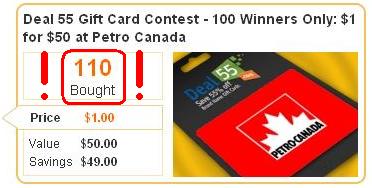 It means that more than 90% or people participating in this deal should receive their $50 Petro Canada gift cards. Only 10 participants should not expect it. Has anyone received it?