Trueler has received several complaints about WagJag from one of their clients. It is a daily deal website based in Toronto serving a lot of cities in Canada. WagJag demonstrated unacceptable negligence to the customers.
I had two "amazing" weekends trying to redeem WagJag coupons.

First was a voucher to Asia Asia Buffet in Mississauga:

"$9 for an All-You-Can-Eat Dinner Buffet, Including Sushi and Dim Sum at Asia Asia Buffet & Banquet Hall (a $21 Value)".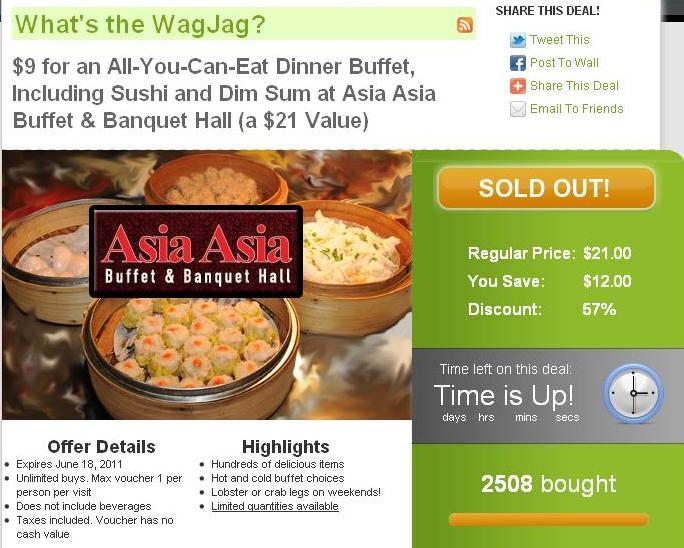 I and my family had a trip there on one of the past weekends, but unfortunately it was a big waste of time, gas and money… The doors were closed! We were very upset.

Asia Asia Buffet in Mississauga was not in business anymore. Sometimes such things happen, but there were no any e-mail notices from WagJag warning customers not to spend time on redeeming this voucher.
Another one was a voucher to Chocolat Creamery in Richmond Hill:

"$10 for $20 Worth of Chocolate Sweets and Treats at Chocolat Creamery"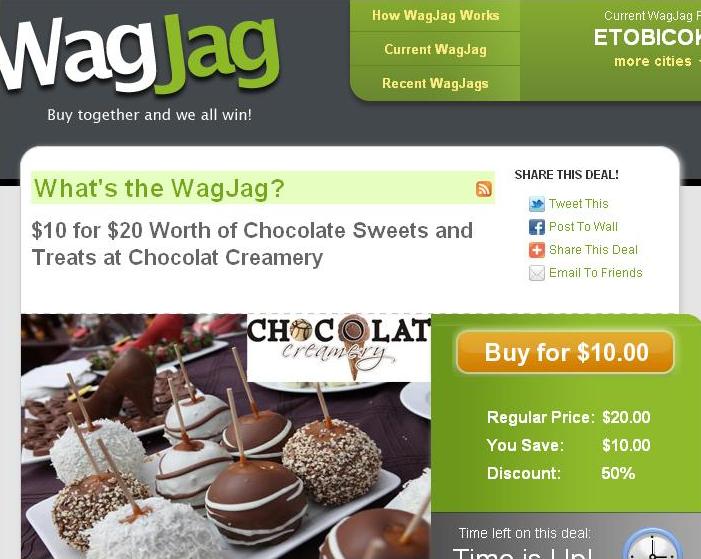 Same frustrating experience. We came there on another weekend, but the doors were closed again!!! Out of business… How is this called?!!

There were no e-mail notices from WagJag about business closure. It is again a waste of time, gas, money, and forced changes of our plans…

I have requested a refund from WagJag for this deal twice, but there were still no reply, no refund. They just ignored my requests.

WagJag gave us a lot of awful experience. One deal after another…
Why WagJag did not send any alerts to all the voucher holders when businesses were closed? Is this so hard to do? Let's figure it out!
They could easily save time and money for their "valuable customers" by sending out an alert. But WagJag doesn't care about their clients. Described experience showed it very well. WagJag knows that usually some vouchers are not used and get expired. If they warn customers as soon as business is closed, they would have to issue refunds to all the voucher holders. In reality WagJag prefers to keep those money in their own pockets.
Even Deal55 ("daily deal site" which has been proved to be a scam and still commits fraud) has sent their customers a notice that they will not be able to use one of their deals because "the retailer did not want to participate anymore". Is WagJag even worse than the worst daily deals scam? ;)
This case definitely has a negative impact on the group buying industry.