Trueler has received many complaints on Shooting Range deal provided by Gladius International Protection Services Inc on DealTicker – one of the Canadian daily deal websites (DealTicker.ca or DealTicker.com)
Basically this deal turned into a scam very fast – shooting range does not exist at all!
DealTicker refused to issue any refunds for this deal and just became a part of the well planned scam. It could be even a joint venture by DealTicker and Gladius International, since DealTicker representatives do not want to cooperate with the customers to resolve the issue and make refunds to all victims.
Here is a complaint of DealTicker scam victim:
I'm not sure if you can help me, but I wanted to share my story with you. This is in regards to an online coupon site (dealticker.com) which is selling "deals" on companies that don't exist, and refusing to provide refunds when customers realize their coupons are worthless.

I purchased 3 vouchers in March using DealTicker.com for a firing range experience at a discounted rate ($69 each). Here is the link to the deal I purchased:

http://www.dealticker.com/_39_to__99_for_dynamic_firearm_training_-_the_ultimate_tactical_experience__up_to__325_value__en_1623prod.html

According to the counter when the deal was active, DealTicker.com sold hundreds of these vouchers. After I purchased the vouchers, I attempted to make reservations for my range day experience and things went downhill quickly from there. Here is a link to a forum where people are talking about their experiences booking their days (I had a very similar experience):

http://forums.redflagdeals.com/39-99-dynamic-firearm-training-1011516/2/

It became apparent quickly to me that this coupon was not for a legitimate business operation. I emailed DealTicker.com to explain my concerns and inquire about the possibility of a refund. Hillary from the website quickly responded to my email with:

 

"Hi,

Thank you for bringing this to our attention. We do apologize for the experience that you had. We have not heard that much information about Gladius International that you pointed out. As you pointed out we are unable to give you a refund on this deal and DealTicker stands by their costumers 100%. We do hope that your next experience with us will be a great one.

Thank you

Hillary @ DealTicker"

 

I acknowledge that the deal did state "no refunds" but I assumed that if the deal actually didn't exist and customers couldn't redeem their coupons, DealTicker would reconsider their terms. Apparently not. I also cannot understand how they can sell a deal for a set price and then when I reserve the deal, I was told to bring $10 cash for a range fee, plus 13% HST "CASH only". Doesn't adding extra fees invalidate the deal in some way? I feel like they were misrepresenting what they were selling.

Anyway, I had booked a reservation for later this summer and the first groups were scheduled to start redeeming coupons in June. This is the experience the first group had – they received an email the night before they were supposed to go:

 

"Dear Customers

Gladius International regrets to inform all of you that we must suspend operations temporarily until our new range can be built. The agreement we had with the previous range was terminated suddenly and as a result we are working to construct our new range as quickly as possible. Gladius will honour its commitment to deal ticker and all of the persons who signed up. It will however take us several months to get the range operational and I apologize for this delay.

Once the range is operational, we will reschedule and reset the reservations page. Please understand, this kind of deal is new to Ontario and these events were unforeseen by us. We are doing our best to satisfy all the person who signed up for this range day experience.

Gladius International"

 

Now of course, many people would like to have their money refunded by DealTicker as they have sold $1000s of dollars of worthless coupons.

DealTicker is refusing to provide any refunds whatsoever which is unbelievable to me.

Here is a link to a forum of people discussing this:

http://forums.redflagdeals.com/gladius-international-1050401/

I emailed DealTicker yesterday and have not received a response. I telephoned them today and the call went straight to voicemail. I left a polite message with my name and contact number and they have not returned my call. One of my friends was able to connect with DealTicker on the phone today, the man who answered her call refused to refund her money as she "still has 2 years to redeem the voucher". She threatened to tell this story to the media and the DealTicker representative laughed at her and said "go ahead".

I fail to understand how a company can blatantly refuse to refund their customers when they cannot provide the service that the customer paid for. This is unacceptable.

As I said earlier, I'm not sure you can help me but perhaps you can speak out for consumers and spread the word about DealTicker.com and their business practices.

Thank you very much for any public attention you can bring to this matter. People should know what they're getting into when they purchase from DealTicker.com, and DealTicker shouldn't be able to get away with this!
Thanks to all who have sent complaints with experience regarding this "deal" to Trueler! I really hope that all victims will be able to get refunds from DealTicker. There are good advices on how to do this on RFD forum threads mentioned above, like sending request to DealTicker and place Consumer Protection Branch at the Ministry of Consumer Services in CC.
I've tried to do some investigation, but it is not even really needed… It's just a scam in the first place… So, I'm summing up thoughts of forum users and my thoughts in order to protect ourselves from future possible scams from DealTicker and other daily deal websites.
Location of the "Shooting Range"

Gladius International Protection Services Inc have two websites:
http://www.gladius-international.com
http://www.gladius-international-booking.com
The second one has been registered on March 17, 2011 after deal happened on DealTicker. It shows the following location: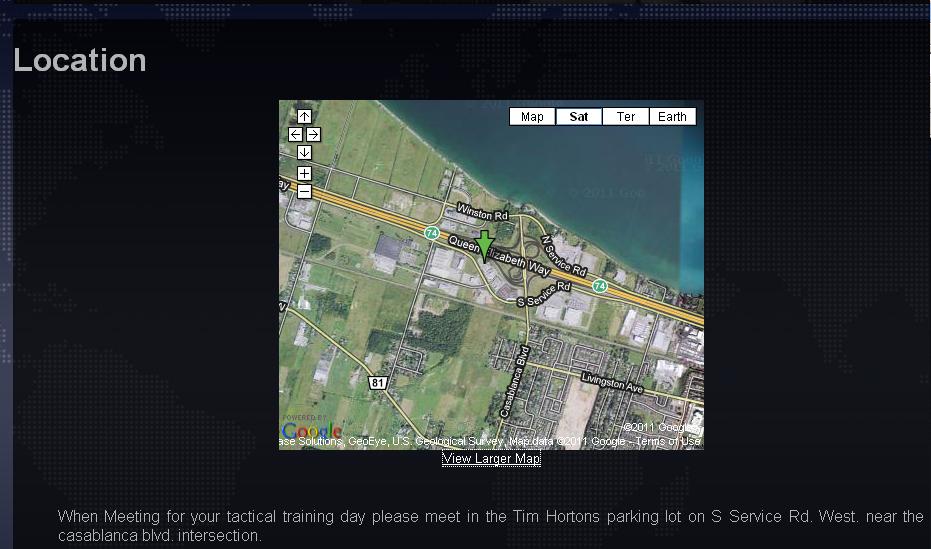 Yes, it is Tim Hortons on the way to Niagara Falls. This is the mentioned spot: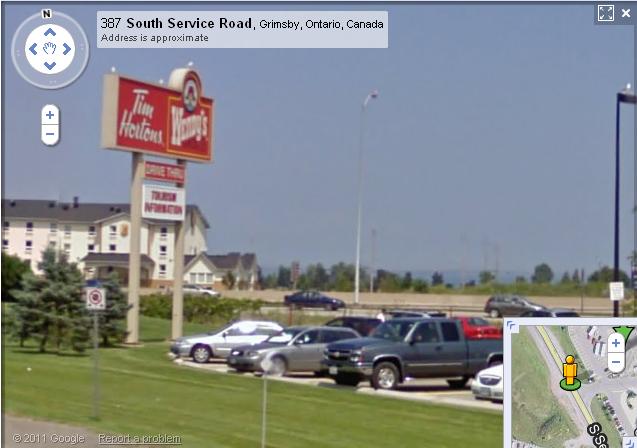 There is absolutely no sense to gather at Tim Hortons parking lot before going to the range. Doesn't it have a parking?! There is no range at all, as Gladius International confirmed in their recent e-mail to customers.
Is Gladius International just a Paintball?
Whois entry of the first website shows the following information:
Domain Name: GLADIUS-INTERNATIONAL.COM

Created on: 30-Sep-10

Expires on: 30-Sep-12

Last Updated on: 24-Nov-10

Administrative Contact:

horvath, william –  info@c-q-b.ca

163 sterling rd unit 3

toronto, Ontario m6r2b2

Canada

(416) 895-7408 Fax —
This is the address of CQB – "Tactical Paintball and Training Academy" which had deals on several daily deal websites like DealFind, WagJag. Their website is http://www.c-q-b.ca
This is one of the previous CQB Paintball deals from WagJag: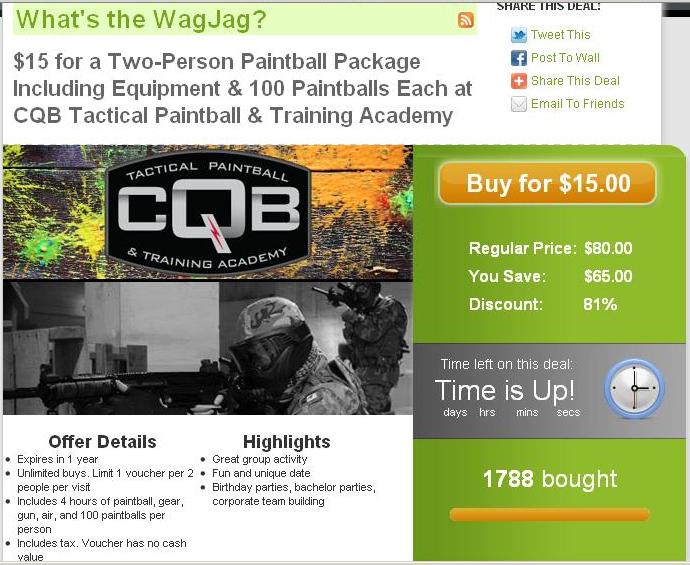 So, I guess, Gladius International perfectly know how this kind of "marketing" works and when to expect cash from daily deal websites.
Scam Signs in the Deal Description

Suspicious things about the current deal can be usually found right in the fine print. I agree, that it is easy to say when deal is over and it is already known as a scam, but nevertheless, I hope it may be helpful for future.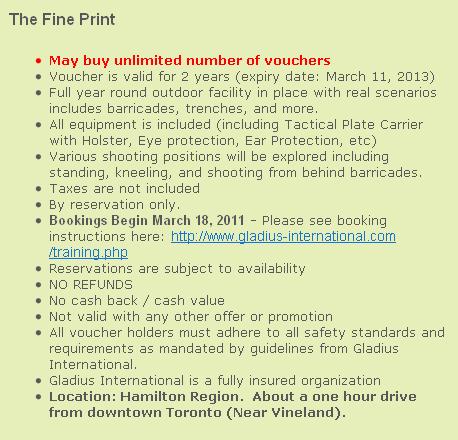 Unlimited number of vouchers
It's almost a sure sign that something will go wrong with voucher redemption. The idea of daily deal marketing is to bring new customers. In the case of unlimited number of vouchers the idea is to raise as much cash as possible.
Bookings begin weeks after the business gets featured
It's a sure sign that business is not prepared to properly serve customers
It violates the promise of DealTicker and other consumer protection acts. Business is not allowed to claim "No Refunds". Something is going to be wrong for sure.
No exact location specified
It probably does not exist at all as it happened with Gladius International Shooting Range.
Where are the Customers' Money?
As far as I understand DealTicker's explanation regarding "No Refunds" due to booking in advance, Gladius International already got their portion from DealTicker. There is an online booking system at www.gladius-international-booking.com which takes codes. As soon as codes are entered into Gladius booking system, they can get money from DealTicker as for redeemed vouchers.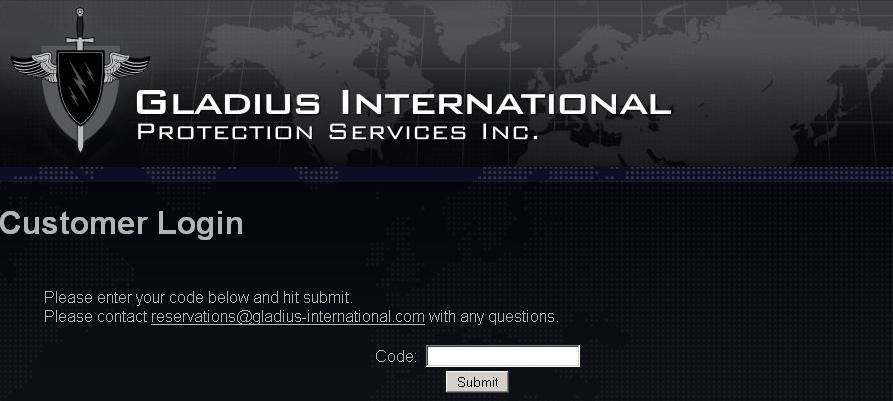 There were about 2200 coupon purchased totaling to roughly $100,000. So DealTicker and Gladius quickly got $50,000 each for nothing, and no one of them agrees to make refunds…
Bait-and-Switch
There were several frustrating changes after vouchers had been purchased by customers. However it does not really matter now, because there is no way to redeem vouchers due to non-existence of the shooting range.
$10 extra "range fee" on the top of voucher price
Taxes must be paid by cash only
Changing times, cancellations, "closing" old range
Funding a Start-Up?!
Expiration time has been extended up to 5 years, so according to DealTicker refund is not going to happen for at least next 5 years. It's pretty much enough to draw $50,000 and build a range. It is a free credit from us – consumers.
It's not the first time when DealTicker promotes Scam
Unfortunately it does… They were promoting The Butchers deal knowing that it was not valid and knowing that the previous Butchers deals were actually scams. They had to make sure that Gladius indeed have shooting range before featuring this deal. But DealTicker let their customers down again…
If anyone had a success in getting a refund from DealTicker for this deal, please let everyone know how!
Thanks for your cooperation! Beware!
DealTicker has just responded to this article through contact form. According to the response, they are currently refunding all individuals who are wishing to get their money back.
DealTicker also informed that it was an "unfortunate circumstance" (in their opinion) rather than "scam", since refunds are being offered to all purchasers.
Well… Over three months passed. Better late than never. Thanks to all contributors (especially from RFD) for effort trying to resolve the problem. If anyone still has problems with refunds, please let us know.