Here is a complaint (finally resolved) on KTTC – Key to the City Roadside Assistance (keytothecity.ca) program which has been featured on many daily deal websites across Canada like WagJag, SwarmJam, Groupon with a deal:
$48 for a One-Year Membership to the Roadside 24/7 Peace of Mind Emergency Assistance Program from Key to the City (a $149 Value)
So far, the customer lost this membership cost, a lot of time, and ~$300 on alternative help because this company refused to help when they were needed the most. Some more details below.
It was a beautiful Sunday on Sept 18, 2011 until Key to the City Roadside Assistance darkened it…
Our car had an unexpected breakdown in Toronto Distillery District, and could not be started. We had so called "peace of mind" – Key to the City Roadside Assistance which was valid since August, 2011 with expiration date in almost 11 monts:

So I called their 24-hour emergency phone line at (888) 922-3557, described the situation and asked for help – towing to my repair facility. But the representative informed me that the policy has been cancelled! No reason, just cancelled. I've asked many question to figure out why, when, who, what should I do… But the verdict was the same: "Your policy is cancelled, we will not dispatch any truck for you".
It was a Sunday. So basically they told me to stay at the street overnight until their customer service reopens on Monday, and maybe they will figure out what had happened to the policy.
The first expense was for a taxi – $60. I had to send my family home first to keep them safe, because I could not imagine how everything ends up.
Then I've tried to figure out the reason of a breakdown – unfortunately no luck. All car repair shops were closed as well. And I had to search for alternative help in order to get towed North. While I was away from my car, I got a $30 ticket for parking on a permit street which I've already paid at Toronto Parking Tag Operations. I went there in order to dispute it, but they could not cancel the ticket because it was on a permit street (as they explained).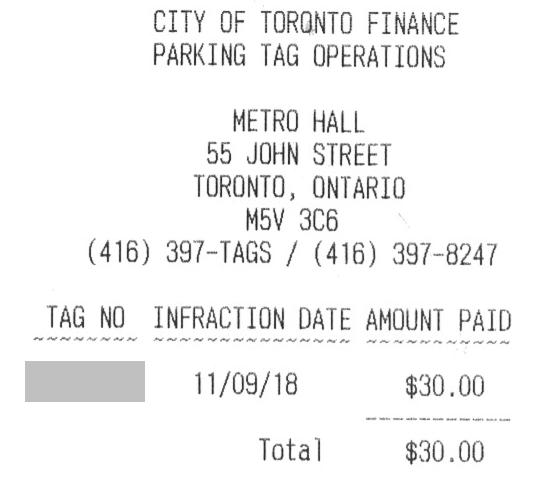 Finally after several phone calls the tow truck has been dispatched and the guy did everything right and professionally. Thanks a lot to him!!!
Here is a towing bill for $180: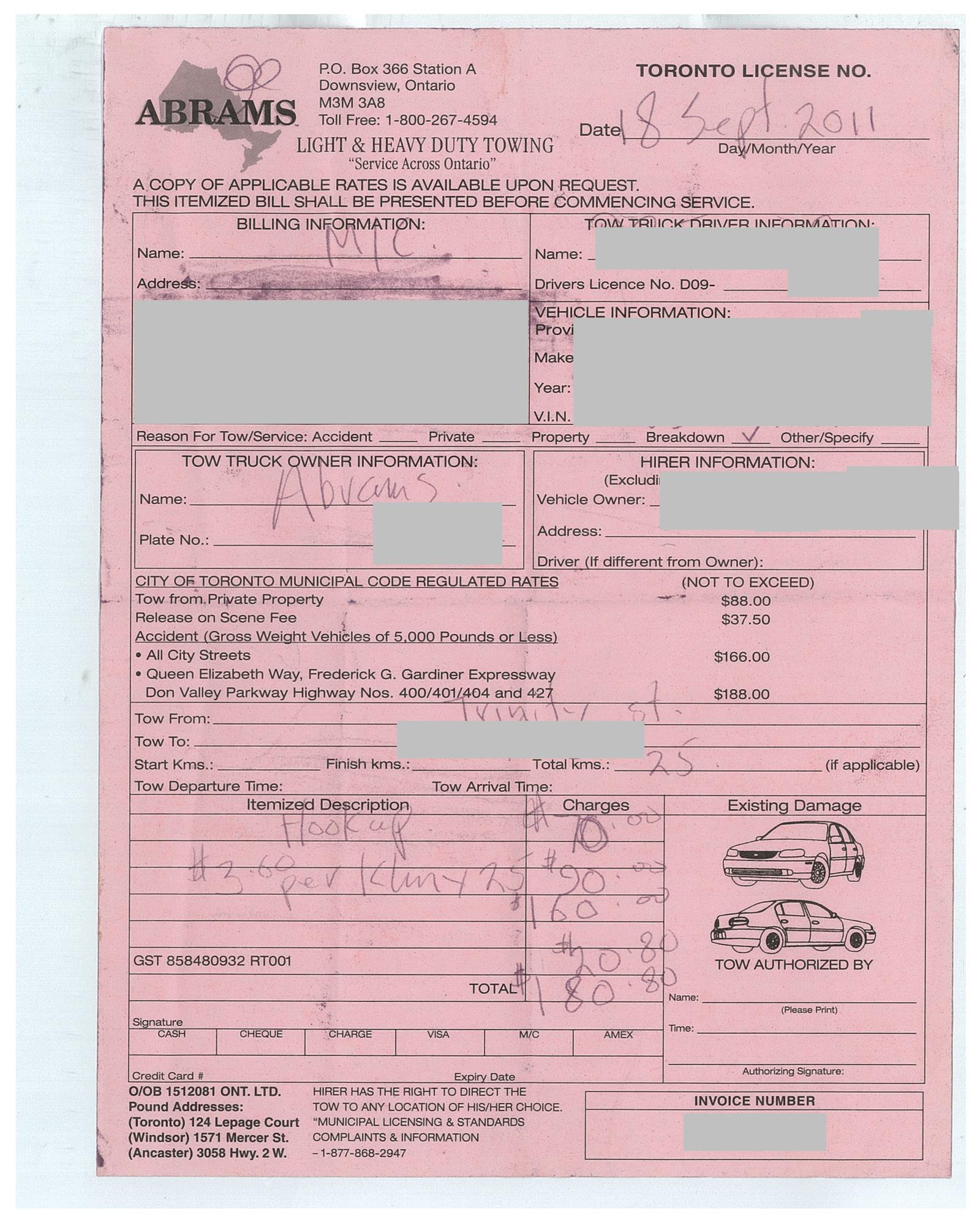 So, the total expenses due to Key to the City refusing their own valid policy were $270 + a lot of wasted time.
I've contacted the company the next day after the incident. They replied with apologies that the policy showed "cancelled" because their system was being upgraded.
I don't know… It is a real system involving customers time and money, and it is so unreliable?!
However they asked me if I still need a truck (yes, I'm living at the street for two days…) or used another truck company, so I can send them bill for reimbursement. I did send all these three receipts to Key to the City. But have not been reimbursed yet. It is October 17, 2011 now – almost one month after the incident. I've sent them reminders, they used to reply initially but with huge delays, now they don't reply since Oct 12…
---
We will definitely post updates if the customer receives the reimbursement.
The reaction from the merchant looks very similar like time killers from other companies like Gladius International, The Butchers, etc. The reason could be waiting for deal companies to transfer money to the merchant, or preparing future deals with more deal companies.
Trueler does not accuse "Key to the City Roadside Assistance" program in any kind of fraud or scam yet, let's wait for resolution of the above case and
if anyone already had experience with them, please share!
Let's take a closer look at the company:
There are absolutely no reviews on "Key to the City Roadside Assistance" company in the Internet
They offer 24/7 roadside assistance. It's not true: the customer had to wait overnight until open hours on Monday at the street in order to talk to representative who is able to dispatch a truck
Unlimited service calls for towing. It's not true. From their policy which they send after purchase there is a statement: "Roadside Assistance service is limited to one (1) use in any 72 hour period during the twelve (12) month coverage period"
They have just re-designed their website. For more deals? They have time to do this, but don't have time to work with upset customer?!
We need more experience. Please share! So far, this company does not look good at all. I would avoid it.
Update as of Oct 19, 2011

After reading this post, Key to the City assured customer that cheque has been mailed on Oct 19. This is the summary of conversation between customer and roadside assistance:
Sep 18 – Breakdown in Toronto. "Key to the City" roadside assistance refused to honor valid policy because it showed "canceled" in the system
Sep 19 – Customer: sent information about the incident to "Key to the City"
Sep 19 – Roadside: sorry for inconvenience. Provided Ottawa phone number to contact them
Sep 19 – Customer: asked to figure out what happened and resolve issue by e-mail
Sep 20 – Customer: sent reminder since no responce
Sep 20 – Roadside: apologised. Informed that it happened due to "system upgrade". Offered customer to send tow bill for reimbursement
Spe 21 – Customer: sent bill and receipt
Sep 23 – Customer: sent reminder since no responce
Sep 28 – Customer: sent another reminder
Sep 29 – Roadside: promised to send cheques on Oct 3-4 (begining of the week)
Oct 12 – Customer: no cheques received. Send a note asking to check
Oct 12 – Roadside: Will check, and get back to the customer
Oct 14 – Customer: sent reminder since no responce
Oct 17 – This article has been published on Trueler.com
Oct 19 – Customer: sent another reminder
Oct 19 – Roadside: informed customer that cheque was in Oct 19'th mail
One month already passed… We will post an update if customer receives reimbursement from the company.
Update
Oct 24 – The customer received a cheque from Key to the City! With reimbursement for towing, taxi, and ticket.