If you are going to deal with Marlons Butchery, Marlin's Fish Shop, Marlon's Meats or Marlon's Fish please note that these names are new brands of The Butchers store in Toronto owned by Marlon Pather.
The Butchers got very bad reputation in 2011 during their campaign on various daily deal sites like Buytopia, Webpiggy, DealTicker, DealGetters, DealFind and Teamsave. They are known for significantly reduced quality of the products and services. They have also unilaterally changed their terms and conditions several times making impossible to redeem coupons. A lot of customers were trying to get refunds from daily deal companies. For detailed information on The Butchers you may refer to these two articles:
The Butchers Scam on BuyTopia, WebPiggy.. Additives in meat
Where do The Butchers "Organic meats" come from?
The Butchers website: thebutchersorganic.com
Marlin's Fish Shop
There is not too much information about this new brand from Marlon Pather and The Butchers. This name was present in daily deal offers from BuyTopia And Webpiggy:
$99 for $400 worth of organic and naturally raised meat from The Butchers, inclusive of a $50 credit to the opening of Marlin's Fish Shop. Don't miss The Butchers 10th Anniversary, Deal of the Century!
It is supposed to be opened in early May 2011 according to the daily deal offers:
Marlin's Fish Shop will have it's Grand Opening in early May
at "2631 Yonge St., Toronto, ON" just across the street from The Butchers:

Their website: marlinsfish.com
Domain name has been registered on November 10, 2010 and is pretty fresh containing some "about" and contact information: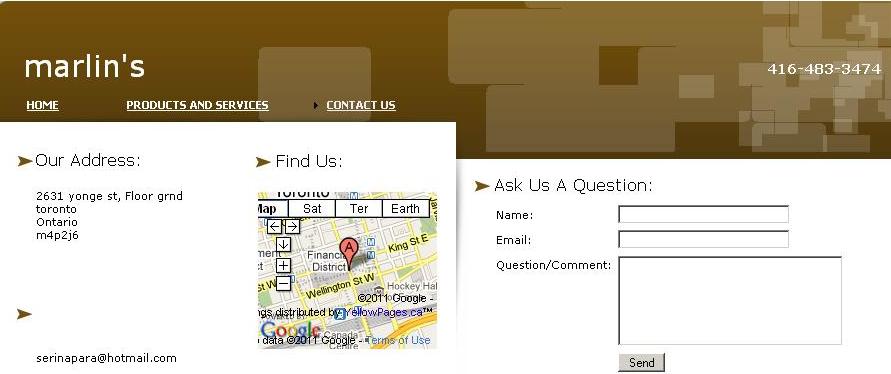 However, according to postcity.com the new Seafood Market from Marlon Pather and The Butchers was supposed to be opened in the mid December 2010:
http://www.postcity.com/Eat-Shop-Do/Eat/December-2010/New-seafood-market-to-open-in-North-Toronto/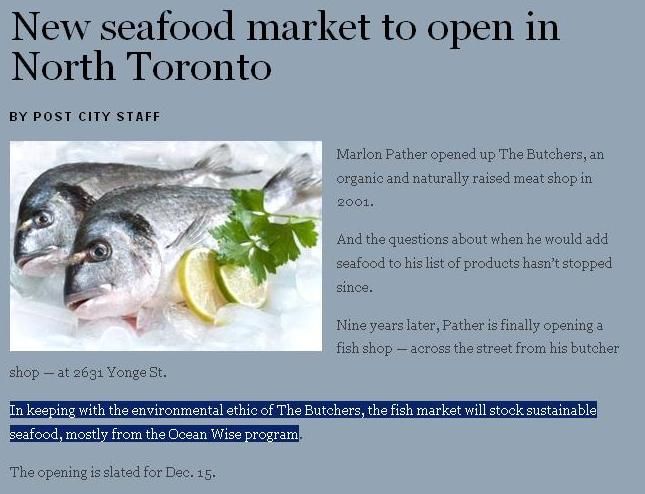 What happened? Did they have not enough money to open the fish store and decided to run multiple daily deals for The Butchers first trying to get some cash?
Marlons Butchery
Website: marlonsbutchery.com
They provide catering services in Toronto. Phone and fax (order line) numbers are the same as at The Butchers:
Tel: 416-483-5777

Fax: 416-483-9447
Domain name has been registered on February 14, 2011 and the website already looks good, however many information pages are still missing as "Coming soon!"
As it is stated on the website, Marlons Butchery has been serving the Toronto area for many years… But I could find information about "Marlons Butchery" only at marlonsbutchery.com website. Should I try to search harder? Or is this a brand new business from Marlon Pather and The Butchers?
Marlon's Meats
Looks like just a different brand name for The Butchers which lost all its reputation in the beginning of 2011. New brand – new service?
Website: marlonsmeat.com
Domain name has been registered on March 18, 2011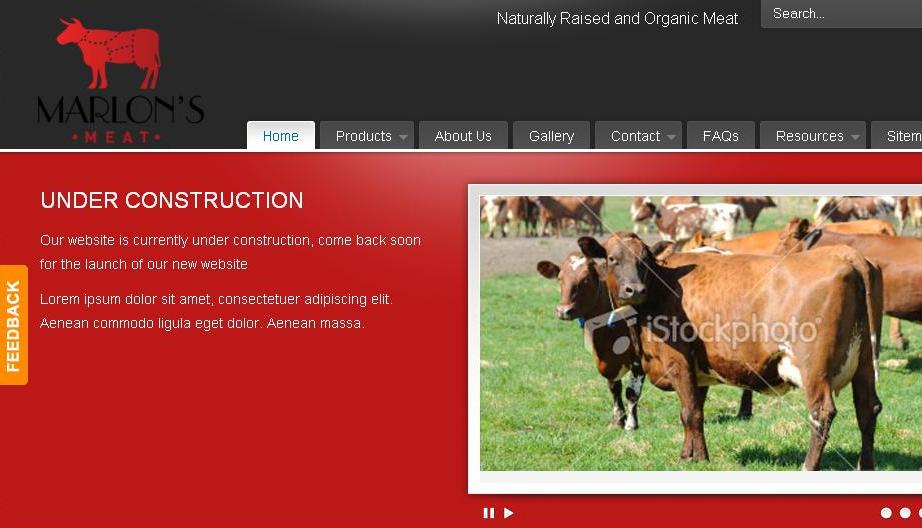 Marlon's Fish and Marlon's Catering
Two domains have been registered on March 18, 2011 as well as Marlon's Meat:
marlonsfish.com

marlonscatering.com
The contents of these websites are not currently visible for Internet users or search engines.
Looks like Marlon Pather and The Butchers have a plan for the case if their current store goes under…