The Butchers "Organic and Naturally raised meats shop" has sold over 15,000 coupons in Toronto for approximately $175 each worth of meat at the cost of $55. It is over $2.6 million dollars worth of meat. If we take an average price of the most selling meats by The Butchers as $30 per kilogram (chicken, ground beef, etc…), we get about 90 tons of "organic and naturally raised" meat. For a really small shop! Everyone can speculate about these numbers and conclude that it is not possible to meet this huge demand without dramatic decrease in quality of meats and service.
The Butchers shop has been featured by Webpiggy, Dealgetters, DealFind, Dealticker, TeamSave, BuyTopia daily deals websites (did I miss anyone?). There were a lot of complaints on service, products and prices at The Butchers after the major offer on DealFind. It turns to be a scam at some discussion forums. They simply can not handle all the customers. They significantly reduced working hours, assortment, quality, etc. The only thing they should care about now is to service all customers with already purchased coupons because The Butchers has real problems with it (actually vice versa – many customers have problems with The Butchers). But! What do they do instead?
They are offering another deal on WebPiggy again:
$100 for $400 worth of organic and naturally raised meat from The Butchers, inclusive of a $50 credit to the opening of Marlin's Fish Shop. Don't miss The Butchers 10th Anniversary, Deal of the Century!
It is running through the weekend (April 8 – 10) and 1600 already bought the deal. I think they just need more cash to purchase more meat from some cheap place. I don't see another explanation.
Well.. There were only speculations before in this post.
Now Trueler provides real proofs of how "Organic and Naturally raised" the meat from The Butchers is and what it actually worth.
Most of the products purchased with one of the coupons at The Butchers in the beginning of April 2011 were of bad quality. I have prepared and described facts about sausages bought at The Butchers. They definitely do not worth $10.99/pound (or $24.40/kg). Probably $1.99/pound is a fair price for them (I'm not sure what is the exact percentage of starch and carrageenan they have added to the sausages).
Let's see what "Organic and Naturally raised" sausages from The Butchers represent.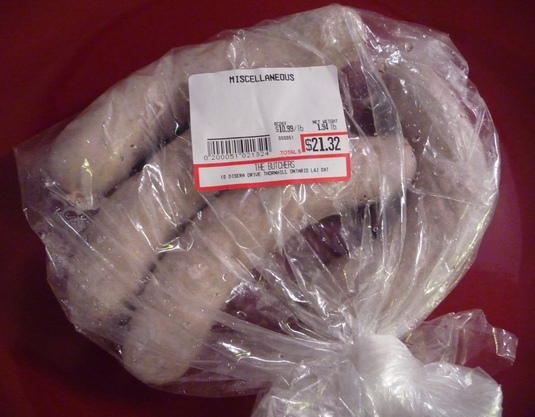 After thawing of frosted sausages there were about 50ml of water in the plastic bag per 1 lb of meat. It is over 10%. Here is a picture: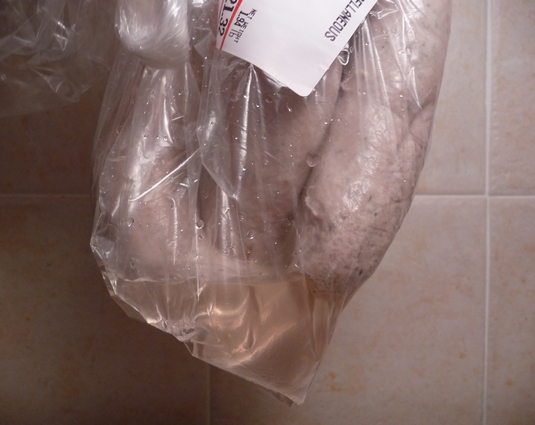 The consistence of sausages were very suspicious to be claimed as "Organic and Naturally raised":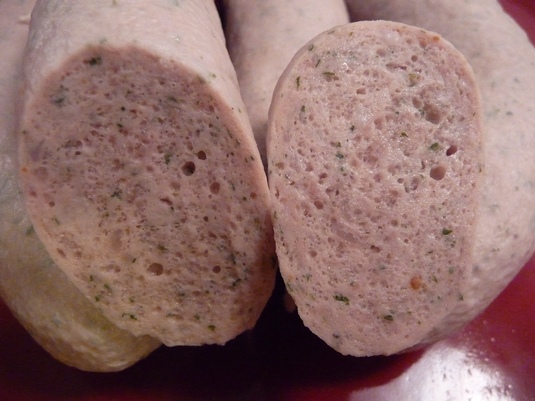 It looks like a sponge which is a sure sign of starch presence in the meat. I used Iodine Test to show everyone that sausages from The Butchers contain a lot of starch. Iodine reacts with starch to produce purple black color or blue black color (depending on how much of starch is present in the product). I've written a letter "S" by Iodine on the cut of sausage and it turned purple black: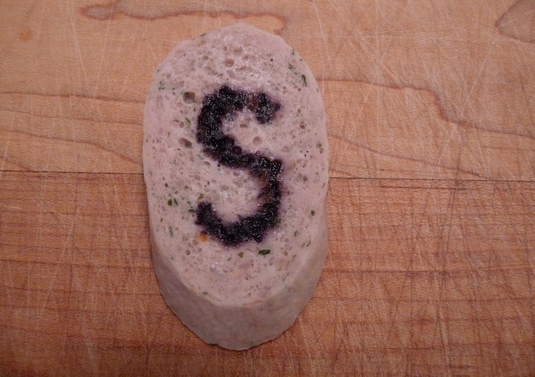 It means that there is a lot of starch in those sausages. Here is a comparison to understand the reaction. Potato contains starch and pear does not: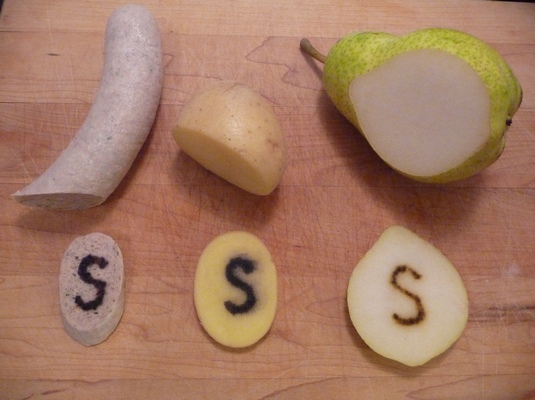 Iodine written "S" remained brown on a piece of pear. Iodine reacted with starch contained in potato and "Organic and Naturally raised" sausages from The Butchers.
Is the starch used by The Butchers organic and naturally raised? It could be. But it also could be a modified corn starch or even something less natural. I don't know.
But sausages with significant amount of starch definitely do not worth $24/kg (or $10.99/lb)! It is like cheap prepacked sausages from the nearest supermarket.
Let's try to cook them!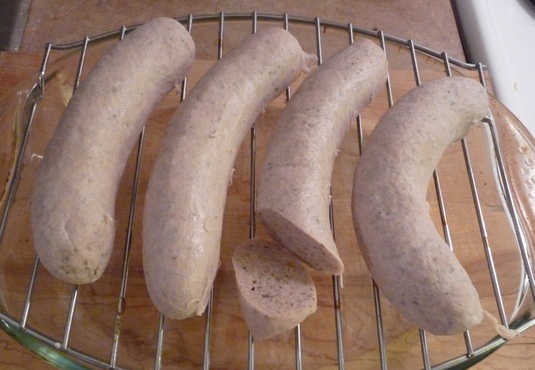 I have never seen good barbecue sausages exploding when cooking…
It is because of natural sausage casing which does not crack.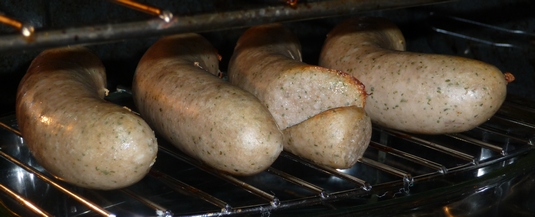 Sausages from The Butchers started to crack quite soon: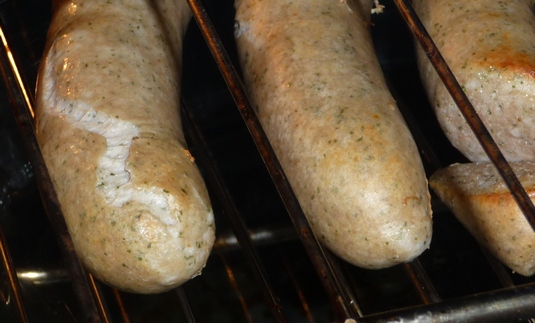 Then sausages exploded!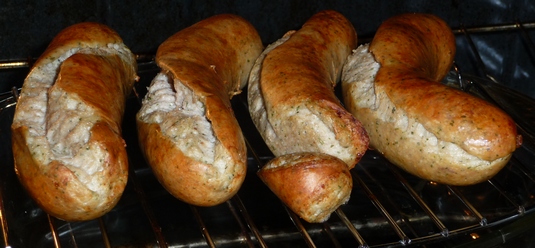 This definitely means that sausage casings are artificial and NOT natural.
Meantime Iodine almost evaporated from the pear without reaction, but left its footprint on the sausage made from starch: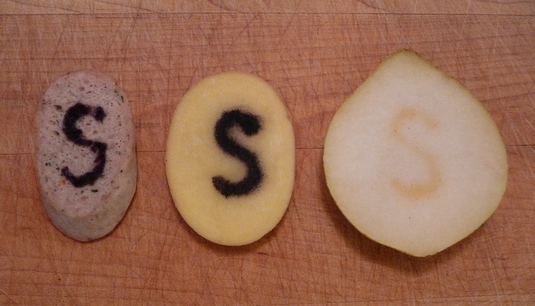 After cooling sausages significantly shrinked:
Inflation of sausages in the oven, shrinking when cooled, excess water – all of these is a sure sign of carrageenan (E407 food additive) in the meat. It is used in the food industry to increase or even double the weight of meat. Carrageenan may cause allergic reactions for some people.
Scented sausages with preservatives from The Butchers
(update as of April 11)
I left piece of UNCOOKED sausage out of the fridge at a room temperature for about two days.
It did not spoil at all! It has absolutely the same smell as it had two days ago. Natural meat should spoil in a warm place very quickly. However sausages from The Butchers kept their scent which is most likely artificial. Unfortunately I can't post and share the smell here, but it is absolutely the same as two days ago. It definitely means that at least preservatives have been added to the meat being claimed by The Butchers as "Organic and Naturally raised". It is a sure sign of artificial flavor added as well. Or has the meat been raised with antibiotics?
This is just one example of bad quality products from The Butchers. For other products and services I have not prepared a visual demonstration, but can add the following:
Beef had almost the worst quality I have ever tried. It was sinewy and hard (cooked well as usual)
Poor choice in the store on weekend at around noon
No receipt provided!
It looks like a million dollars scam with current unfair support from WebPiggy who manipulates with comments on their discussion board by removing valuable truthful posts from the customers in order to conceal information about The Butchers and promote the scam.
Too many unnatural things are happening at The Butchers, don't you think so?
The "Last and Final" deal from The Butchers?!!
(April 12, 2011)
Unbelievable! Now on Buytopia with the "Final Deal":
$99 for $400 Worth of Organically and Naturally Raised Meats from The Butchers – LAST DEAL FROM THE BUTCHERS
Is it really final? I hope this scam will end soon… Will anyone buy this deal from Buytopia.ca after all things happened with previous deals from The Butchers on other daily deal websites?
Update: We have a report from one of the customers:
Where do The Butchers "Organic meats" come from?
One more "Last Deal" at DealTicker
(April 15)

"The Butchers" deal on DealTicker with the same $99 for $400 deal. One more last deal?! Let me guess… Next one will be on…
$99 for $400 worth of Organic and Naturally Raised Meats and More from The Butchers (includes a $50 credit to use at soon to be launched Marlon's Fish store) ($400 Value)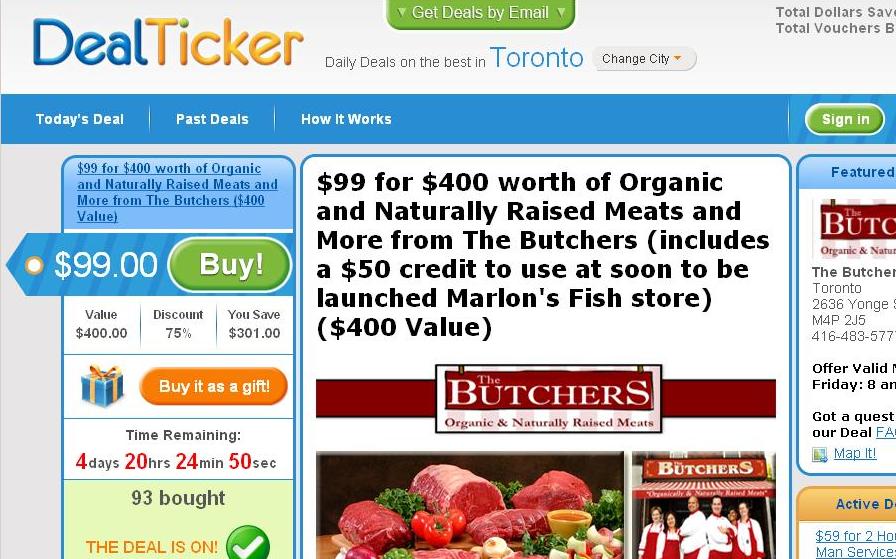 Attention!
The Butchers website states that the deal on DealTicker is NOT valid!

However DealTicker still states the opposite and encouraging to buy more and more coupons:

What the heck is going on?! Just another promotion?
Here is the answer from DealTicker who sent an e-mail to subscribers very late:
…

It has come to our attention that The Butchers are turning away customers and refusing to honour vouchers purchased through our site.

This action has been taken unilaterally by The Butchers without consultation with or prior warning to DealTicker.

As a result of this conduct, we are obliged to discontinue this deal. We are currently in consultations with our legal team and are considering all legal remedies available against The Butchers.

…

We sincerely regret any inconvenience the actions of The Butchers may have caused.

…
DealTicker was knowingly running the not valid deal for almost entire day looking for profit. Moreover, they solely blame The Butchers for this. This is the worst thing the daily deals company could do. They wanted to sell thousands of deals in five days making tens or hundreds thousand dollar profit regardless of all the negative experience about redeeming earlier coupons shared in the Internet by coupons holders. Unfortunately DealTicker let their users down.
The article in The Globe and Mail
You may find the original article here:
Ninety-nine bucks for $400 worth of organic meat. Seriously?
written by Tim Kiladze for Saturday's Globe and Mail.
Several interesting things in the writing caught my attention and I'd like to comment on them:
1. Looks like The Butchers is very short on cash now, so they asked daily deal companies for a quicker payment plan.

2. Marlon Pather and The Butchers are going to run more deals (maybe later).

3. The author and editors of The Globe and Mail are not aware that Chemistry is indeed science. Here is a definition from Wikipedia for those who still in doubts: "Chemistry is the science of matter and the changes it undergoes".

They also claimed:
Then there's the marketing potential. "What people don't realize is every customer that's come into my store, they write their e-mail address," Mr. Pather says
Has anyone been requested to write e-mail address in store?
Siesta at The Butchers every weekday!
The company made it almost absolutely impossible to redeem the coupons for people. The Butchers is closed now from 11:30am until 1pm during weekdays and does not accept vouchers on weekends.

For most of the customers lunch time is the only possible time to visit the store during a working day.
This is one more very serious change to the voucher conditions by The Butchers. "Keeping our standards"…
What's next with The Butchers? Re-branding!
Marlin's Fish Shop, Marlons Butchery, Marlon's Meat
Even if The Butchers goes under there is a good plan. But maybe it is the plan itself… who knows…