On November 15, 2010 Groupon featured a new deal in Toronto: "$30 for $60 Worth of Children's Toys, Gear, Clothing, and More from Peek-A-Boo".
It looks like a good deal, but first of all I've made some research. I could not find any reviews, complaints or positive feedback, so I just went to their website: www.peek-a-boo.ca
Variety of goods is quite small. Probably assortment in their actual store in Toronto at 603 Saint Clair Ave. W is bigger.
Prices are not low, not too high. I've tried to add several items to the shopping cart. It showed 13% tax almost on everything! On some products it showed misterious 8% tax! I can't tell from the top of my head which products are subject to 8% tax in Ontario now.
Peek-A-Boo store in Toronto specializes in Children's products, many of which are subject to 5% GST portion of HST only. Not 13% (full HST), not 8% (PST portion of HST). Such products are: children's clothing, car seats, books, blankets, etc. For more detailed list of products which are exemptions, i. e. are subject to 5% tax please see:
HST (PST component) Exemptions – Ontario
It looks like Groupon staff did not make enough effort to figure out if this business (Pick-A-Boo) deserves the right to be advertised. Groupon admitted tax cheating business to be featured on the main page, which is seen by a lot of people.
It is not the first case when business which overcharges taxes is featured by Groupon! About three months ago it was similar complaint for Green Cricket online store, which was charging 13% HST on everything:
Green Cricket wrongly charges HST on Diapers and other Exempt Items
Groupon users and all other customers! Beware of Peek-A-Boo overcharges! They grab up to 8% of extra taxes for children's clothing and footwear, bunting blankets, books, etc.
Note that current Groupon coupon does NOT include taxes, so it will be extra. And they charge too much of this extra. If you've already purchased this deal, or like their products and going to buy one, do not forget to dispute your total bill at checkout, so correct taxes will be applied.
Here is a screenshot of my shopping cart at peek-a-boo.ca (click on image to enlarge):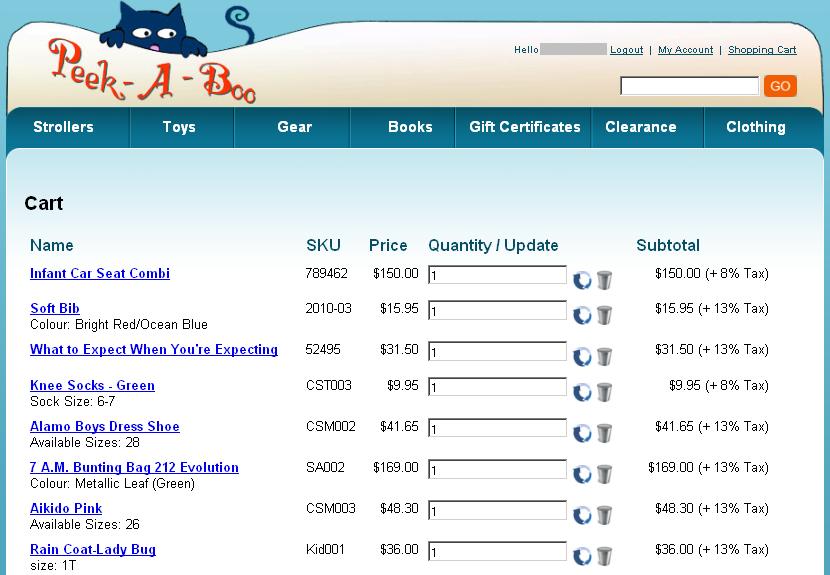 It shows 13% tax instead of 5% on:
Baby bibs: "Soft Bib"
Books: "What to Expect When You're Expecting"
Children's Footwear: "Alamo Boys Dress Shoe", "Aikido Pink"
Children's Clothing: "Rain Coat-Lady Bug"
Bunting Blankets: "7 A.M. Bunting Bag 212 Evolution"
And 8% tax instead of 5% on some products:
Car Seats: "Infant Car Seat Combi"
Children's Clothing: "Knee Socks – Green"
All these products are exceptions from PST portion of HST according to the Point-of-Sale Rebates document provided by Canada Revenue agency, and should be charged only with 5% GST at the checkout.
Update as of Nov 15, 2010 11 p.m. (end of the first deal day)
"Peek- A." (probably the same person who left comment here as "John C. from Peek-A-Boo") commented on Groupon discussion board that there were very few items with incorrect tax rates, and he corrected them. John C. from Peek-A-Boo posted comment here as well telling that it was not intentional, it was only eleven items added by a new employee, and he corrected them.
I went to Peek-A-Boo website in the evening, and there were still many exempt items with 13% HST applied instead of 5%.
Yes, they fixed some products, but even after that I could find at least eleven items with incorrect taxes applied! Such products are: car booster seats, books, shoes, other footwear, baby bibs, bunting blanket. Here is a new screenshot taken at ~11 p.m. after "correction" by John C. from Peek-A-Boo: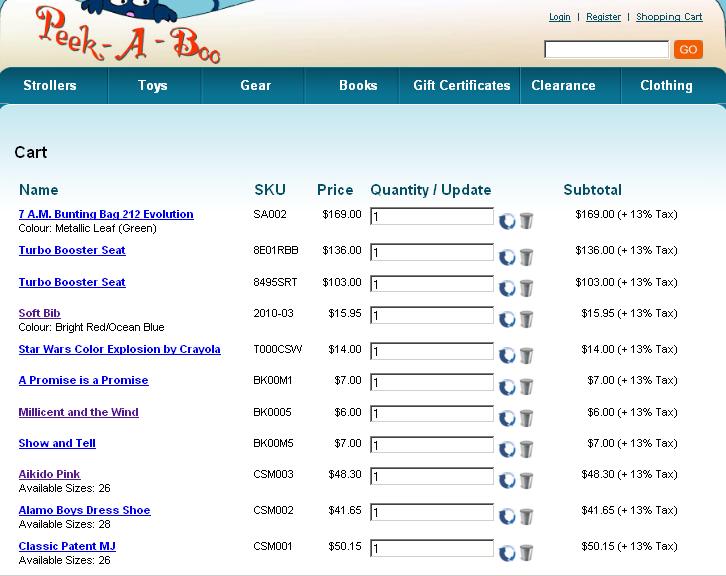 As everyone may see, the problem with taxes has not been resolved by Peek-A-Boo. They have been informed, and they admitted "mistakes" on their website, but they did not want to go through the list of exceptions provided by the government and properly correct everything!
The only conclusion I can make after that:
Peek-A-Boo intentionally overcharges 8% of the price for many exempt items, like books, clothing, car seats, etc.