These instructions are the final conclusion to the post
UPS/FedEx Brokerage Fees – avoid scam

You ordered some goods from US into Canada by UPS and they are on the way
Going to import some goods from US into Canada by UPS
Already received your package and did not pay anything to the driver. It means that UPS will send you brokerage fees invoice several weeks/months later, or send information right to collection agency
Driver showed you collect-on-delivery (C.O.D.) invoice which was ~half of the item's price and you refused to pay at the door
There are two conditions necessary for the procedure of self clearance at Canada customs:
Your shipment's value for duty is less than $1600 CAD
You have one of the local CBSA (Canada customs) offices nearby. You may find the list of offices across Canada here: Directory of CBSA Offices where Courier Low Value Shipments Program clearances are performed.
Here is the procedure of self clearing (confirmed by CBSA main office and proven many times in practice):
Wait while your package comes to the local UPS warehouse (where you live). You will see status in the shipment's tracking information on UPS website. If you don't track, so just wait for the first delivery attempt and refuse to pay at the door
Call UPS at toll free number 1-800-742-5877, press "3" to be connected to the billing department (or other prompt by the system), and ask customer service representative to send you shipment's invoice. Some of the representatives call it commercial invoice. Just ask for "commercial invoice" associated with your tracking number. They can send it by e-mail or fax. Please make sure they got your address correctly – ask to spell it back. They will send it right away in .zip archive to your e-mail. Shipment's invoice has the Unique Shipment Identifier Number needed by CBSA as well. This is how it looks like (click on image to enlarge):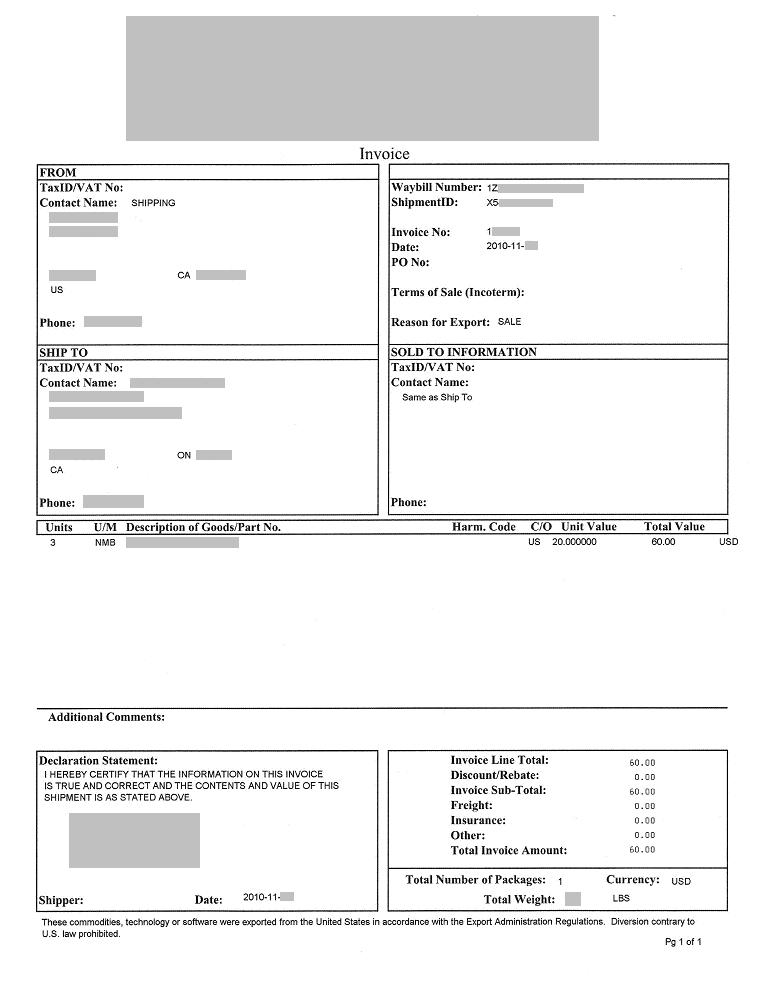 Find out what is the address of your local UPS warehouse where your package is being held. Call and ask UPS if you can't figure out. CBSA may ask for this information during self clear. For GTA (if you see "Concord" in the tracking information) the address as of Nov. 2010 is:
UPS Center

2900 Steels ave. W,

Concord, ON, L4K 3S2

phone: 800-742-5877
Take your shipment's invoice, address of UPS warehouse, money to pay taxes and photo ID to the nearest CBSA office. Please take the reply from main CBSA office with instructions about self clear process for the case if officers in your local office are not aware with the proper procedure. You may find their reply at UPS/FedEx Brokerage Fees – avoid scam – section almost at the bottom of the post, just between solid grey lines. Last time I visited CBSA office in Brampton at the following address:
CBSA Brampton: office 480

197 Country Court Blvd.,

Brampton, ON, L6W 4P3

office hours: 8:30 – 16:30, Mon – Fri

!! – recently address has been changed to:

5425 Dixie Rd.
Present your shipment's invoice to customs officer and he will do clearance for you. After paying applicable taxes and duties to the cashier you will be provided with CBSA B15 form – Casual Goods Accounting Document, which confirms that you paid all the taxes to Canada customs. B15 form looks like this: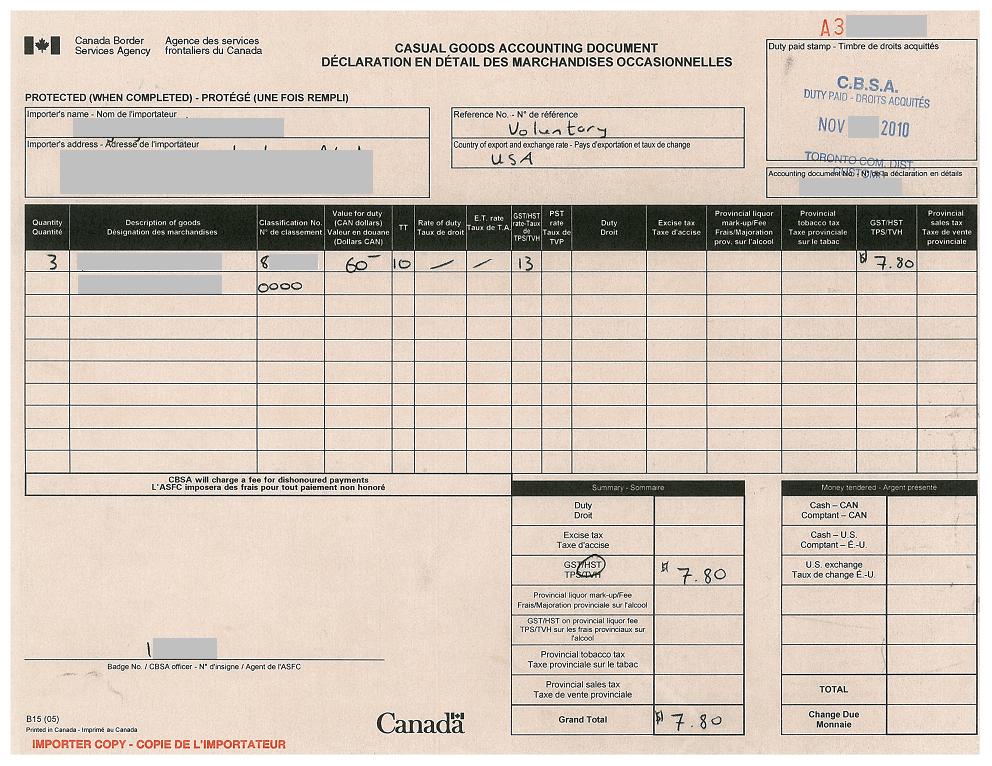 Call UPS and ask how to provide them with B15 form (proof that you paid taxes) in order to waive brokerage fee invoice. They will give you fax number. Please make sure that you put your tracking number of the cover page. As of Nov 2010 CBSA B15 form should be sent here:
UPS Brokerage Department

fax number: 1-770-990-1724
After that UPS Brokerage Department should process your B15 form and waive C.O.D. charges. It may take 1-5 days. You may also try to speed up the process by calling UPS and informing them that you already paid taxes to CBSA and sent receipt to the brokerage department. Ask UPS to schedule delivery.
You are done!
I have not done it with FedEx or other couriers, but procedure should be very similar.