Photography session at affordable price – this is what consumers are looking for – this is what Groupon and participating businesses offer. There are really great discounts of up to 94% from the original price. Trueler has received serious complaints on photography deals provided by Groupon, and we decided to make some research and compile a review. It is based on several photography deals in Toronto.
Along with a great price discount clients received approximately the same quality "discount".
Here is a list of pros and cons of Groupon photography deals explained later with examples:
| | |
| --- | --- |
| Pros | Cons |
| Low price for offered package | Very low resolution: ~ 1 Megapixel |
| Tax included | Lack of promised retouching |
| Sounds too good | Low to average quality of pictures |
| | Huge delays |
| | Fake promotion on Groupon discussion board |
| | Not responding to phone or e-mail |
| | Session is usually much shorter |
| | Incorrect deals descriptions |
| | Business keeps copyright |
If you really consider purchasing a photo deal, make sure it satisfies your needs. Ask questions at the discussion board and see what business owner promises.
Ask about pictures resolution. They may answer "high res", but it can be easily be 600×600 pixels photo, which you may print only 1×1 inches on a 600 dpi printer, or 2×2 inches on a 300 dpi printer. Will you enjoy this tiny pics?
Ask about

execution times

: when exactly proofs and actual photos will be ready. In what number of days. Are you ready to wait for weeks or months?
Ask for a bigger photography portfolio, which contains several hundreds of photos. Make sure that the owner is the same. Some photographers put really good pictures on their websites, but they could spent hours and days editing them, or even asked for professional help.
Ask what to expect from retouching. Will photographer just remove red eyes and increase contrast with couple of clicks in Photoshop for $700?
Ask about copyright if you care. Do you want your family pictures to be edited in any way and published in any kind of promotions?
If you see that more than 100 deals already have been bought – forget about it if you care about quality. Photographer will not professionally handle more than 100 sessions including retouching in one year.
In April 2010 there was a deal at Groupon Toronto: "$50 for a One-Hour Portraiture Session and CD with Five Retouched Images from Andrea Smith Photography ($825 Value)".
Andrea Smith did not respond to many clients at all. Some of the customers reported this unethical behavior in comments at Trueler.com (see link to the Andrea Smith Photography Toronto Review), and some reported complaints at the Groupon discussion board: http://www.groupon.com/deals/andrea-smith-photography/posts
Here are the screen shots from Andrea Smith Photography deal discussion at Groupon website:


Many people did not receive "Five retouched images on CD" as it was promised in the deal description, or received it several months later.
She behaved very unprofessionally and unethically. You may read complete review here: Andrea Smith Photography Toronto Review
Quality of the pictures taken by Andrea Smith and job done definitely did not worth $825 as the deal states. It seemed like not more than 5 minutes had been spent on retouching. She made some photos black-and-white or just increased contrast – it takes just couple of clicks in any image editor like Photoshop. Less than half an hour of photo session, less than 5 minutes on retouching and months of waiting do not worth even $50.
Andrea promised full resolution for 5×7 prints:

Taking an average printer with 600×600 dpi resolution, it means 3000 x 4200 pixels photos, that is approximately 12 Megapixels which professional digital cameras definitely have. If we take 300×300 dpi resolution printer, pictures should be 1500 x 2100 pixels in size – this is approximate resolution of the images sent by Andrea. But it was pretty high compression, so pictures were about 1MB each. This is not good for high-quality printing, even 5×7.
Discussion board at this deal shows very interesting thing as well. How many deals can one professional photographer handle per year? We are talking about session and retouching worth of approximately $800. Here is the answer from a professional photographer:
"100 sessions a year is a heavy load for a professional photographer with staff"

Same user signed the post in different thread as "Jen van der Vecht":

She is another professional photographer who featured her business on Groupon in November 2010 with the following deal: "$75 for a One-Hour Photography Session from Jen van der Vecht Photography (a $370 Value)".
Jen stated that 100 photo sessions a year is a heavy load. How many coupons with her deal Groupon sold? 512! With one year expiration time: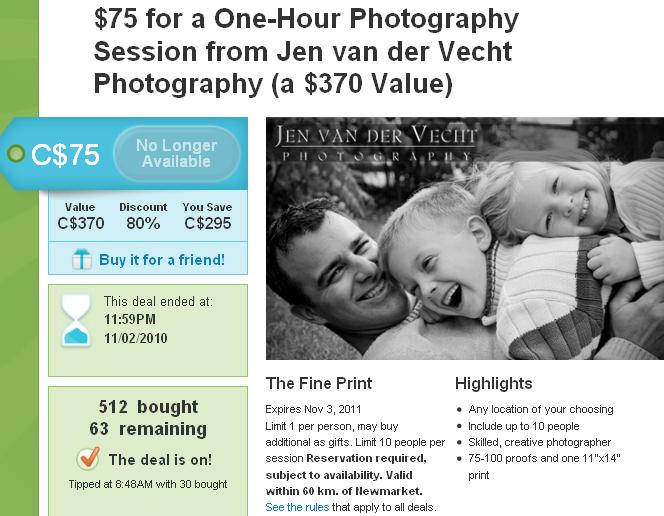 Jen van der Vecht did not restrict number of deals knowing that 100 is a pretty good number of them to keep herself busy for entire year. Is she going to reduce quality 5 times? If anyone had photo sessions with her, please share your hopefully positive (or negative) experience in comments to this post.
Jen also posted a faked promotional comment on behalf of "happy customer" at her own deal's Groupon discussion forum – http://www.groupon.com/deals/jen-van-der-vecht/posts

We already know that "j. ." signed as "Jen van der Vecht" in another forum thread…
One more complaint has been received by Trueler about KeiDi Photography in Toronto. There was a deal on Groupon in July 2010: "$50 for a One-Hour Portraiture Session and CD with Five Images from KeiDi Photography – $600 Value".
388 coupons have been sold with expiration time of half a year. That is 776 portraiture photo sessions per year – even more than Jen van der Vecht offered.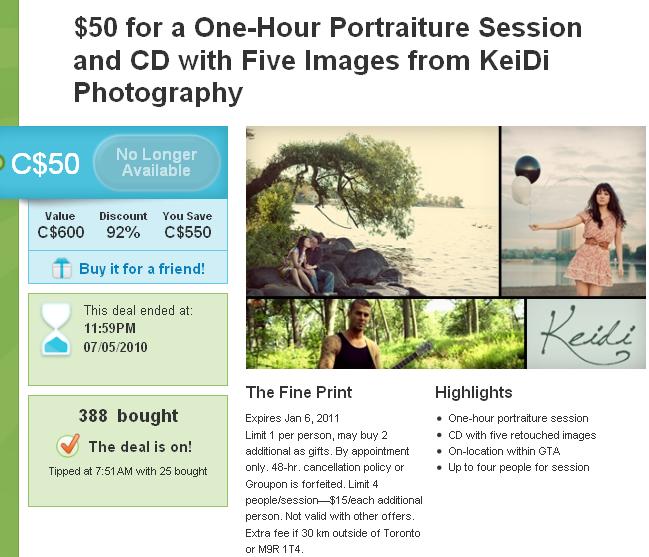 Customer complained on very bad quality of the pictures and extremely low resolution. Some photos were out of focus, some were fuzzy and most of them were of below average quality. It did not worth $600 at all, and even $50. Anyone could do such kind of pictures. KeiDi promised resolution suitable for 5×7 prints, but sent pictures with 1200×800 resolution (~ 1 megapixel) and bad compression (800KB is for sharing pictures in the Internet, not for printing).
If we want to print 1200×800 on an average printer with 600×600 dpi, we will get a tiny 2 x 1.3 inches photo. She promised 5×7. You do not even need any special digital camera to take those pictures. They are only 1 megapixel and can be taken with any ancient cell phone.
KeiDi also unsuccessfully tried to retouch images, so they looked even worse after retouching.
This is what everyone should expect from photographer's deals if so many coupons purchased.
Keep in mind when deciding about your next purchase that 100 photo sessions is the maximum number which a professional photographer can handle per year with staff!