Groupon has featured American Apparel store in the United States in November 2010 selling 130,000 coupons nationwide (according to Reuters), came to Canada in December almost before winter holidays, and is going to Europe. They achieved really great success in selling deals. Only in New York Groupon has sold 15,637 American Apparel coupons.
This is an excellent opportunity to buy gifts for yourself, family, and friends. Success in selling deals is great, but it is just one part of the process. How about providing proper order process, delivery and customer service to all the people who bought this groupon? It seems like that it is the place where American Apparel and Groupon have failed…
The deal has been featured in many Canadian cities: Vancouver, Montreal, Calgary, Toronto, St. Catharine's, Niagara, St. John's, Winnipeg, Barrie, …
American Apparel came to Toronto on December 13, 2010 with the following deal: "$25 for $50 Worth of Current Fashions at American Apparel. Choose Between Two Options". Almost 6 thousand coupons sold – 5,769.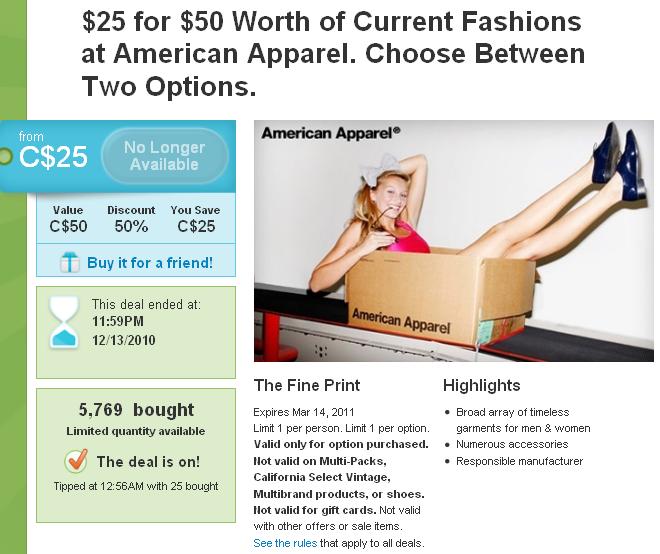 Trueler received serious complaint from one of Groupon users who bought American Apparel Toronto deal and tried to use it online.
Here is the summary of complaints:
American Apparel customer service did not want to address any of the issues or questions
Hardly possible to contact American Apparel
Charged illegal taxes on baby products
Coupon was not accepted by online store for several days
Customer complained on the following.
First of all, during entire day when Toronto deal was happening neither American Apparel nor Groupon staff were not answering questions. They just ignored customers, just because hundreds and thousand were buying coupons regardless of the questions. There were a lot of questions about deal's restrictions, about delivery, taxes, gifts, usage, etc. The whole thread is located here: http://www.groupon.com/deals/american-apparel-toronto/posts

The customer and other people were waiting for a coupon for at least two-three days! They paid money but received nothing – no receipts, no proofs, no coupons, no answers. Looked like scam…

When coupon started to be available in Groupon account, it could not be used online. American Apparel Store gave the following information when customer tried to redeem the coupon: "Sorry, the coupon code you entered does not exist".
The customer tried to contact American Apparel, but no luck – phone line was busy, and no respond to the e-mail. After another day of unsuccessful attempts to contact the store, customer contacted Groupon, and was told that coupon should be fine and something wrong in the store.
Next day. American Apparel line are busy, no respond to e-mail. When customer managed to connect to the customer service, she was sent back to Groupon. The store told that they are not responsible for this and that Groupon is responsible for putting information into database. After another contact to Groupon, they escalated the problem with American Apparel and sent the new code to use online. It really caused big inconvenience, because a lot of time have been wasted trying to contact American Apparel, and trying to choose stuff in their online store, because items in stock were constantly changing, and the first choice was not available the next time.
One of the questions on Groupon discussion board was about taxes: if they applied on the total amount spent in store, or after $50 Groupon discount. Taxes (13% HST) have been applied on the total amount – this is the reason why Americal Apparel and Groupon did not answer this question. Here is a proof: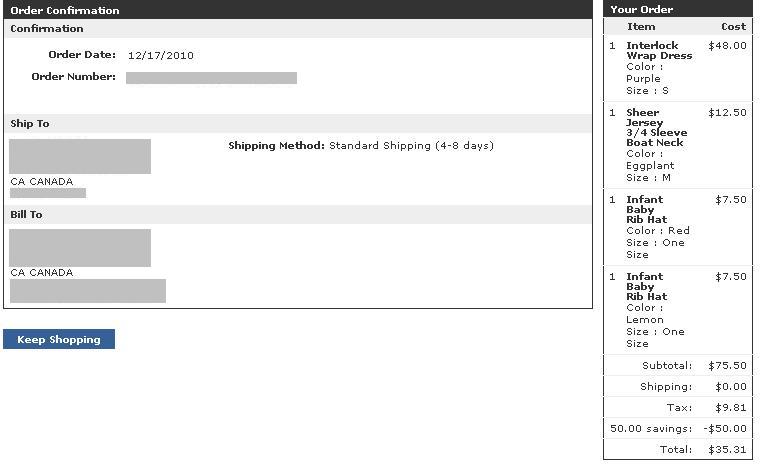 Another concern was about taxes on baby products. American Apparel charged 13% HST tax on baby hats! It is wrong. All clothes for kids must be charged only with 5%. It is part of the exemption list:
HST (PST component) Exemptions – Ontario
HST (PST) Exemptions or Point-of-Sale Rebates for British Columbia (BC)
The customer called American Apparel customer service and asked to adjust the total bill according to proper tax rate, and she was laughed at. Then (after laughing) customer service representative asked what is the law. The law is "Point-of-Sale Rebates". American Apparel told that this law does not apply to their online store! They rejected to adjust taxes.
After complaint Trueler made a bit more research and figured out that American Apparel overcharges 8% in Ontario for all the exceptions! In British Columbia it is 7%, since HST is 12% there.
Here is a proof for Ontario: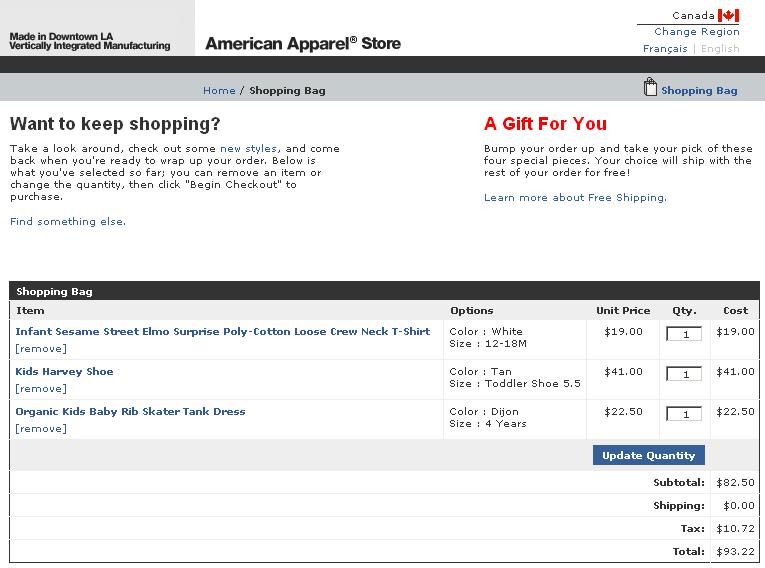 This is one more outrageous case when the business intentionally overcharges taxes!
This is it for now. Let's wait for promised delivery.
If anyone has similar or different experience, please share it here in comment, and
Beware that American Apparel overcharges taxes for kids products in Canada!
If you are buying any of those (clothes, hats, gloves, boots, shoes, etc…) – call them and ask to adjust your bill!
Otherwise – call CRA (Canada Revenue Agency)