"Do Not Buy" lists published in financial magazines intended to save money usually mention lottery tickets, some type of insurance, premium gasoline, etc… There is another thing which definitely deserves to be there.
Any kind of "Negative Ion" bands, bracelet, watches, necklace, wristbands, napkins, underwear, pendants, jewelry, clothes, sports and fitness accessories are just what they are without "Negative Ion" in the beginning of the product name, i.e. piece of plastic, silicon or other material. It does not cost $80 + tax. It does not even cost $15 with free shipping as daily deal websites sell them. Someone may buy these bracelets and watches at Dollarama… and it is a pretty fair price for it there!
Reasons why "Negative Ion" bands do not work:
There is no study or research which proves medical or health benefits from wearing "Negative Ion" stuff. Absolutely. Only fake ones… Some companies selling bracelets do refer to studies, but those are about negative ions in the air which is totally different topic and has nothing to do with accessories to be worn on the body
Small piece of plastic physically can't emit negative ions into the body. There are other pretty complicated and big devices with power supply which are able to emit negative ions into the air. But again, it's a different thing.
Let's take a look at one of the examples:
Quick Snap Negative Ion Watch from LiveEZ Now
There was a deal from "LiveEZ Now" on SwarmJam – Canada's daily deal website:
$20.00 for a Quick Snap Negative Ion Watch from LiveEZ Now ($80.00 Value)
Their "regular" price is $80! Can you imagine? With tax (for Ontario, for instance) it's over $90! For what?! Has any single person ever bought this for this price? I doubt… Again, it's another topic when the company creates the website with extremely high "regular" prices in order to run daily deals.
Company's website is: http://www.liveeznow.com
Seems like it's true – the website has been registered on Aug 22, 2011.
Currently they sell the following products:
LiveEZ AcuHealth Toe Ring Set – $49.95
LiveEZ Sports Ion Stability Watch – $49.95
LiveEZ Quick Snap Ion Watch – $79.95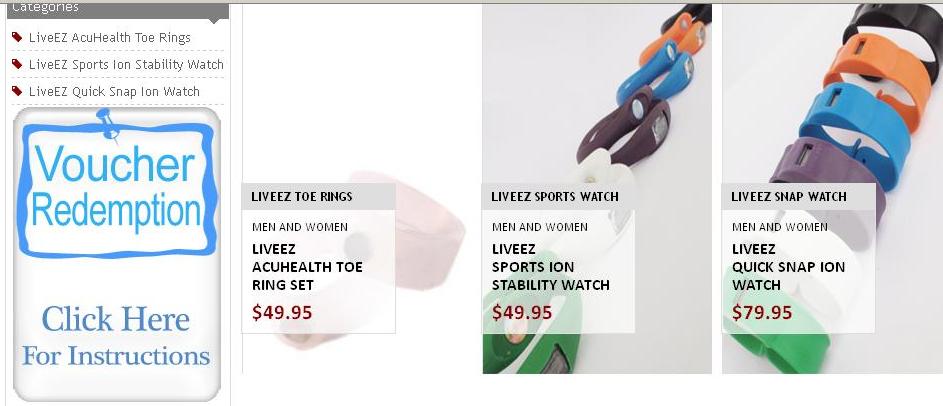 And the website is oriented on voucher redemption…
Let's see what they promise and offer:
The LiveEZ Quick Snap Ion Watch is a new trend for keeping fit and looking good. Similar to our Sports Ion Stability Watch line, these classy watches not only look good for their variety of colors and trendy slap on bands but also empower special features that even help improve your lifestyle and health. They are made from comfortable health silicone, providing durability and even waterproof abilities to accommodate all your adventures. Our ionizing bands help produce negative ions, which is important to stimulating healthy habits and ensure positive results within the body. The LiveEZ Quick Snap Ion Watch provides health benefits through the use of rare naturally charged minerals.
How can they claim all of these without any research or study? They are fooling everyone!
Some more from "LiveEZ Sports Ion Stability Watch" description:
… With these new watches, you are able to maintain better equilibrium points in the body allowing you to achieve higher results in training and sports …
Absolutely no research can confirm this! Why do they tell it? In order to sell cheap plastic and electronic at a huge markup. I can say about this company nothing but scam!
In the "The Benefits of Negative Ions" and "About Negative Ions" paragraphs at http://www.liveeznow.com/benefits.php "LiveEZ Now" provides some references on researches about negative ions in the air, which have absolutely nothing to do with so called "Negative Ion" bracelets and watches which simply can not work. They just mislead readers by providing deceptive information.
Other "Negative Ion" Daily Deals

There were quite a few already:
Some of their claims: Increases blood circulation; Enhances body facilitation of oxygen; Improves concentration and focus; Helps recovery from sports fatigue; Normalizes physiological functions; Helps to relax tense muscles; and more…
Health Sport Watch Depot on LivingDeal: $16 for A Negative Ion Sports Watch From Health Sport Watch Depot! ($35 Value)
Equilibrium Bandz on DealTicker: $15 for a Revolutionary Negative Ion Emitting Band from Equilibrium Bandz ($39.99 Value)
Equilibrium bands strengthens bodies immune system, improves blood circulation, compliments people mood, pain relief and even sex drive. Unbelievable… They must be sued for this and prosecuted for deceptive advertisement.  At least not to be featured by the daily deal websites
Powered Harmony on LivingDeal: $24 For Three Negative Ion Bands With Free Shipping From Powered Harmony Bands! ($135 Value)
Powered Harmony on WagJag: $19 for 3 Powered Harmony Bands from Powered Harmony Canada (a Value of $135)
Health Sport Watch Depot on TeamBuy: $13 for a Negative Ion Sports Watch from Health Sport Watch Depot – Tax and Shipping Included ($35 Value)
and more and more and more… and even more probably coming…
Don't fall into this scam! Beware!