There are multiple advertisements in the Internet like "Get a Free $1000 Best Buy Gift Card". Beware! It's a fraud! In fact these scammers will suck more than $1000 out of you, and what is even more important – you may experience what identity lost is, and will receive just a piece of plastic instead of promised gift card.
The simple reason why it can't be true is "It is extremely good to be true". This single reason should turn you away from this scam right at the moment you see it. Let's see how they work.
Here is an example of such an advertisement in the Internet at http://ca.bestbuy.mygiftcarddeal.com/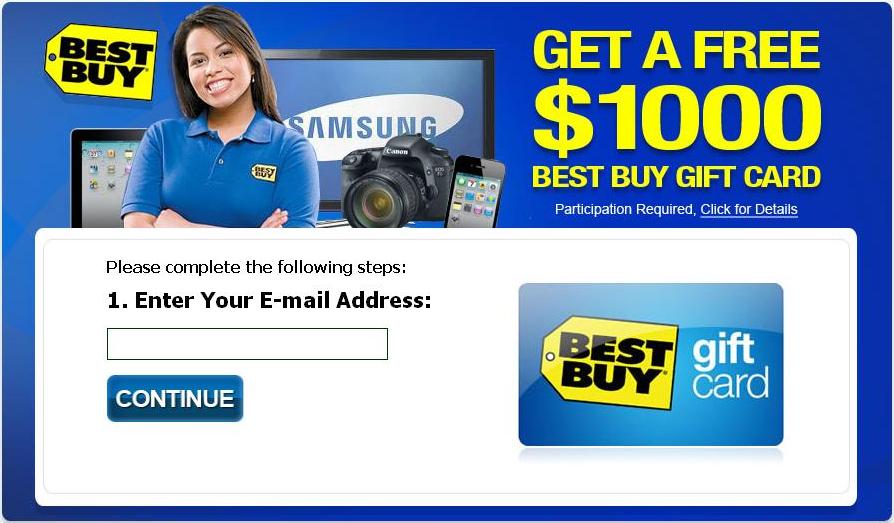 Looks great, right?
What you see here is:
"Enter your E-mail Address"
"Participation Required. Click for Details" – it is almost invisible comparing to the main offer
So many people may think that if it is even a scam, they can only steal your e-mail address and ask to fill some survey. So, you provide "e-mail for spam" address.
But let's scroll down a bit:

Are you able to read anything here?… It tells:
By entering your email and continuing, you certify that you are a US resident over the age of 18 and that you agree to the Privacy Policy and Terms & Conditions. You agree to receive promotional emails and special offers from trusted 3rd parties.

ca.bestbuy.mygiftcarddeal.com is an independent rewards program and not associated with any of the above listed merchants or brands.ca.bestbuy.mygiftcarddeal.com is solely responsible for all reward fulfillment. In order to receive your reward you must: (1) Meet the eligibility requirements (2) complete the survey (3) complete a total of 10 Reward Offers as stated in the Terms & Conditions (4) not cancel your participation in more than a total of 2 Reward Offers within 30 days of any Reward Offer Sign-Up Date as outlined in the Terms & Conditions (the Cancellation Limit) and (5) follow the redemption instructions.
Even from here we may see that it will be a lot of spam to your e-mail address, home, address, phones from "trusted 3rd parties".
Let's read Terms and Conditions at http://ca.bestbuy.mygiftcarddeal.com/terms.php:
"ca.bestbuy.mygiftcarddeal.com is solely responsible…": But who is ca.bestbuy.mygiftcarddeal.com? Who people should contact in case of problems?
"This offer is available to US residents only": What the heck it is being advertised in Canada?! By the way, there are exceptions for US residents also…
"you must complete all of the steps outlined herein": This makes more sense now
"acquire two sponsor action points from the Top Offers Group": this (and two items below) may cost you hundreds or even thousands of dollars, because you will have to use their services or products
"two offers from the Prime Offers Group"
"and 9 offers from the Premium Offers Group": total 13 offers. It will take hours of your time
"refer three friends to do the same": it is a must, otherwise no "Free" $1000 Gift Card
Multiple mentioning of  "… will result in the cancellation of your ca.bestbuy.mygiftcarddeal.com membership" if you do something not like they want. I.e.

you will spend hours of your time, share your valuable personal information, and waste a lot of money on their offers

, but they will still

cancel you membership and won't send you gift card

.
"In cases of a financial offer such as a credit card, the card must be activated by making a purchase": Every credit card application drops down your credit score. If you are going to apply for a mortgage or another big credit, it may cost you tens of thousand dollars, or even more.
"the user must remain a card holder for at least 60 days": In any case you won't see your "Free" Best Buy Gift Card earlier than in 2-3 months, most likely never…
"For paid retail offers you must accept the item/service and pay in full": You can not return it or even re-sell. If they think that you are going to re-sell it, they will cancel your membership
"Additional terms and conditions may apply to participation in select marketing offers": it could be $1450 bi-weekly fee for something
"require individuals to provide documentation demonstrating they have completed the advertiser requirements"
The very important item:
"You have up to ninety days from the original date of your membership registration to complete the membership incentive program and redeem your incentive gift"… "Once we have received your verification, your gift will be sent within thirty days".
It basically says that the promised $1000 gift card can NEVER be used at Best Buy or Walmart even if you complete all the required offers. It takes over two-three months to complete advertiser's requirements, then you have to prove it. But you also have to redeem the gift card which they sent within 30 days, so we already have at least 90 days… Even it they send, the gift card will be already canceled, because 90 days passed…
Beware!
Forgot to add that it's not easy to leave that page because of the multiple pop-up advertisements like this one:

Do not fall into "5 min internet survey"! Terms and condition are still valid! These scammers must be prosecuted at least for deceptive advertisement, but actually for fraud.
After closing this one, other ads coming up, like "Get Your Apple iPad® 2", "Apple iPad® 2 Reserved Exclusively For You!", etc…
Brand Giveaway Center
This one is another website: http://brandgiveawaycenter.com/
It offers "FREE $1000 Gift Card of your choice" to the following locations:
JCPenney, Sears, Toys "R" Us, The Home Depot, Lowe's, Kohl's, Target
Beware of this as well! Terms and conditions make it absolutely impossible to receive "Free $1000 Gift Card"