DealFind featured very "great" deal again (remember "The Butchers"?):
$29 for a 32 GB SD Memory Card, Including Shipping from XSV 360 ($99 Value)
XSV 360 has been promoted on other daily deal websites like DealTicker, WagJag, SwarmJam, Groupon, WebPiggy, Buy2, JabrDeals, PriceDodger, DealGetters. Also with another "manufacturer" – PNY instead of Toshiba, and as micro-SD cards as well.
But if the deal is too good to be true… you know… do not forget that 50% goes to DealFind, i.e. XSV 360 will only get $14.50 per memory card sold. This is absolutely impossible price for branded 32 GB SD Memory Card with Class 10 speed rating. So, it is most likely fake, i.e. at least not from Toshiba, and not 32 GB. Let's check it out.
The picture shows "Powered By Toshiba" which let people think that the card is manufactured by Toshiba: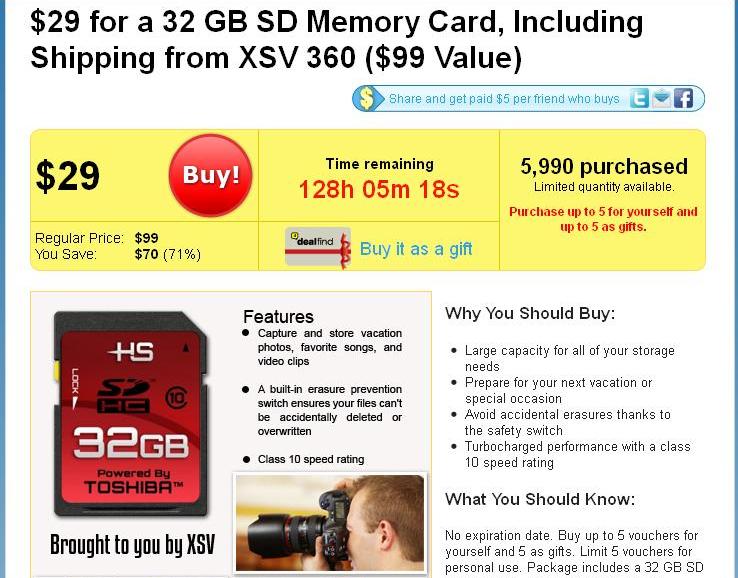 DealFind customer satisfaction experts even confirmed that 32GB SDHC Class 10 Memory Cards provided by XSV360 are manufactured by Toshiba but in a very shady way. Many customers asked what "Powered by Toshiba" actually means on their discussion board about this deal. Some unknown (no XSV360-related signature) user "Lloyd" answered common question, and DealFind customer satisfaction expert confirmed it in a short way: "Lloyd is correct!":
(click on images to enlarge)

Let's take a looks at Toshiba website to see what kind of 32 GB SD memory cards they offer:
Black one:

And white one:

Toshiba does not manufacture memory cards featured by DealFind and XSV 360!
One of the customer satisfaction experts even provided the make – "HS", model number SDM32G, and serial number VHSX95Y of memory cards:

However, "HS" is absolutely unknown make, only xsv360.com and DealFind know about this make. If we try to search for model number in the Internet, we can find that SDM32G model number corresponds to Novatech SD memory cards. Not Toshiba or even so called "HS":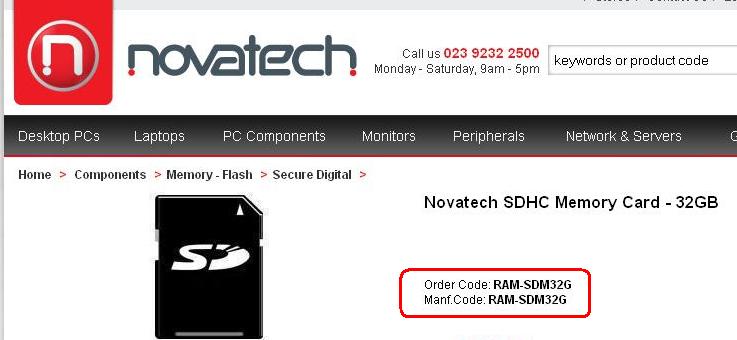 What about warranty? XSV360 website sells all the products "As-Is" on their website. They do not make any refunds and do not provide any kind of warranty!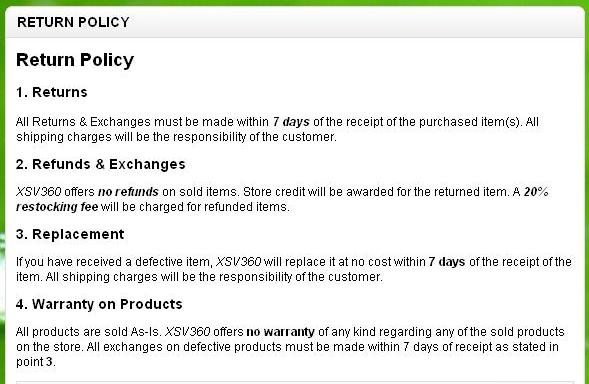 However, "Lloyd – Toronto" – either representative from XSV 360 or DealFind, claims that there is a warranty on these memory cards provided by Toshiba. In case of any failures customers should contact Toshiba:

But! Toshiba support is not aware about this product at all. It does not exist…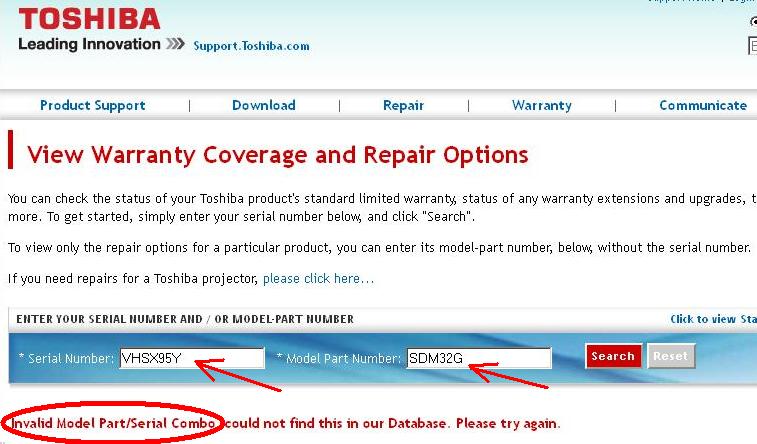 It is also funny, but seems like DealFind does not even know what they sell:

And the most popular answer of DealFind Customer Satisfaction Experts is:
Thanks for your post!

We are looking into your question and will get back to you shortly! Please Stay tuned :)

Thank you for using Dealfind!

Kym

Customer Satisfaction Expert

Dealfind
Looks like killing time… because DealFind must know answers to most of the questions if the deal had been well prepared for the customers…
So far, over 6200 memory cards have been sold, which is $180,000 – almost one hundred thousand dollars for each of them – XSV 360 and DealFind.
Summarizing information to let people decide whether to buy this "deal" or not:
85% discount (50% of voucher cost goes to DealFind) for branded piece of electronic such as 32GB SDHC Class 10 Memory Card from Toshiba is absolutely impossible. It means that the product is fake
Toshiba does not recognize the product model and serial numbers
XSV 360 sells products "As-Is". Refunds are not accepted at all
No warranty on the product. If something is wrong, you loose money
XSV 360 sells many other scam products like Energy Balance Bracelets with ion technology, Kinoki Foot Pads, fake PNY 32GB SDHC memory cards, fake Vapur bottles, etc, etc, etc…
What can be wrong with the card when you receive it? Do you think it still worth even $29?
Again, absolutely no warranty, no refunds
It can be some cheap 2GB/4GB/8GB memory card which will be shown as 32GB in your device's operating system. But when you will reach the actual physical size of the memory card, it will start overwriting existing contents on the card and producing read/write errors when you will try to access some old data.
It can be just broken out of the envelope – no refunds…
DealFind promise?! When you realize that something is wrong with the card (when it reaches its actual size), 30 days will most likely pass, and no one will help you…
This deal is expected to run for about one week more… That is people can start ordering from XSV 360 website only in one week + couple days for putting coupons in XSV360.com database as stated on their website. Since there are thousands of orders, it will most likely take more than 3 weeks for the product to be delivered.
DealFind and XSV360 are absolutely safe and protected by their own "terms" and "promises" from their customers…
Think about this now!
Beware!
Dealfind sold about 8500 fake 32GB memory cards "Powered by Toshiba" from XSV360, i.e. around $247,000. Deal is still running…
There were confusions about the product being featured. Dealfind claimed that the memory cards are indeed manufactured by Toshiba and have standard Toshiba Warranty (in a shady way as mentioned above):
(citations are from DealFind discussion board about this deal)
This SD Card is manufactured by Toshiba, and will come with a standard Toshiba Warranty in addition to any warranty which the vendor will offer
They were also telling about some "HS" manufacturer – nobody has idea about them…
XSV 360 is under legal obligation with the manufacturer not to disclose their information and unfortunately we do not have access to this information
How do we claim warranty then?…
Later they claimed that only the chip inside the card is NOT manufactured by Toshiba:
It means that Toshiba manufactured the card and its circuitry. It does not mean that Toshiba manufactured the actual memory chip inside the card, since very few manufactures actually do produce their own memory chips.
Note, that they told that chip is NOT manufactured by Toshiba.
Now they tell that the chip IS manufactured by Toshiba, not the card itself:
The SD card is not made by Toshiba, however it is powered by a Toshiba chip
They have changed information about this twice. I won't wonder if they will change information about warranty and refunds after orders are placed. There are two things:
DealFind promise – 30 days. People who bought this deal most likely won't see "products" before winter holidays, so don't rely on it.
XSV360 website explicitly says that there is absolutely no warranty and no refunds for all products (not only for health products, as DealFind mentioned). They've just put warranty statements for this particular product in order to make more sales.
XSV360 return policy can be found here:
http://www.xsv360.com/Return_Policy
There is also a screenshot of this policy above in this post.
DealFind and XSV360 are trying hard to sell as much "deals" as possible to their "valued" customers…

Recently XSV360 posted the picture of the chip which is "manufactured by Toshiba":

Here is the link:
http://www.xsv360.com/image/cache/data/products/toshiba-500×500.JPG
Well, let's take a look what it is (screenshot from XSV360 website):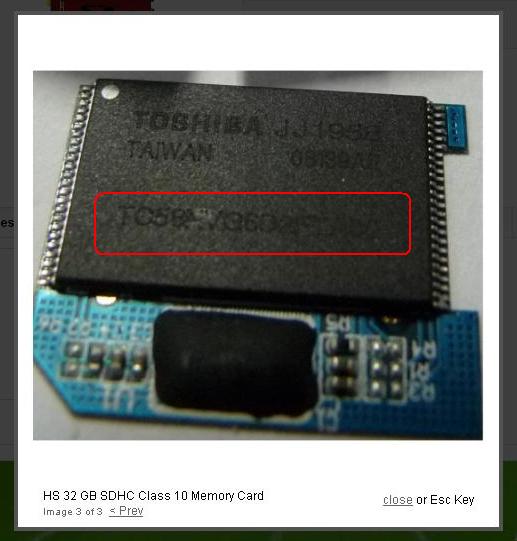 It distinctly shows "TOSHIBA" in the corner. But the part number which is at the bottom is very blurred. I have only two guesses why we can't clearly see entire number:
Manufacturing defect when printing letters on the chip. It can happen with everyone, right? But usually defective semiconductor parts are not released for sale.
XSV360 made a picture in such way…
Anyways, let's check "Toshiba Semiconductor General Catalog: Memories and Storage Devices" which can be found at official Toshiba website:
http://www.semicon.toshiba.co.jp/docs/catalog/en/SCE0004-02_catalog.pdf
32GB memories have very different part numbers from what XSV360 provided on their picture.
Memories from the catalog with the most common part number are actually 8GB (and some of them are marked as "under development")…