GoGadgety.com is a new website created for running deals on group buying sites which appeared in the Internet just in a week before DealTicker featured their first deal. It offers some popular stuff but with huge price markups. Even with 50-90% discount, which is typical for daily deals, the price is still much higher than offered by many other retailers for the same or better quality. Beware of this!
Let's take a closer look…
According to whois information GoGadgety website registered on Dec 17, 2011:
Domain GOGADGETY.COM

Registrar FASTDOMAIN, INC.

Created 17-Dec-2011

Updated 17-Dec-2011
Just 10 days after it was featured by DealTicker with this deal:
$14 for Custom Memory Foam Shoe Insoles (Taxes & Shipping Included) from Go Gadgety ($29.99 Value)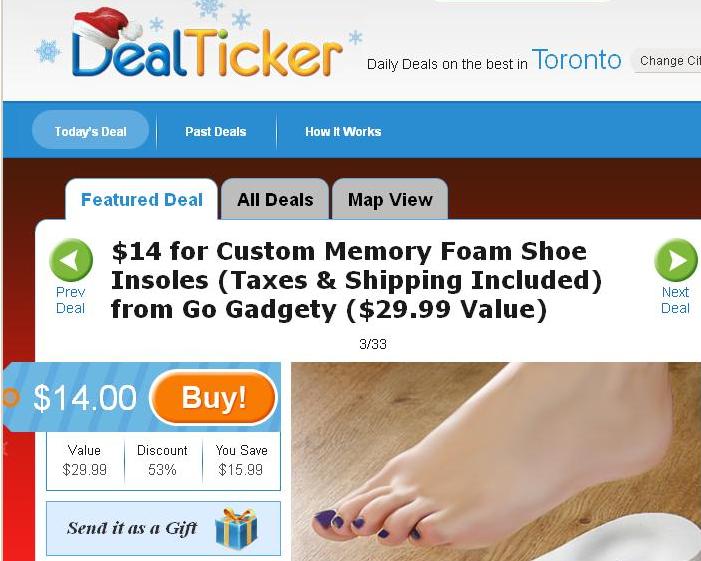 Why DealTicker even admitted GoGadgety to be featured without any history and reviews?
Let's check what GoGadgety offers…
Memory Foam Shoe Insoles
They put a price of $29.99 for one pair of Custom Memory Foam Shoe Insoles…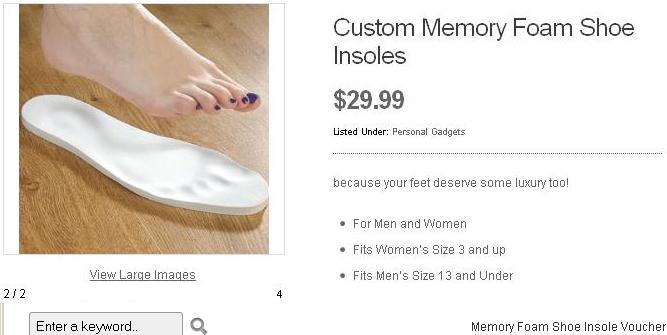 It is about 5-10 times price markup. Depending on the quality it could be even 30-x price markup, because some local dollar stores sell memory foam insoles as well.
DealTicker sells them for $14 claiming 53% discount. These are just several examples of memory foam shoe insoles, probably even of better quality offered by other retailers at much lower cost than DealTicker and GoGadgety offer:
from eBay: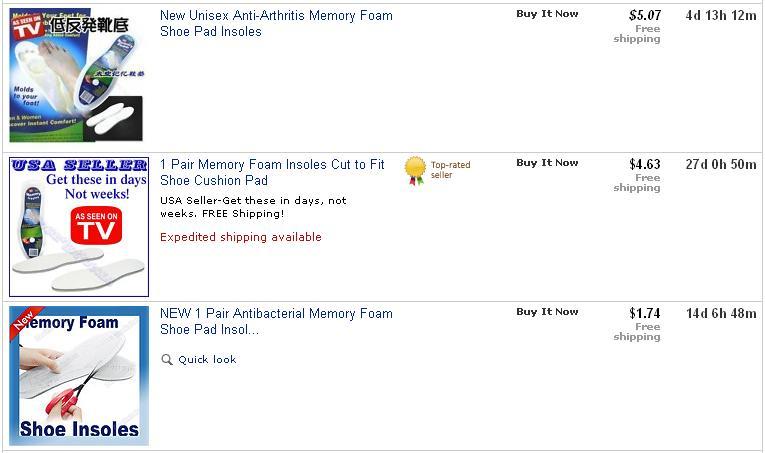 some "As Seen on TV" Memory Foam Shoe Insoles from Amazon.com:
http://www.amazon.com/Pair-Memory-Foam-Shoe-Insoles/dp/B000H89GN2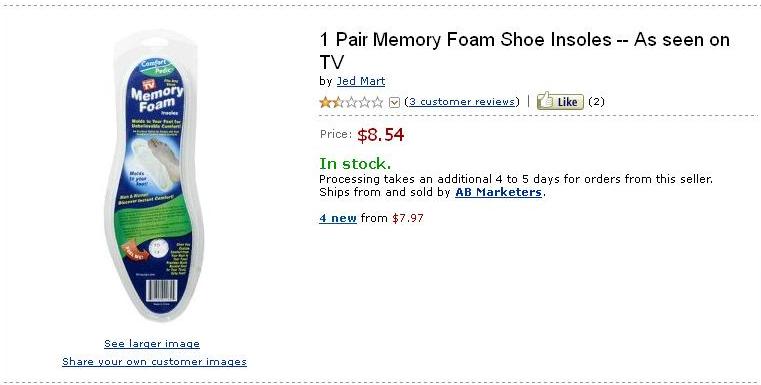 brand name insoles from Dr. Scholl's at Amazon:
http://www.amazon.com/Dr-Scholls-Memory-Customizing-Insoles/dp/B0009EIMUM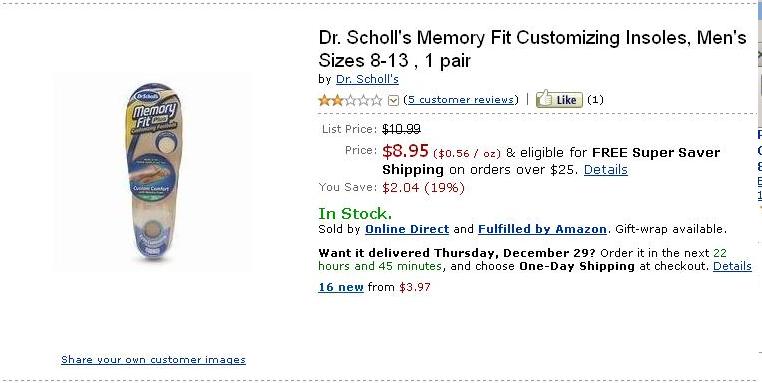 interesting one with the same picture as on GoGadgety.com but reflected:
http://www.amazon.co.uk/Memory-Foam-Shoe-Inner-Soles/dp/B005LAZ50E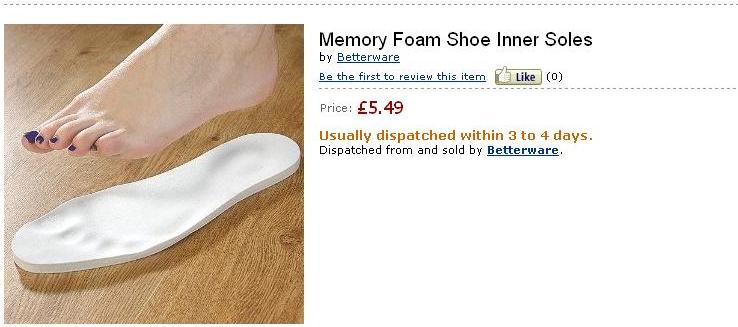 Who stolen image? Betterware or GoGadgety? Seems like it is gogadgety.com…
There are also places with "Satisfaction Guarantee" like Walmart where everyone can buy these Custom Memory Foam Shoe Insoles below $10 and if any problems return them instead of paying twice more at DealTicker without any guarantee.
Let's check some other overpriced stuff from GoGadgety.com
The Ceramic Peeler
For $21.99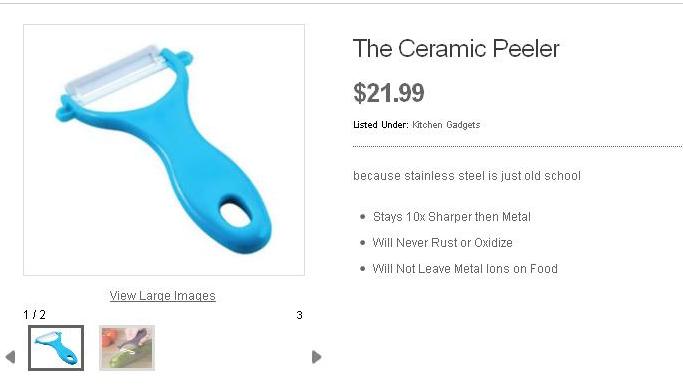 Some other retailers…
In bulk from Alibaba.com 30 times cheaper:
http://www.alibaba.com/product-gs/324457420/ceramic_peeler.html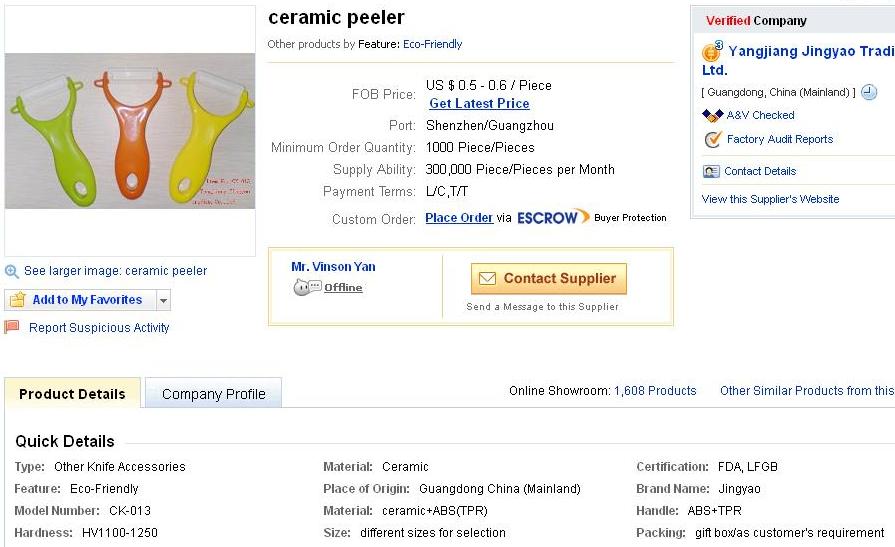 On DealExtreme for $2.43 and Free Shipping, or $1.70-$1.90 if you buy 3+:
http://www.dealextreme.com/p/chic-chefs-horizontal-ceramic-peeler-assorted-color-26868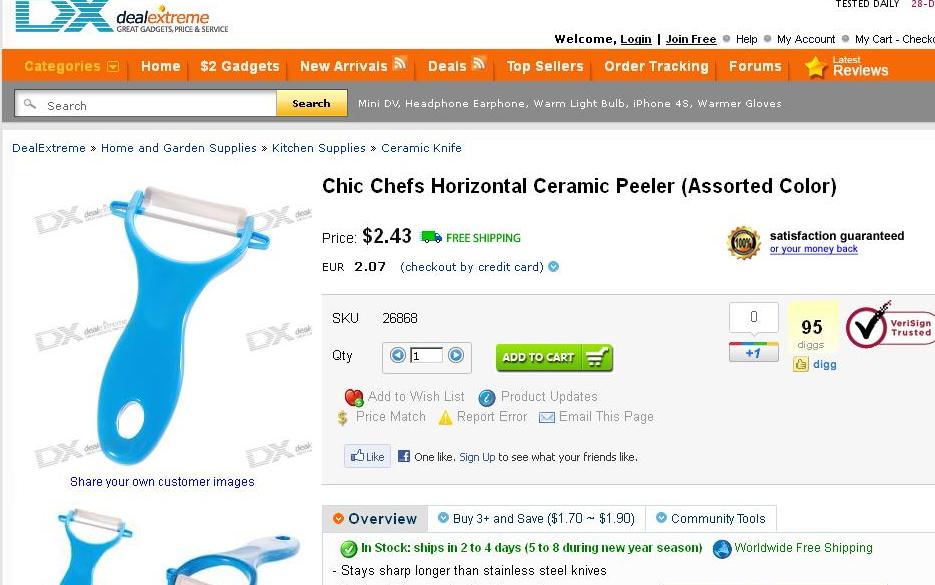 It means 10-x price markup for ceramic peelers on GoGadgety.
Metal Key Shaped USB Key 4 GB
For $43.99!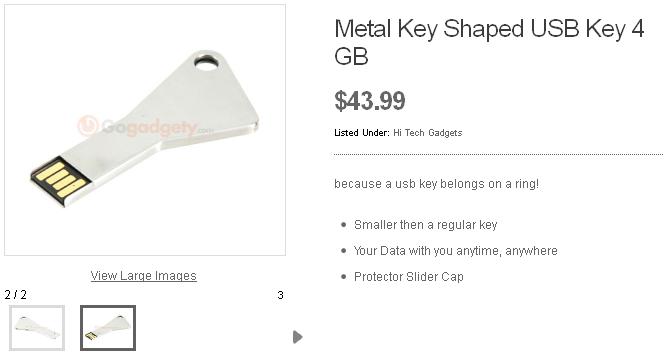 On tmart.com everyone can buy it for less than $10 with Worldwide Free Shipping:
http://www.tmart.com/4GB-Metal-Key-Shaped-USB-Flash-Drive_p112110.html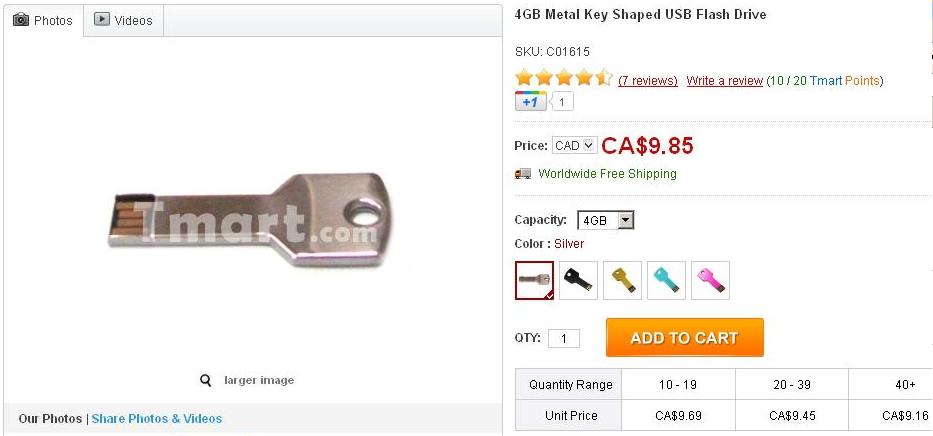 "USB Jewelry 4 GB Cyrstal Lock"
It must be "Crystal" not "Cyrstal"… For $46.99…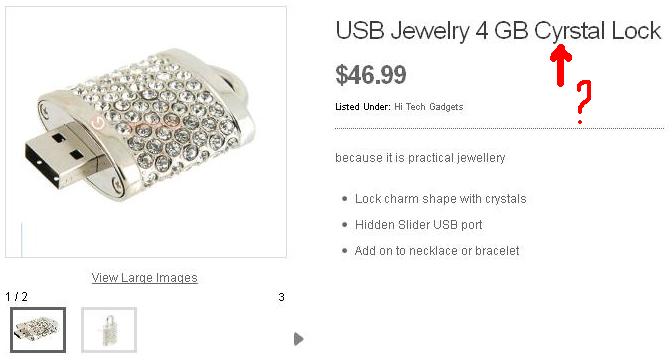 The price on aliexpress.com is $16 USD with Free Shipping:
http://www.aliexpress.com/product-fm/496230640-Free-shipping-Real-Full-Capacity-new-4GB-Crystal-Jewelry-Lock-USB-flash-memory-drive-wholesale-wholesalers.html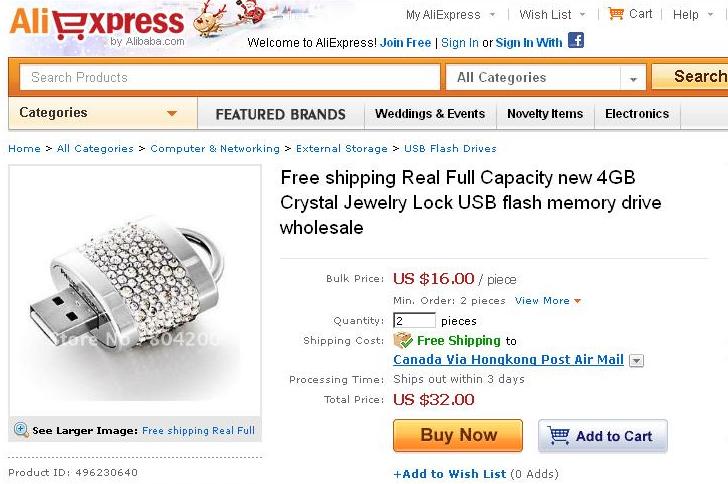 etc… etc… etc… Some other products from GoGadgety.com:
Warming USB Heated Gloves for $30.99
Anti-bacterial Toothbrush Set
The Perfect Orange Peeler
I guess more to come in the nearest future.
Unfortunately it is a bad trend these days when new websites pop up to be featured only on group buying sites (which also pop up too fast) with prices incredibly inflated and very low quality of products…
Do not fall into these deals! Always check before you buy!