Trueler posted an article in July, 2010 when the new HST law came into effect in Ontario and British Columbia:
Sears and Toysrus are cheating with HST
They were charging PST portion of HST tax on car seats which are exemption from PST, and only 5% GST should be applied instead of full 13% HST.
Some time ago Sears online store made a change, and many exemptions are charged properly now with 5%. But it looks like Sears did not carefully review the full exemption list, reading only headlines of the law. Some products are still overcharged by 8% in Ontario and 7% in BC.
The exemption list is not more than one page for each province! Why Sears could not allocate enough resources to properly fix tax issues?! They left this responsibility on customers again! But many buyers are not aware of the entire list in details, and Sear just grabs more money due to "mistake".
Here are two lists of exemptions for Ontario and BC:
HST (PST) Exemptions or Point-of-Sale Rebates for British Columbia (BC)
HST (PST Component) Exemptions – Ontario
Some of the goods for which Sears charges extra 7% or 8% are diaper liners, baby bibs, and receiving blankets.
These are related sections of the law:
Diapers, including:

cloth and disposable diapers designed for babies and
children, diaper inserts and liners,

Children's clothing:

designed for babies, girls and boys up to and including girls' Canada Standard Size 16 and boys' Canada Standard Size 20 including baby bibs, bunting blankets and receiving blankets
Here are the screen shots from Sears.ca online store website proving that Sears takes advantage of the HST transition at the expense of many customers (click on images to enlarge):
Receiving Blanket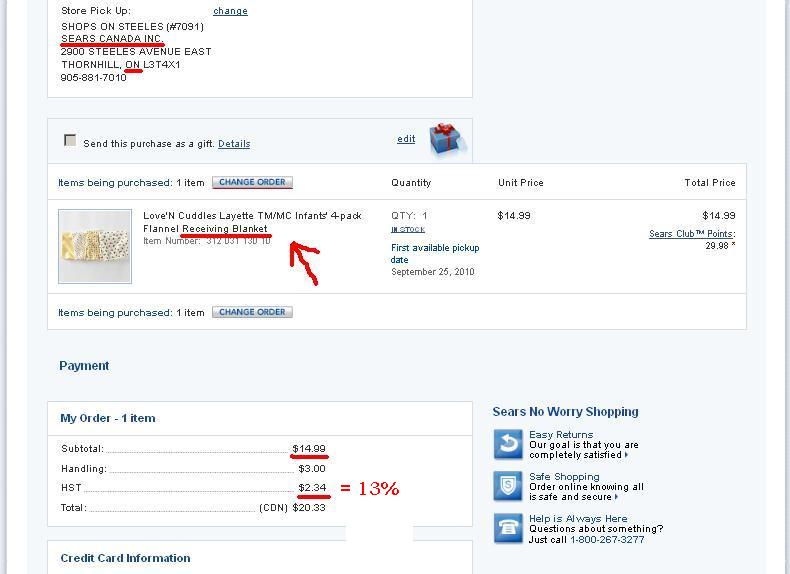 Diaper Liners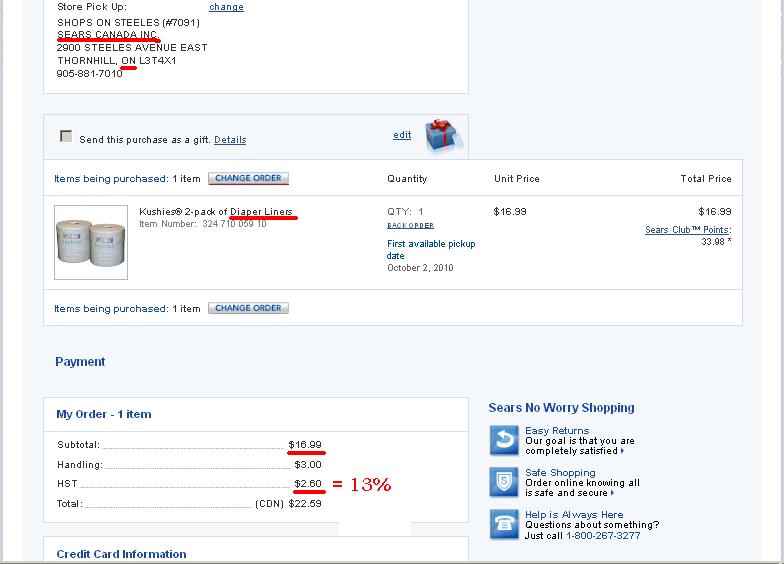 Baby Bibs