Here is another nasty deal from DealFind for Android Tablets. They don't know the make of the product, remove valuable comments absolutely ignoring their customers and caring only about their own profit as they did with some past deals which turned to be a scam. Even with DealFind discount, the total price is about the same or even higher than other retailers offer.
The deal was:
$85 for a 7inch Google Android 2.2 Tablet Including Shipping from Fabuless Products ($399 Value)
By the end of Dec 26 over 3,500 customers purchased this "fantastic" deal. Screenshot from http://www.dealfind.com/toronto/fabulesscan/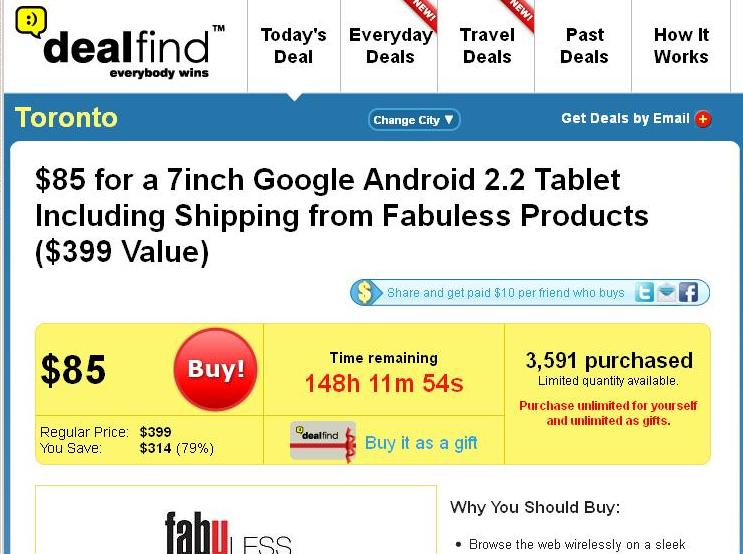 Basically DealFind and Fabuless Products claim that the regular price for this 7inch Google Android 2.2 Tablet is $399 and they give 79% discount selling it for $85. Seems too good to be true, right? Let's take a look…
It's a piece of electronic, so there are two possible reasons for such a big discount:
The product is fake OR (maybe even AND)
The price is incredibly inflated
Let's skip the first assumption, however we know that DealFind already sold thousands of fake memory cards, and check the second assumption.
Here is a link with product description provided on the deal page:
http://fabulessproducts.com/index.php?route=product/product&path=57&product_id=41
The price is indeed $399 there: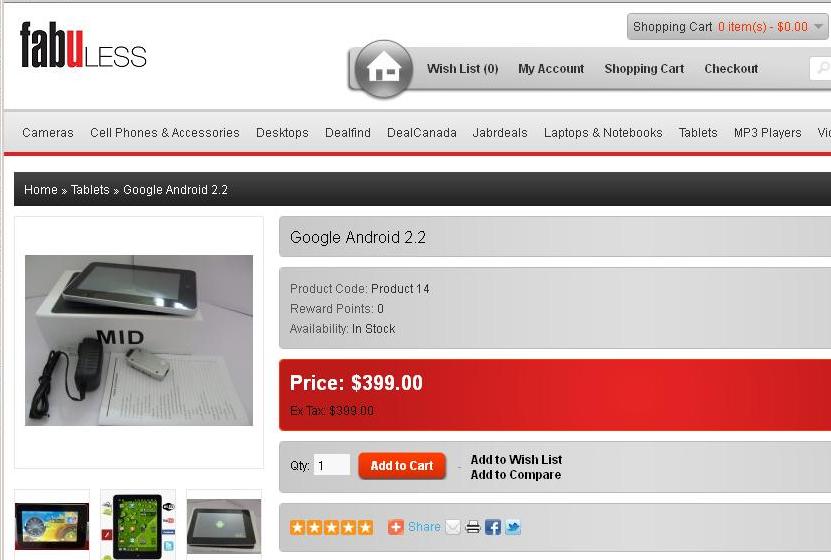 The product description page does not specify manufacturer and model number for some reason, so it's hard to compare prices with other retailers. Some customers also asked these questions on DealFind discussion board, but unfortunately representatives do not know what they sell:

They just provided model number of processor used in the Tablet PC, but not the actual manufacturer:
This model is the Wondermedia 8650
People then started to search for reviews and found very useful link with problems and tips related to these tablets "WM 8650 Tablet and few Problems":
http://www.androidtablets.net/forum/wondermedia-based/20327-wm-8650-tablet-few-problems.html
But DealFind thought that it will turn customers away and just removed the comments:

Above two comments are removed now from DealFind discussion board. Actually it is known that they remove any comment which may negatively affect sales totally ignoring customers. Why anyone should use DealFind after that at all?!
Let's try to figure out what the make of the Tablet PC is.
This is another screenshot from http://fabulessproducts.com: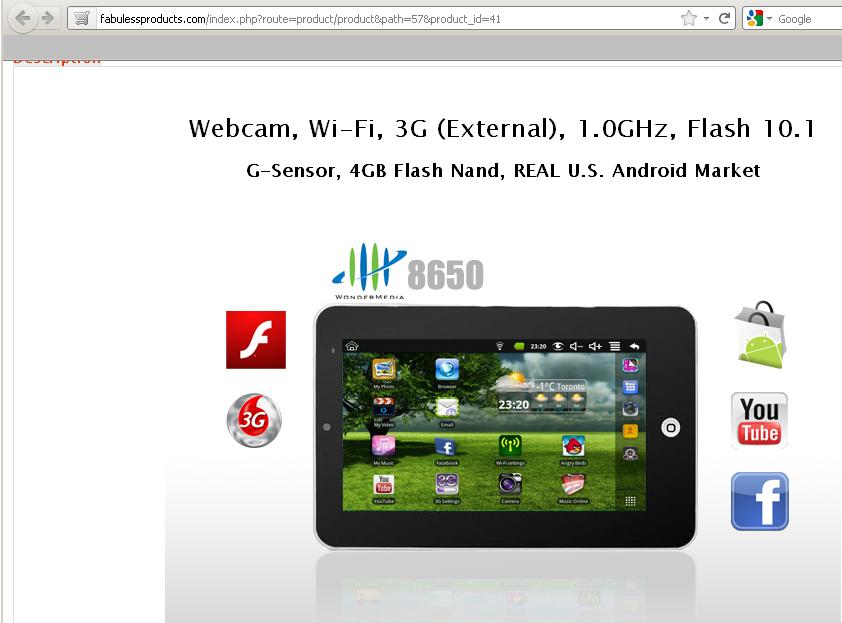 The same pictures appear on another website CoolDroids.com
http://www.cooldroids.com/7-android-2-2-tablet-pc-wi-fi-4gb-512mb-ram-800mhz-flash-10-1/
Most likely Fabuless Products and Cool Droids are related to each other somehow.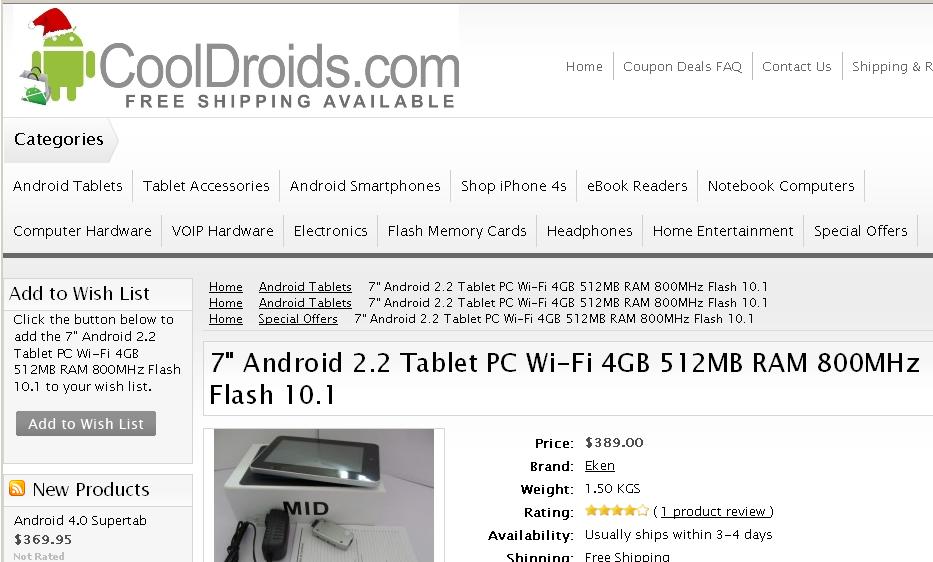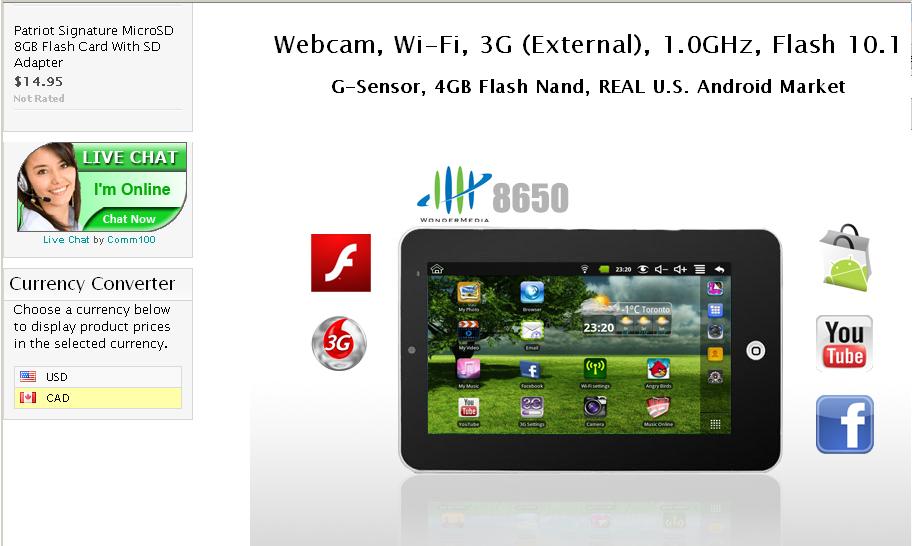 From the picture on CoolDroids.com we see that the make of this Tablet PC is Eken, and now it's much easier to compare prices.
The very similar one (if not the same) I could find was:
EKEN M009S 7″ epad android 2.2 VIA8650 800MHz wifi 3G Camera tablet pc
for $60 here:
http://www.aliexpress.com/fm-store/104710/211059827-500713361/EKEN-M009S-7-epad-android-2-2-VIA8650-800MHz-wifi-3G-Camera-tablet-pc.html
(click on image to enlarge)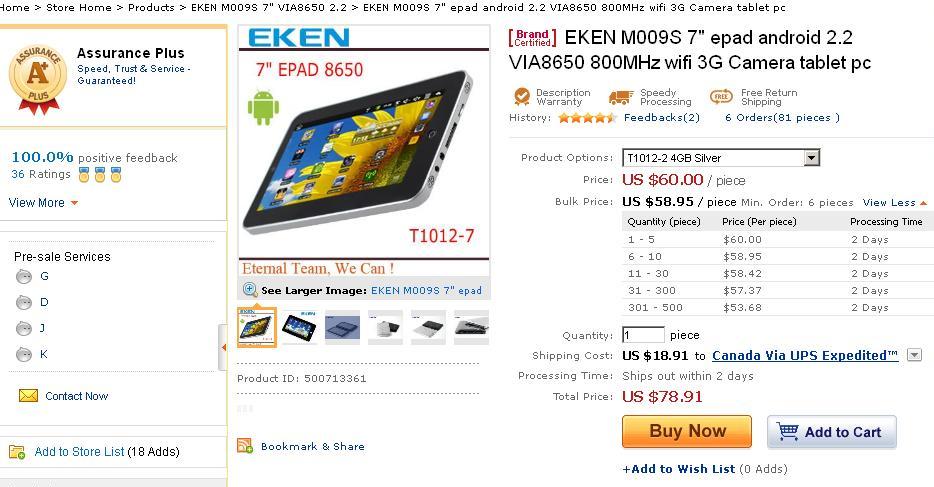 The price for single unit is US $60. Including UPS Expedited Shipping it is US $78.91.
That is the real market price is $80.50 CAD. But DealFind sells it for $85 claiming the real value of $399!
So, basically Fabuless Products and DealFind inflated the price at least in five times!
Everyone can purchase the same Tablets at aliexpress.com and receive it much faster without waiting for another couple weeks in order to redeem coupons at fabulessproducts.com and 21 day for delivery as they inform in their terms and conditions. (Note: I'm not encouraging anyone to do so. Aliexpress is provided only for informational purposes here). There is also some buyers protection available…
What we have:
DealFind and Fabuless Products sell Tablet PC's at a bit higher price than the market price is with the help of false/deceptive advertisement of 79% discount. We also know that about 50% go to DealFind and 50% go to the merchant. Shipping cost money also. It means that Fabuless Products should buy these tablets for maximum of $30 from somewhere…
Neither Fabuless Products nor Cool Droids show back of the Tablet PC which has the brand name on it. DealFind do not tell the manufacturer's name. So probably they are not even genuine Eken Android Tablets…
Beware!
Just found another retailer selling it for $59.99 USD with Free Shipping…
http://www.stopfinger.com/goods_aWQJNDgyNQ==.html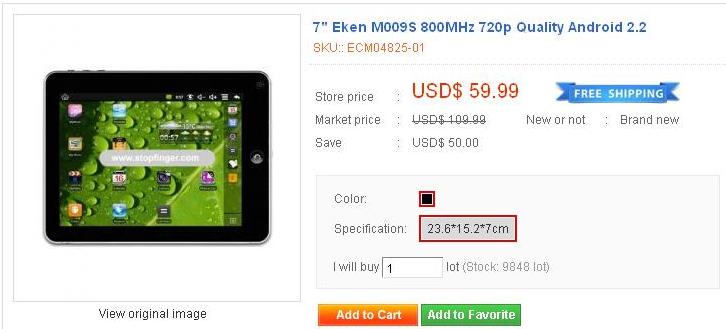 Initially DealFind was offering leather carrying case, earphones and free shipping:
(click on image to enlarge)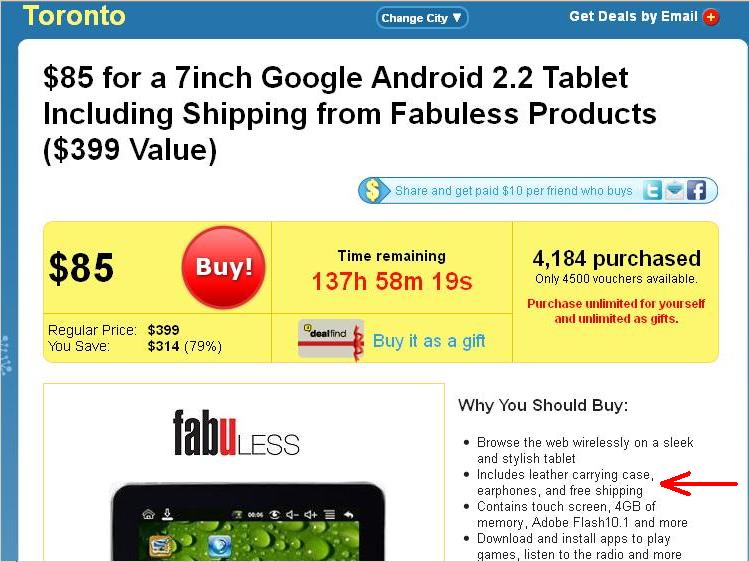 After deal ended they withdrawn these valuable conditions…
Fabuless Products Owner?
People in the comments section mentioned that extra charges for shipping/handling/taxes went to Andrew Ferreira through PayPal. First of all thanks for this information.
Let's take a closer look at WhoIs information for FabulessProducts.com website. It is available for public here:
http://www.whois.net/whois/fabulessproducts.com
Domain Name: FABULESSPRODUCTS.COM

Last Updated on: 25-NOV-11

Administrative, Technical Contact:

Ferreira, Andrew andrewatella@gmail.com

Fabulessproducts

88 Bloor Street East

suite 2312

Toronto, ON m4w3g9

CA

416-825-6127
Andrew Ferreira is the name which customers reported on their PayPal invoices. But the e-mail address contains "andrewatella".
Phone number 416-825-6127 which belongs to Andrew Ferreira according to the above WhoIs information also belongs to Andrew Atella:
screenshot from http://www.inhouseaffairs.com/contact-us.html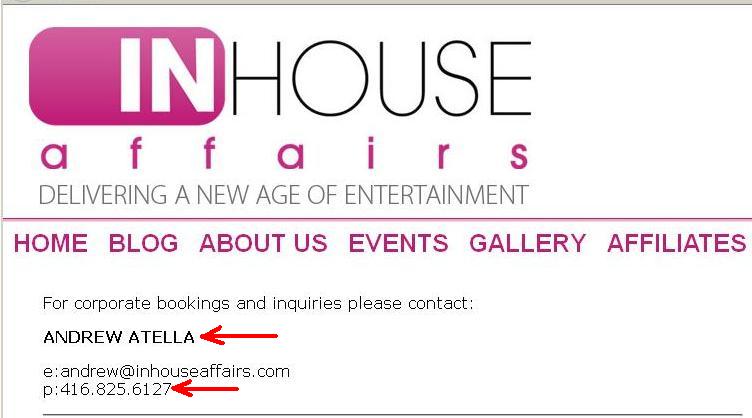 It let me think that Andrew Ferreira and Andrew Atella is the same person who registered fabulessproducts.com and now accepting payments via PayPal from customers who purchased Android Tablets from DealFind.
Here is some information about Andrew Atella which is publicly available in the Internet. If anyone has problems reaching Fabuless Products via 1-888-702-6632 phone number provided by DealFind or contact form/e-mail on their website, maybe it's worth to try alternative methods.
Facebook pages of Andrew Atella:
http://www.facebook.com/andrew.atella
http://www.facebook.com/pages/Andrew-Atella/245152895038
(if you are Andrew Atella and has absolutely nothing to do with Fabuless Products, please let us know, we will make a correction)
Related posts:
Fake Toshiba Memory Cards from XSV 360 on DealFind
Contour Memory Pillow, Alkaline Water Tubes and Kassar Media
Class action suit against Dealfind and Fabuless
Thanks Everyone who provided feedback and valuable information!
Trueler.com got a response from person who suffered from this scam and also had to pay extra trying to ship Tablets back, but still can't get refunds.
If anyone has problems with full refunds (including for shipping back if it was requested by DealFind/Fabuless), please send me a note via http://trueler.com/contact-us/ or speak up in comments indicating that you wish to participate in class action suit against Dealfind and Fabuless. I will forward you contact information of that person.
Update: Unfortunately lawyers were not interested in this, and unfortunately there is no class action law suite started…